By TTT Subscriber Anthony Stanley.
What's Liverpool's identity? Does it even have one?
By extension, how do we, as supporters, perceive this identity? Indeed, what is our identity as fans of this football club?
Last week's game against Augsburg had me perplexed. A lot of comments have been made highlighting the fact that it was the same side that bounced all over Villa; is it that Villa made us look better than we actually are or that we were caught between about four stools against the Germans last Thursday?
The performance may have been dispiriting, disjointed and anti-climatic but in many ways it was the perfect away performance and – again, something that many have pointed out – the type of display that was our modus operandi on the continent for decades.
Did Klopp tell his players to suffocate the game, not to be too adventurous, to display some pragmatism? Or was it a case of the team trying desperately to put Augsburg to the sword and then realising, about a half an hour in, that this was just not going to happen. Ideas ran out, the side became turgid, the game became a snooze-fest.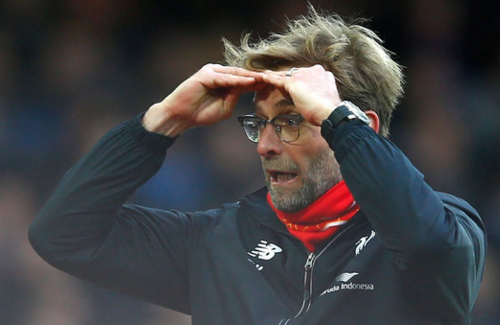 If Daniel Sturridge hadn't had a free header, if James Milner's free kick had not crept in against Villa, could the same thing have happened?
I don't know. I don't have a clue.
Momentum may be a rude word here (in the memorable phrase of General Melchet) but, to me, that's exactly what is casting a troubling opaque shadow over the team's identity: a lack of momentum, lurching from one game to another.
Liverpool are unable to contextualise a match as part of a broader canvas – a game is not a one-off, it is a strand of a larger tapestry that is the season. But right now, every game looks like an ordeal to be overcome where literally anything can happen. They're all one-off games, in the minds of the players, all potential for train wrecks, for disaster to strike. Due to a variety of factors – and let me be very clear, I think this malady will be cured by next August – the current Reds are wearing a heavy shirt; expectation and anticipation juxtaposed with a league of yard dogs, with vagaries that is a normal season to the power of ten, with incessant delight from underdogs casting off that mantle. The crowd is nervous, is sometimes angry, is sometimes apathetic. It was meant to be better than this, is the chorus from some. We should be up there, with Spurs and Leicester.
I have never, ever seen a Liverpool side who look so resigned to conceding a goal when winning 1-0.
Momentum. The momentum that existed in 2013-14 was not a tangible thing but it was there; a reassuring and heady promise that games could be won. Not in the typical sense of the word, but it existed. It existed within Daniel Agger looking at the hyperactive lunacy of Suarez in the dressing room; it existed in Glen Johnson witnessing what the Uruguayan did in training every day and the absolute certainty that he would eventually bring this consistently to the match day; it existed in Daniel Sturridge scoring goals from the get go – from day one he never looked like missing the target; it existed in Coutinho and Sterling, relative newcomers to the league, capable of jaw-dropping bits of skill.
The momentum of that campaign, even before Christmas, was knowing that we could score goals from anywhere; it was a state of mind that settled over the entire side.
What do we have now? A side – and a fanbase – that are casting frightened eyes at shadows, shadows that may or may not exist.
When you wake up from a particularly nasty nightmare, when the waking brain processes that it was in fact a dream, your consciousness can play strange things with your waking mind. You know you're lying in your own bed, safe and sound. On an intellectual level you know that. But at three o'clock in the morning that bump downstairs could be anything, literally anything, to a fevered brain. That picture of your family on the wall, cast in eldritch and hazy demi-light, could be anything your brain, influenced by the dream, decides it to be. A spider could suddenly have taken the place of your framed loved ones, reaching out, grasping. It's ridiculous and these thoughts are banished in the morning, but the human brain can do funny things.
Not just this season – where mini-nightmares have taken place. Not just last season, which was pretty much six months of bad dreams, but even the hellish denouement to the magical 2013-14 campaign have been nightmarish. A pall has been over the club since Dwight Gayle all but confirmed the crushing of our dreams in that 3-3 draw with Palace.
The players are human, they've lived through this, they've felt the pain and the hurt. It's a tough thing to get over.
Winning 6-1 at Southampton and then, again shorn of your best striker, succumbing meekly at a dire Newcastle side is a tough thing to get over.  Getting hammered twice by West Ham in the same season is tough to get over. Conceding a late goal to Crystal Palace is tough to get over. Rooney's fucking volley is tough to get over.
It causes the mind to peer into the shadows, and to quake at what may peer back.
Momentum is simply another name for confidence; something that is palpably lacking in this Liverpool side. When it goes right, when it clicks, we can look devastating. But the wheels can fall off horribly quickly right now; it is always three o'clock in the morning metaphorically.
This season has been one where a dark tea time of the soul is never far away. Gerald Manly Hopkins wrote a poem about waking and 'feeling the fell of dark', and when Mignolet fails to set up a wall properly or Jermain Defoe turns and equalises for a terrible side in the dying minutes, we know just what he meant.
I've long contemplated, or maybe justified, my position as a Liverpool fan with something that Oscar Wilde once said: that for every good thing in life, there is a commensurate tax. Any cigarette could be a torpedo to the lungs; a jaunt to a Burger King has to be worked off and is dripping with latent heart trouble; a few pints on the way home from work is killing brain cells and raising blood pressure; watching a Liverpool game can result in days of despair and veritable torture for long-suffering family members.
Imagine the due on nearly – from a seemingly impossible position – winning the league. Maybe we're living through that now. Maybe it'll be Leicester's turn next season when they're relegated.
Players aren't fans – they rarely get the club in the way we do, they just don't care as much. But they're also human beings. How did Jordan Henderson feel, sitting out the final three games (that mattered) in the late spring of 2014? How did he feel after he was sent off in a titanic tussle with City and later heard his manager say that the title was gone in that minute? There may have been pride at having transformed himself into such a pivotal player, but there was surely regret also. How did he feel last season, labouring under the then captain, who also happened to be a living legend whose powers were seriously waning? How did the entire malaise hit Henderson? Even this season, he's a shadow of himself as he struggles to play through a niggling but painful heel injury – in the very year where he is finally free to fully express himself. Ditto for Coutinho, who was also there for that most ferocious footballing hangover that was last season; who bade farewell to Suarez and Sterling and who watched Sturridge's constant struggles with injury. The same can be said for the rest of the survivors of that campaign – it's been a struggle fuelled by doubt and setbacks since those glorious highs. How can they, as human beings, look into the unknown and not see something sinister lurking with menacing intent?
Supporters and their team exist in a never-ending dance of interdependence; we derive energy from each other. The travails of Liverpool Football Club over the past two years, the highs and lows, the dichotomy between dreaming and realisation, the changing of managers, the division within the fan base, the roller-coaster of results. We're echoing each other; the players' sometimes tentative style is reflected only in the falteringly hesitant nature of the crowd. The team are nervous and so are the fans; a goal advantage is nothing because we cannot – neither the players nor the fans – stop ourselves from peeking at the Gorgon of uncertainty and fear. We might not be turned to stone but a crippling inertia still descends all too frequently.
Make no mistake, we, as supporters, have witnessed this many times since we last won the league title. We have witnessed that which was a harbinger of doom for managers as previously formidable units descended into lethargy and ineffectiveness, as cracks appeared in squad harmony, as furrows of apathy streaked across the terraces. We know the death knell, we have seen what a gargantuan effort can mean to this club's health. The hangover has always been stifling. Let's not discuss specific seasons but we all know the hollow feeling that reverberates when a season of tumultuous success is followed by one of dismaying failure. There is not one other club in European football that has oscillated between triumph and despair like Liverpool. Ask yourself what that schizophrenic bouncing does to your mind-set. The best part of the past two years have been a microcosm of the past two decades and, by Christ, that is not good for your mental health – especially when you're so passionate about something.
We have recovered from such identity crises in the past and there is no doubt we will do so again. But in many ways this particular malady of mortality is unique; due to a plethora of reasons we have found ourselves – both fans and players – in the midst of crippling torpor, of bewildering fright in all the myriad possibilities that lie ahead of us.
This is the identity of our side now; it lacks one. It's crying out for one and I have no doubt that Klopp and the current cadre of players that he rates can supply an identity, can supply confidence, that intangible but vital thing that is sometimes called momentum. It's a momentum vacuum at the moment, a black hole where fragile confidence can be dissipated effortlessly, like that spider's fragile gossamer in an early morning shower.
It could be next season when we see this, when we see the casting off of fear and loathing, when we celebrate knowing what our side is, what they play like, what a Liverpool goal looks like. It could be next season when we can finally make up our minds on Emre Can, or can see Sturridge in tandem with a settled Firmino and Coutinho, together with a mystery winger/attacker that Klopp has surely already identified.
Or it could be this week; we could beat Augsburg, then City, then City again. Wouldn't surprise me at all.
Because we've been through a bewildering, maddening year and a half. We've sojourned in purgatory, in a limbo of uncertainty, too long. If there is a tax on all good things in life, maybe the inverse is also through. Maybe suffering can be rewarded just as joy must be punished?