By Mihail Vladimirov.
When these two teams met on Boxing Day at Anfield,  Leicester were right in the thick of the title battle while Liverpool were battling to remain in the mix for a Top 4 spot. A month and a bit later, nothing has changed. The Foxes sit proudly atop of the league and the Reds are still on the verge of either making a serious push for a Champions League spot or dropping out of the battle completely.
As such the narrative surrounding this game is simple – will Leicester's title bid begin to end here (with the next two games being away to Man City and Arsenal), or will the Reds will stumble to defeat and allow the Foxes to keep dreaming?
Leicester – still top yet seriously flawed
Without a doubt, Leicester being in with a big chance not only to finish in the Top 4 but to actually win the title is the story of the season, even given reigning champions Chelsea's struggles, as a big team underachieving is likelier and easier to happen than for one of the smaller teams to overachieve.
And yet, despite this being a fairytale, the truth is that Leicester are in such a position more due to others being bad and them constantly enjoying huge slices of luck rather than the Foxes being genuinely the best, or even one of the best, teams in the division.
Obviously, the whole club and each person working in it deserves immense credit for doing their best to take maximum advantage of the situation given the disparity in finances, players quality and all other sorts of resources and capabilities. Still, it can't be simply glossed over that for all the good things they have achieved, Leicester are a hugely flawed football team.
The interesting thing about Ranieri's side is that despite them being a counter-attacking side which prefers to sit deep, invite and then absorb pressure before stealing the ball and roaring forward on the break, the Foxes are better at attacking than defending. The stats up to now bear that out nicely.
Currently, Leicester are the second best team for goals scored and part of a tiny group of only four that have scored 40 plus goals (the other three being Arsenal, Man City and Everton). What's more impressive is that their xG rating (which doesn't take into account penalties and own goals) is the fourth best in the division, which suggests it isn't a total fluke they score so many goals. But in the meantime it should be said that their xG rating of 30.5 is five goals below their non-penalty rating (NPG) of 35 goals. This hints that even without taking account of Leicester's league-leading seven penalties, the team is still scoring more goals than the quality of their chances suggest they 'should'.
What is also indicative of their conversion rate being unsustainably good (something that many in the analytics community have been flagging all season long) is that despite being only the 8th best team in the league for shots from the so called danger zone, the team is second best for big chances (with Arsenal being comfortable leaders on both metrics).
Defensively, Leicester are often lauded for their work rate and team-based style when out of possession. But effort alone isn't what is needed for a team to be defensively really solid. Despite all their hard work, Leicester are one of the more vulnerable teams in the league in terms of structure, overall organisation and not least the quality of their defenders. The fact that Ranieri's side is only the joint 7th best when it comes to goals allowed and the 5th worst for shots allowed from the danger zone strongly hits at this. Interestingly, what helps Leicester is that – similarly to their attacking conversion rates – defensively, the team has been rather fortunate to see so few of the danger zone shots being big chances. The Foxes are joint 5th best for big chances conceded with 30 (but conceding two more would have saw them slip down to joint 11th best, which reveals the slight margins at which Leicester are operating).
All in all, it could be summarised that for a team spending so much time out of possession and defending to be better going forward than actually defending is a highly peculiar thing. In addition, the team's current position in the table isn't really indicative of their overall quality. The numbers provide enough evidence to argue that it's largely part to good fortune that so many of their not so many shoots are being big chances and converted into goals; while so few of the many shots conceded from good positions are converted into clear-cut chances. Or in other words – excellent, but rarely sustainable for the long term, conversation rates, at both ends, have pushed Leicester up the table. That such a team finds sitting atop at this point of the season speaks more about the peculiarity of the season and the poor quality of the big teams than that Leicester are truly one of the big boys.
Leicester – potential line up and approach
By now, everyone should be completely familiar with how Leicester are going to line up and approach their games. Ranieri's side has been one of the most predictable and less surprising teams in the division. Bar injuries and suspensions – which have occurred very rarely up to now – the Italian's regular starting XI is settled and rarely changes from game to game. The same goes for his overall strategy and tactical approach. No matter whether the game is home or away, the Foxes keep their reactive, counter-attacking and very direct style of play.
The good news for Leicester is that they head into this game on the back of nine full days of rest and preparation, with some of them reportedly being given as off days for the players to go away and recharge properly. This is something the team arguably needed as since mid-December, the Foxes have been off colour – even more vulnerable defensively than usual and not as sharp at the other end which is why the results worsened over that period. As such we can expect a fully refreshed and rejuvenated Leicester team with no fresh injuries bar Schlupp.
This and their tough schedule during February, with games at title rivals Man City and Arsenal and against relegation-fighting Norwich, means Ranieri may put extra importance on this game. At his latest news conference he spoke about the need to build a good platform on which his team can step ahead of the two big and potentially title-deciding games and use it to mitigate against potential bad results. This could be taken as Ranieri eyeing a win against Liverpool as a way to prevent his side losing touch with the title rivals even if they are to lose the two games against Man City and Arsenal.
Ranieri's words and Leicester having to win the game to continue fighting for the title might suggest the possibility of the hosts trying a more attack-minded style that seeks to dominate the opposition and create plenty of chances to score goals to win the match. But it's hard to imagine Leicester deviating too much, if at all, from their regular approach.
Partially, this is because they simply don't have the type of players or overall quality across all positions to be confident such an approach will yield the required attacking benefits without being completely killed off on the break. But partially also, it's because it's hard to imagine Klopp going into this game with the aim of 'parking the bus' and defending most of the time. Liverpool probably won't be going gung ho, but considering the team's status and especially Klopp's nature, it's almost impossible to imagine the Reds being so defensive and rarely looking to attack or use possession as a platform from which to build up their forward moves. This means Leicester would have a context where using their usual approach would be perfectly suitable and there would be no need to tinker too much tactically.
As ever with Leicester, the main question and the decision that has the power to tweak how the team will look tactically, is who will partner Vardy up front. The answer to this will lead to either keeping the usual 4-4-2 or changing to a 4-4-1-1.
If it's Okazaki or Ulloa starting, the 4-4-2 will remain and extra attacking versatility will be provided. The former will provide that better link-up play by dropping deeper and acting as the foil for Vardy and Mahrez. Okazaki is also more defensively diligent, which is why when he plays he often drops deeper and to the right to fill the gap left by Mahrez roaming infield and keep the two banks of four behind the ball intended by the manager.
Ulloa, in contrast, is a typical target-man who thrives on long balls and crosses and is much better getting on the end of things than creating for his teammates. With him on the pitch, Leicester gain that bit more of a diverse threat as there are different type of attackers who can mesh together. But the drawback is that it makes Leicester even more direct and dependent on the success of the long balls from deep in addition to indirectly forcing Mahrez to remain wider and look to facilitate the play.
The variant with Okazaki will be more suitable if Liverpool try to pack the midfield zone and go for a a 4-3-2-1ish formation. The Japanese forward's movement into deeper areas will be invaluable for both defensive and offensive reasons and will help ensure Kante and Drinkwater are not isolated and totally outnumbered. The other scenario – with Ulloa preferred – obviously comes with the potential benefit of Leicester having someone to bully and terrorise Liverpool's defence in the air and from set plays, but it can leave the team short of numbers in midfield and make their build up play even more one-dimensional and rudimentary than usual.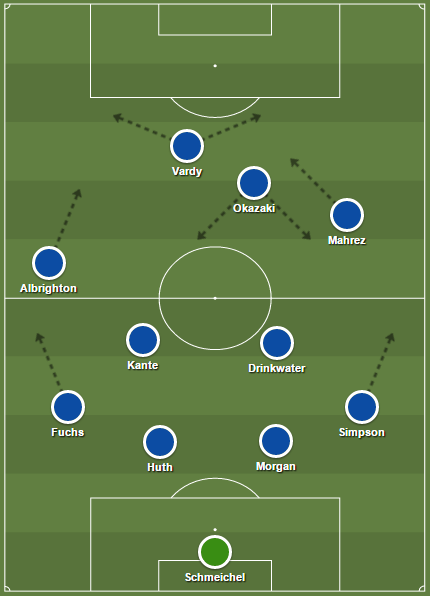 The alternative is for Ranieri to utilise Mahrez centrally, just off Vardy. This could be a decision forced by either of two reasons, or a combination of both: the Italian manager might decide that Moreno being fully rested for this game is something that warrants a bit of a reshuffle for his side, seeing the Spaniard is often Liverpool's sole attacking pivot down the whole of the left flank. So having Mahrez – who is far from defensively responsible and is tasked with roaming infield, which means he often vacates his zone – playing on the right flank might be too much of a defensive risk. Alternatively, or additionally, Ranieri might decide the best chance to hurt Liverpool on the break is to have his two most mobile attackers close together through the middle. Recently, Klopp has often fielded a formation that either doesn't have a natural holding midfielder or the immobile and increasingly error-prone Lucas playing in that position. This means that the best way to channel the play through Mahrez might be to play him in the hole and give him total positional freedom to roam around, link up play and dribble forward.
Such a tweak will require a shift towards more of a 4-4-1-1 formation. By using Mahrez centrally, Ranieri will open the right flank for someone who can both track Moreno but can also be a threat on the break. The Swansea loanee Dyer is a good candidate for that role but the best solution could be to shift Albrighton down the right flank and use the former Birmingham starlet Gray on the left. The former, despite his tender age, displayed incredible tactical understanding and work rate, combining his offensive qualities with defensive discipline and tenacity. In that he very much reminds of the former Liverpool star Sterling.
The 4-4-1-1 would arguably bring the best of both worlds, so to speak. It'll allow Leicester to defend better and form two really solid banks of four, with the wingers tracking back Liverpool's full-backs and the midfield pair of Kante and Drinkwater staying deep and patrolling the space between the lines. Meanwhile, giving Mahrez full freedom through the middle will potentially make the Foxes even more dangerous on the break. The only negative is that the team will be a little one-dimensional in that there would be no physical presence up front. It'll also make Leicester hugely dependent on how successfully they can break away following possession turnover as this will be their main, if not only, attacking route. But this could be more than made up for with increased quality and having extra pace, creativity and dribbling skills which could be as damaging to Liverpool as high balls and set plays.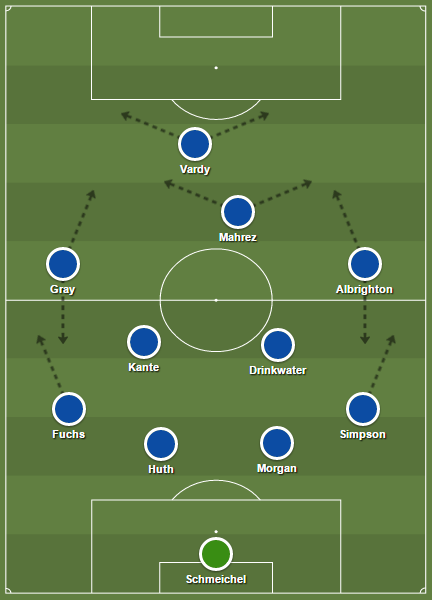 Liverpool
Ahead of this game, the key question that had the potential to totally change Liverpool's overall tactical outlook was whether or not Henderson was going to be fit to start. Without him, some potential schemes and their chances of success, would be redundant. Obviously, Allen would have been a good understudy, someone who can come and in and make sure Henderson's absence wasn't felt as negatively. But this would arguably have happened in different types of strategies and tactical approaches.
All in all, from a Liverpool point of view it's great news that their captain has been passed fit and can start the game. This not only spares Klopp the headache of thinking about a different set up and then drilling his team in it but means he will be able to start with a line up with the inherent flexibility to perform different strategies, simply emphasising different things without the need to make changes or bring someone off the bench.
Similarly to Leicester, Liverpool are heading into this game on the back of a very healthy period of rest. Although Liverpool have played twice since the Foxes last kicked a ball, Klopp rested almost all of the players one could reasonably expect to start the game here for the weekend FA Cup clash against West Ham. This means that the Liverpool starting XI will come into this game on the back of six full days rest and preparation, which is more than enough to negate Leicester's advantage on that front.
The predictability and nature of how exactly Leicester might line up and set up for this game makes it an interesting conundrum for Klopp. He is in the almost perfect scenario where he knows, more or less, how the opposition will approach this game and his players have been well rested and with time to be properly tactically prepared. But apart from missing a couple of key players through injury, the German manager's problem is deciding which approach would potentially be most efficient and yield the desired outcome of winning this game.
In contrast to games when you face a possession-heavy team, facing a counter-attacking side always provides that dilemma about what is the more suitable approach; whether to use their inherent inclination to give up on possession and look to dominate in terms of territory and possession as the source for creating chances, or try to outdo them at their own game by remaining defensively solid and waiting for opportunities to catch them on the break. The former approach brings the risks of leaving your team vulnerable on the break while the latter might lead to a game where both teams are sitting with men behind the ball and aren't doing enough in attack so it ends in a dull goalless draw. Both variants have their own benefits and a manager could be easily justified in preferring one over the other. Which is why it's so hard settling on an approach – either can as easily backfire as it can work out.
Anyway, this is the position Klopp arguably finds himself in ahead of this clash. And by kick-off he will be required to pick and put his faith in one approach.
Liverpool would of course ideally want to go home with all three points but in reality this is not a must-win game for them. On paper the difference in resources and status between the two clubs almost obliges the Reds to go for the win but in practice, given the current situation, a draw would be a perfectly acceptable result. This means Klopp could decide that there is no need to gamble right from the kick-off and go all guns blazing only to quickly find himself a couple of goals down as his team is ripped apart on the break.
A more cautious approach, without going overly defensive-minded, could be a good starting point in order to see how the game is going and gradually work your way into it based on what is happening. Klopp can achieve this by utilising either a striker-less 4-1-4-1 or a Benteke-led 4-4-1-1.
The aim behind both formations would be to ensure the back four is well protected both through the middle and down the flanks. The former shape puts extra importance on plugging the gaps between the lines and using a dedicated anchor man who will sit ahead of the centre-backs and shield them – Lucas is perfect for this role, especially when the team will be compact and looking to not leave too many gaps by committing plenty of players forward. Down the flanks Milner and Lallana would offer the required defensive diligence and be able to carry the ball forward and participate in different types of attacking moves, whether in quicker counter-attacks or in slower and considered build-up play. Then with Firmino up front the team will have someone who is able to work the channels but even better is able to drop in and overload the midfield zone as a way to ensure his team is going to control proceedings and attack in a more diverse way with the runners Can and Henderson offering the reverse movement and generally getting ahead of him.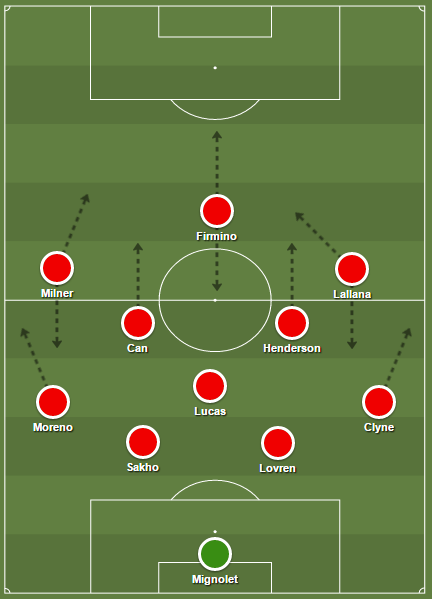 The 4-4-1-1 will seek the same defensive aspects but with a slightly different attacking emphasis. Due to not having a dedicated deep-lying midfielder, the team will be forced to compensate with the midfield pair sitting deeper and not venturing too far forward (unless it's a clear opportunity to break forward dangerously and catch the opponent totally off guard). In addition, the wingers will have to not only pay attention to the opponent's overlapping full-backs but would need to tuck infield and prevent the midfield pair having to cover too much ground.
To achieve that Klopp could choose to omit Lucas and utilise a midfield four of Milner and Lallana down the flanks with Can and Henderson through the middle and count on their work rate and understanding to cover for each other in the bid to compensate for neither of them being a natural holding midfielder. Alternatively, the German could decide it's better to keep Lucas in the side, pair him with Can, use Henderson on the right and shift Lallana to the left.
In either scenario, it would open up a slot for Benteke to start up front. In a formation that is going to play deeper and narrower due to the need to cover the back four and not leave too many gaps for the opposition to waltz through, it might be better to have a centre-forward who can act as the main attacking outlet, receiving long passes and shielding the ball before laying it off to the supporting cast onrushing from deep. This would allow the team to gain territory in a more direct, therefore quicker, manner instead of always having to rely on the false 9 to initially drop in and then the whole team to have to work the ball forward gradually. The direct and quicker route is preferred for a cautious and counter-attacking strategy.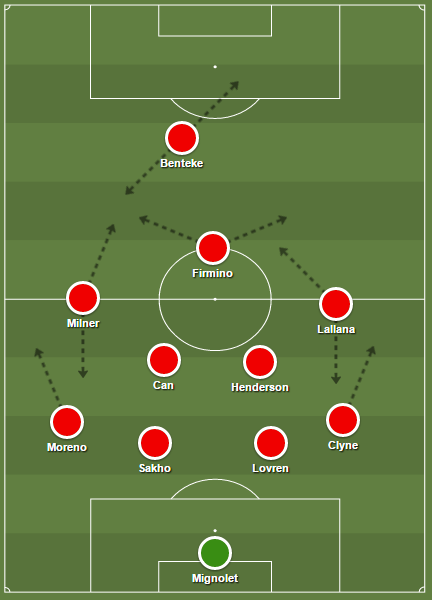 Of course, there is the chance for Klopp to go with a more proactive approach, without going overboard or too attack-heavy. He might decide that paying so much respect to Leicester as to set up his side to be mainly thinking about not conceding is too much and goes against his principles. As such he might prefer to set up Liverpool in a way that looks to attack and aim for the win but with the required defensive cover and organisation to prevent gifting Leicester easy chances on the break.
He could decide that winning the reverse game at Anfield is enough to give the same approach another go against this opponent. Back on Boxing Day, Liverpool went with an attack-heavy formation that had Origi working the channels up front, Firmino roaming just off him with Coutinho and Lallana getting narrow off the flanks and the midfield pair of Can and Henderson surging forward from deep. Obviously, some of these players are unavailable through injury, so Klopp could decide to replicate this approach with the striker-less 4-6-0 that played out a similar strategy in the Arsenal game (Milner and Ibe high and wide down the flanks, Lallana and Firmino roaming up front, Can and Henderson bombing forward from deep).
This side is very good at pressing and preventing the opposition feeding the ball to their attackers as it occupies the opponent man-for-man and overwhelms them with plenty of players who work hard in and out of possession. Klopp could decide that approach of non-stop aggression and constant running on and off the ball is likelier to destabilise Leicester and prevent them being efficient in what they do best – withstanding the opposition pressure and hitting them hard on the break.
Obviously, the risk here is twofold. First, it could be that as in the Anfield game, Liverpool are unable to transform all that energy and constant running into genuine quality attacking moves and all their attacking efforts come to nothing. Second, not having a holding midfielder in addition to asking the majority of the team to attack – in a shape that often resembles 2-0-8 – would pose the inherent risk of being too vulnerable on the break, as the Arsenal game illustrated. Although Leicester do not have the same amount of creativity and overall quality as Arsenal, the Foxes' threat on the break shouldn't be underestimated.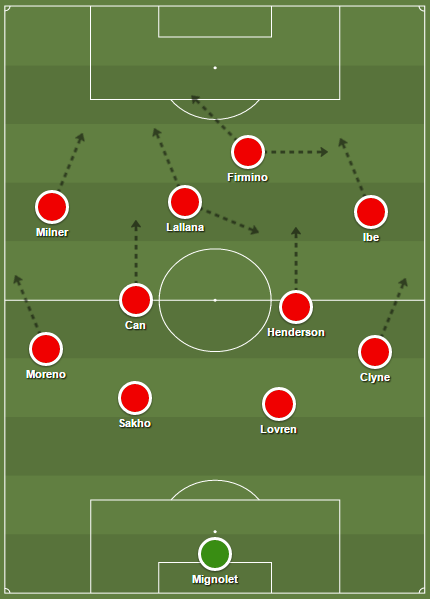 In the end, without going to the two ends of the spectrum, Klopp might decide a more balanced approach is the most sensible decision. Arguably there is no need to be too defensive minded and risk being too blunt in attack; alternatively there is even less need to be too attack-minded with the expense of looking too open at the back and vulnerable at gifting the opponent easy chances on the break. A strategy that unifies both is arguably the best solution against a team that will sit deep and invite you to attack but there is also the need for you to be mindful of their threat on the break.
Such a strategy would be based mainly on looking to pack the midfield zone to ensure possession dominance, plenty of passing angles and enough movement diversity to support the attacks but also to offer the required defensive cover and be able to either quickly counter-press and delay the opposition's attacks or have the positional structure to guard against them.
A striker-less 4-3-3-0, similar to recently, would do the trick on both fronts. First, by having so many bodies through the middle and with Leicester not really being concerned about possession, the Reds would be virtually guaranteed possession dominance and have the capacity to freely recycle possession all over the pitch. The team might not have a natural playmaker, but having so many ball-players guarantees a certain level of creativity that promises enough capacity to fashion quality attacking moves.
As in the Man Utd game, Firmino getting deeper to link up the play and ensure smooth passing forward would trigger the roaming movement of no fewer than four players – Milner and Lallana getting narrow off the flanks, Can and Henderson getting forward from deep. These four players and Firmino – helped by the width enabled by the full-backs – should offer the high level of pass-and-move capacity to find it easy to overwhelm a team that plays in a 4-4-2 formation and isn't one of the best defensive units (quality or organisation-wise).
The defensive benefit of that formation is that it has the numbers to congest the midfield zone and prevent the opposition having it easy on the break. With that personnel, Liverpool will be able to situationally either stay in a 4-3-2-1 defensive shape and force the opponent out wide or shift across in a 4-1-4-1 formation and double up down the flanks without losing stability through the middle. Both frameworks are also a good starting point for the team to initiate a sudden but well-coordinated pressing as soon as Leicester enter the midfield zone. Stealing the ball in the middle third and catching them during transitions, then roaring forward on the break to exploit the space around their slow centre-backs could be one of Liverpool's most potent attacking avenues in this game.
This being said, for this game a case could be made that Allen is more suitable than Lucas for the role of the deepest midfielder. Not only is the Welshman currently the in-form player with the Brazilian looking even less mobile and more error-prone than ever before, but the former Swansea player is the more dynamic in terms of passing and overall movement. In addition, Leicester don't usually provide a proper midfield threat due to them preferring to bypass that zone and hit direct passes up front or down the flanks. This means Lucas's positional nous might not be a key component due to his lack of mobility. Allen, with his zippy style and equally good ball-retrieving skills, could be better suited to stopping Leicester's attacks in addition to being better suited to start and direct Liverpool's attack from deep.
All in all, that approach promises Liverpool the capacity to shift through different strategies and suit the exact game context with the same personnel and only subtle formation tweaks. As seen in the Norwich game, the team can be 4-1-4-1 and look to defend and mainly counter-attack if Leicester start the game aggressively and look to push forward. Equally, the team could as easily play in a narrower 4-3-3-0 and look to press and pass their way forward to ensure overall control of the game. Given the personnel, it also promises enough defensive cover and attacking variety.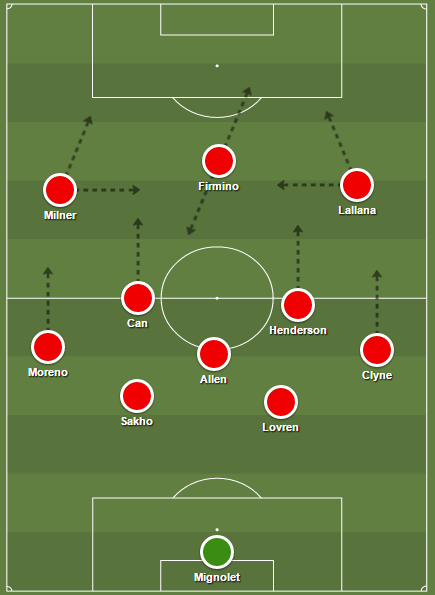 Summary
Considering that it's highly unlikely Leicester will deviate from their usual approach, how the game will pan out seems to hinge on how Klopp decides to set up his side. It could be a dull and slow-burning game if the German goes for a more cautious and reserved approach, but it could be a highly entertaining, end-to-end clash if he decides to release the shackles and ask his team to press and attack ferociously.
In case Klopp chooses the in-between strategy the game will be all about one rigid and rudimentary team against a highly fluid and versatile side with Liverpool able to shine in a variety of scenarios while Leicester will be simply waiting for their chance on the break.