By Mihail Vladimirov.
Although both managers had key players absent through injury, ahead of this game each side had a reasonable number of possibilities regarding their starting formations and personnel. Each manager had the option to rotate their side or change the outlook of their team with some tactical tweaks. In the end though, both Allardyce and Liverpool's management trio covering for Klopp decided to largely go unchanged.
Following Sunderland's impressive display against Man City, Allardyce continued with the 4-1-4-1 formation, having used a 4-2-3-1 in the previous few games. With Borini ill and Lens injured, the manager had to make two changes. In came the latest January signing (the former Bordeaux playmaker) Khazri and the Black Cats' youngster Watmore.
For Liverpool, there was only one change as Lucas was replaced by Allen (with Toure having to replace Lovren, injured early on, at the back). But this triggered an interesting series of subtle tactical tweaks regarding formation and players' roles within it (as covered later).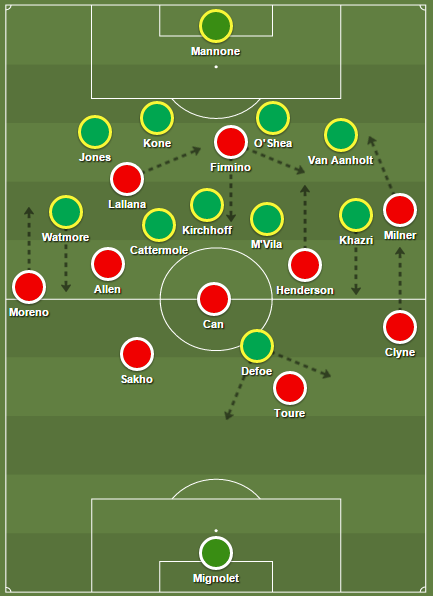 Sunderland with a proper 'parked bus'
In modern football the phrase 'parked bus' is one of the most common tactical phrases used. But although it's not a new term and is already widely examined, I would not use it for any team just looking to play a cautious game and defend in numbers. Although using the term in such instances isn't wrong per se, it doesn't really do the phrase justice or use it to its maximum capacity.
For me, a 'parked bus' team isn't only a team that wants to defend with plenty of bodies behind the ball, showing little interest in attacking bar the occasional counter-attack or a set-play situation. A proper 'parked bus' side is also one that shows they do the whole art of defending expertly in terms of general organisation, tactical patterns and strategy for a specific game or period within a game.
Similarly, I wouldn't label a team as 'tiki-taka' just because they happen to hold on the ball and look to recycle possession instead of continually seeking to hit their forwards with direct balls from deep. Both tike-taka and parked bus – although almost complete opposites – are more tactically sophisticated and demanding and require a very specific set of patterns, overall organisation and high level of efficiency.
All this being said, what Allardyce and his players did here – especially for the first half – could rightly be said was to properly 'park the bus' in the fullest sense of the term.
That Allardyce would try to approach this game cautiously – to the extent of looking to park the bus – and aim to largely stay in the game for as long as possible was hardly a surprise. Not that it would have made a major difference – given the overriding theme was to simply line nine players behind the ball – the key tactical question regarding his approach was what shape he would prefer to use for his highly defensive-minded strategy. Recent games saw Allardyce going a bit more attacking, using the 4-2-3-1 framework in order to play with three (not only two as in the period before that) attacking players behind the lone striker. But because the Man City game saw Sunderland produce arguably their best defensive performance of the season up to now in a 4-1-4-1 formation, playing at Anfield might have forced Allardyce to continue with his usual plan to deploy a trio of defensive-minded midfielders (as was the case in the reverse game against Liverpool at the end of 2015).
Anyway, when the starting XIs were announced, it was clear Allardyce wasn't going with a 4-2-3-1 shape. All pointed towards the 4-1-4-1 but there was also the possibility – given the personnel starting – that the Black Cats might go for a surprising return to the 3-4-2-1/5-2-3/5-4-1 alternative they used earlier in Allardyce's reign. On a tactical level this would have made sense in terms of trying to deny Liverpool's expected striker-less, midfield-centered and free-roaming side space through the middle by packing the central zones with one extra defender, while in the meantime exploiting their weakness at defensive midfield and in the space either side of the centre-backs (often left by the overlapping full-backs) on the break, with either a duo of attacking midfielders behind a lone striker (in a 3-4-2-1 shape) or a wider-spread front three with a wide forward either side of the centre forward (in a 5-2-3/5-4-1 shape).
As in their previous game against Man City, the visitors deployed a 4-1-4-1 formation and impressed with their overall work-rate, increased tactical discipline (especially when comparing their earlier games in the season) and proper dedication and defensive diligence from all midfield players who were expected to drop in and assist the back four on a constant basis. As a result the Black Cats were indeed playing with nine players behind the ball who acted like nine proper defenders. As a result the visitors succeeded in totally denying Liverpool space the closer the home side got to their goal. All this set the scenario of the Reds having to face a proper 'parked bus' team for the first time this season.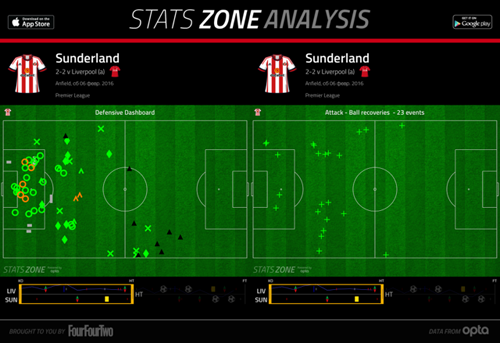 The rest of this analysis is for Subscribers only.
[ttt-subscribe-article]