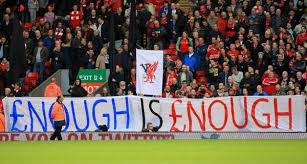 By Chris Rowland.
First the black flags before the match. Only black flags. No red ones. No giant one to pass over your heads.
Then the slightly disturbing atmosphere of simmering unrest.
Even if you didn't know, you'd have sensed something was afoot. But of course everyone did know.
Let's wind back a few hours, till midday in a Liverpool pub. The Ship and Mitre, actually. Great for cask beer. And chewing the fat.
That's what we were doing. About a dozen of us, the usual crew. Most – including me – have been going together since the early 70s.
There was only one topic of conversation- at least till we saw Leicester were three up at City.
To walk or not to walk. That was the question
To be fair, most had already decided. The regulars, including one former member of FSG's Supporters' Committee, SoS member and vocal campaigner on ticketing issues at Anfield, said they were going to walk on 77 minutes.
One said did we have to wait that long? Another suggested maybe we could go in after 77 minutes.
I don't get to the match as often as I used to. I no longer have a season ticket, so I kind of have to come off the bench when one of the others can't make it. They usually can make it when we're playing Everton, or Utd, or City, or Chelsea, or Arsenal. They sometimes can't when we're playing WBA or Swansea or Hull. Or Sunderland.
I paid £40 for 'my' season ticket' on Saturday. Direct to the ticket holder's dad, who I've known since school. In fact I went out for a beer with him to wet the lad's head.
I paid £22 for my train ticket. In the circumstances, I was hoping for more than 77 minutes to be honest. 'It's Ok for you lot', I thought. 'You can be here again next match.'
I had also had another, slightly anarchic pre-match thought about the walk-out, with a healthy splash of devil's advocacy.
'We're walking out on behalf of those in the Main Stand who currently pay the highest prices for their tickets, right?. So we're walking out in support of the fat cats. Would they do the same for us?'
But nobody was really buying that. Nor was I, to be honest. It was pointed out that we're all in this together, as George Osborne once said, and togetherness is the whole point. Liverpool fans as the antithesis to I'm Alright Jack. And who's to say what applies to a few tickets in the new Main Stand won't eventually trickle down – or maybe cascade down – to the rest of the ground, in due course?
On the face of it, the walk out was principally about our own ground, our own prices, our own Main Stand. But there was more – getting the issue aired in public, getting onto the local and but also national agenda. Scousers like to be seen to lead not copy. There is a strong element here, in this walk-out, of being seen to make a stand, of wanting to lead a people's popular movement against the power of the Premier League, against the ever-increasing dominance of money in the game, against exploitation, one that spreads throughout the Premier League, in the hope that other clubs will look to what's happening at Anfield and form their own protests. We're also doing this for the fans of Southampton and West Ham and yes, Utd, Chelsea and Everton. And indeed Sunderland. Not just Liverpool. Though primarily for Liverpool.  Not just about Lowering the Prices but Reclaiming the Game .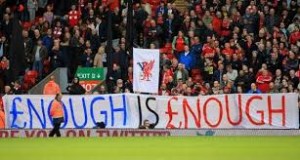 It was principally about prices, of course it was. Those who were being asked to pay the headline £77 – about 600 or so of them, it seems – are facing a 30% rise from the current £59. Young people and local people, most of whom struggle to pay the current frozen Kop prices let alone the £77 headliner, need to be encouraged in by the pricing structure. Many are currently frozen out because tickets aren't available and they couldn't afford them anyway. Two separate but linked problems to solve. Maybe if you do you begin to cure the problems of poor atmosphere. Maybe away fans no longer feel they can sing about signing on and Gerrard falling on his arse and this place is a library and our support is fucking shit while we just sit there in mute simmering resentment but no comeback.
There was a time when any such insolence would have been instantly drowned out by 'who the fuckin' 'ell are you?' or 'it's time for you to run' from the Kop. That's a cultural sea-change, not just a price issue. But maybe the two are not entirely unconnected.
But it was not only about prices. Drill down and it gets a whole lot more complex.  This could be seen as the opening salvo in a battle for the club's soul.
There is a sense of disconnect with the owners, who sometimes appear remote yet also appear to some to be controlling and dictatorial. The recent attempt to impose curbs on flags and banners when one critical of the owners did not go down at all well. Nobody tells us what to do inside our own ground. We were here long before FSG and will be there long after, runs the argument. It's our club. Any set of owners, and for that matter managers and players, are just passing through. Fleeting custodians, looking after the club on our behalf. 'Supporters not customers' as the banner says. It's a crucial distinction, one which the owners must grasp if there is to be rapprochement.
Saturday was intended to send a message to the owners – any owners – and the wider Premier League that you ignore and overlook the supporters at your peril. Seek to use them as cash cows or seek to control them and there will be a reaction.
As Jimbomac posted on the site today:
This is why I think the ticket prices has become a big issue. It is symptomatic of the wrong direction the club and football is going in. Where does it lead to? Well it ends with an O2 style experience where maybe you can afford to go once or twice a year and you can stay in a hotel and get a meal in the same location if you want. Going towards that is going the wrong way.
One of our group is going to the away match in Augsburg. He said they have to pick up their ticket in Germany rather than have it before travelling – that's a first. 'Why have they suddenly decided to do it that way?' he asked.
In itself, something and nothing. But when conflated with the ticket prices and the attempted flag restrictions and the remoteness, it suddenly becomes additional fuel to the out-of-touch owners fire.
As for those black flags (which made it look uncomfortably  like an Isis rally), at half-time someone who runs a regional Supporters Club said it was a reaction to the colour and the flags of the fans being used to market TV coverage of Liverpool in the US. Basically, the message was 'you can't fleece us and ignore us and then use us as a marketing tool'. I am unsure how accurate that was.
I walked out. I felt no peer pressure. It was my own decision. I did later reflect that being 2-0 up helped – how would it have looked if Sunderland had just taken the lead, or extended the lead? Like a mass surrender/get off early exercise, even though the walkout on 77 minutes had been – ahem, 'flagged' – beforehand.
By the time we were on the bus to town, it was 2-2. 'I didn't notice the bloody team following us out' said a voice behind.
In truth, what do those two dropped points really matter in this dire league season which is pretty much already over for us? I doubt those points will be what separates us from CL qualification come the end of the season. Nobody, either critic or supporter of the action, can ever prove walking out had a bearing on the outcome. I would argue it did not cause Moreno to commit the foul that led to the free-kick. It did not cause the wall to be stationed incorrectly. It did not cause Mignolet to dive over the ball. And it was that goal, that moment, rather than any fan walk-out, which surely lifted Sunderland.
The walkout was something more fundamental than the last 13 minutes of a league match.
What the walkers-out did concerned the future of this club for the coming months and years. It's a question of a united stance, opposing exploitation, reminding owners where the real power lies. Not how a particular game turns out. The singing of the club's anthem, YNWA, before the walk-out was surely intended as a powerful reminder, a defiant assertion.
Pep Lijnders and Jordan Henderson said the walk-out didn't affect the team. Alan Shearer on Match of the Day said it shouldn't have, as professionals. He also said there should be no ticket price rises at any PL club next season due to the billions extra from TV. But against that, the day we start citing what Alan Shearer says as valid support for a cause, the liver birds will surely have left the building.
The club has since said it will consider a review of their ticket prices after the walkout (Daily Express), though 'consider a review' is not the same thing as 'reduce'.
Meanwhile, Spirit of Shankly has warned there will be further demonstrations during the matches against Manchester City and Chelsea. (Independent)
TTT Subscriber Dan Kennett's New* Microblog: #LFC Ticket Prices 2016/17 is here.
The planned Live Q&A with Ian Ayre on the ticket prices issue at 18.00 GMT on the official site was cancelled earlier today.