By Mihail Vladimirov.
Neither manager had any major selection dilemmas before the game.
Garde was without several players but only a couple of them were genuinely missed – his only natural holding midfielder Sanchez and the target man Gestede. Interestingly though, the French manager changed the shape from his usual narrow 4-1-2-3/4-3-2-1 to a 4-4-1-1 here despite naming the same starting XI as in the last game against Norwich.
For Klopp a major 'headache' would have been how exactly to structure a balanced formation following the return of all his attacking talents. Eventually, the German was spared the dilemma with the news that Lucas, Allen and Lallana would all miss this game. This basically meant his starting XI picked itself with the likes of Origi and Benteke – unsurprisingly – kept on the bench.
As such the main question became not who would start but in what shape. There was the possibility of going with the 4-3-2-1 Klopp favoured at the start of his tenure. But – arguably rightly for the reasons covered below – he preferred a lopsided 4-2-3-1 instead.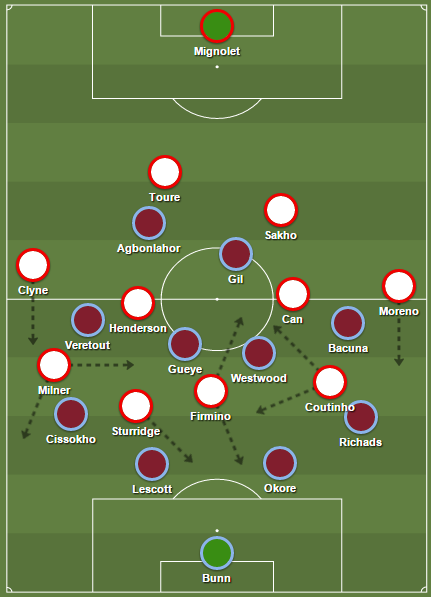 The tactical battle that could have been
Up to now Garde has been favouring a 4-5-1 type of formation which, depending on the personnel, looked either more like a 4-3-2-1 or as a 4-1-2-3. The Villa starting XI strongly hinted it would be the former variant again.
Meanwhile, Liverpool's line up also suggested a similar 4-3-2-1 (or at least a 4-1-2-3 with both wide men starting wider but continually coming infield) formation was on the cards. This made an intriguing, very Italian-like type of tactical clash possible, with one 4-3-2-1 team facing another.
In such a heavily congested clash, with both teams likely to flood the midfield zone and as a result largely cancel each other out – or at least make it very hard for the other to play – the key tactical aspect was likelier to be who would provide attacking width better and which could provide the required spark of tactical difference. On both fronts Liverpool were always going to be the clear favourites, as apart from having the superior individual quality, their full-backs are better suited to Villa's to provide a constant source of attacking width in addition to going to play with side midfielders (Henderson and Milner) who are able to drift wide and deliver that extra fluidity and source of 'something extra' tactically.
However, the potential 4-3-2-1 vs 4-3-2-1 didn't really materialise, as neither team started the game in such a formation. But even if they had, Liverpool would have been still huge favourites due to being the better tactically equipped team.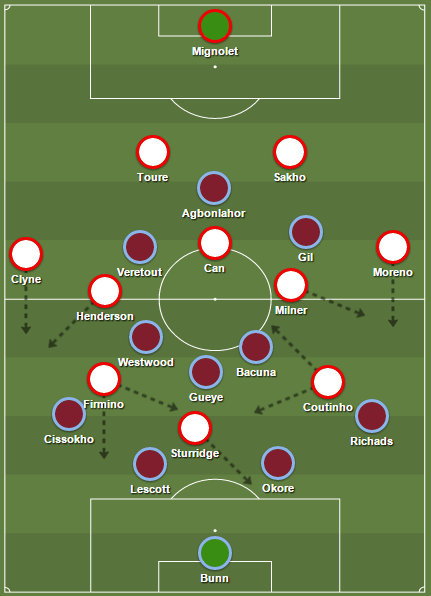 Garde's surprising switch to 4-4-1-1
One of the first intriguing tactical aspects of the game was the fact Garde actually deviated from his favoured 4-1-2-3/4-3-2-1 template. Here he preferred a 4-4-1-1 formation despite selecting natural central midfielders (Veretout and Bacuna) out wide and a natural wide man (Gil) centrally, just off the main striker. Clearly, the French manager aimed to keep the main feature of his other formations – the congested midfield zone – by still flooding the midfield area with four central midfielders laterally spread across that area.
The rest of this article is for Subscribers only.
[ttt-subscribe-article]