By Mihail Vladimirov.
In what proved to be the craziest game of the season up to now, Norwich's selection contributed with high level of peculiarity.
Neil made four changes from the team that started their last game against Bournemouth, which looked nothing major, especially ast two of the players who started here were regulars (Dorrans and Redmond). Naismith starting this game also wasn't a surprise given he's already well accustomed to the demands of the league following his period at Everton. It was only the inclusion of new right-back Pinto that raised eyebrows, more so given Neil's pre-game comments that he wouldn't rush to play his overseas signings so soon after joining the club.
However, the thing that did seem peculiar was Neil opting for a line-up that had eight attacking players in a top-heavy 4-4-2 formation.
For Liverpool, Klopp largely kept faith with the same personnel, making only one enforced change, as Lallana wasn't fit enough to start the game (and after the game verified the medics even gambled to allow him being on the bench). Ibe took his position in the same striker-less 4-1-2-3 formation as in the previous game against Man Utd.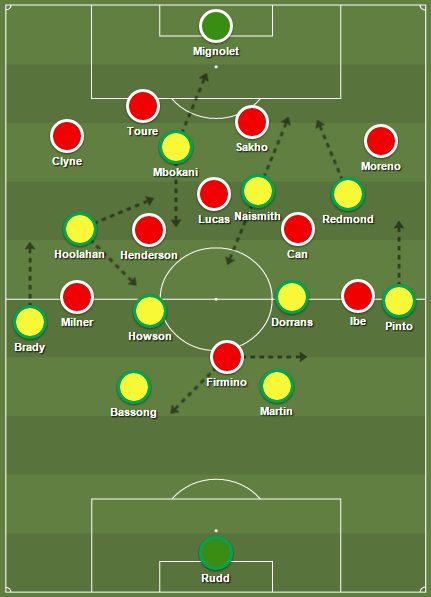 Norwich's overly attacking XI
As soon as the starting XIs were announced it was clear Norwich were going with a surprisingly attacking line up in what looked to be a lopsided 4-4-2 formation. Bar the centre-backs, there wasn't a natural defensive-minded player in that XI, as there were two attack-minded full-backs (who often have been deployed as wingers in their previous clubs, and in Brady's case at Norwich as well), two typical box-to-box midfielders as the midfield pair, a natural #10 on the left, a wide forward on the right flank and two centre-forwards up front (although in Naismith, the team had a forward who is accustomed to playing in a variety of positions).
The selection strongly hinted at Neil counting on the attacking prowess of his side to make up for the defensive vulnerability. It seemed the plan was to simply attack with plenty of bodies going forward and hope the players would compensate for lack of natural defensive nous by simply looking to work hard and as a unit when out of possession. This was underlined by the fact that Norwich started with a high defensive line (Liverpool lacking the pace or the type of player to threaten in behind was surely a factor), but instead of pressing hard from the front they preferred to generally stand off Liverpool's back four and pack the centre with the front pair dropping deep and the wide men tucking inside to create a tight and narrow 4-4-2-0/4-6-0 defensive shape.
The rest of this analysis is for Subscribers only.
[ttt-subscribe-article]