By Chris Rowland and Daniel Rhodes.
W/c Monday 21st December 2015.
Welcome to our weekly round-up, a diary of news and events on the site, matters relating to LFC and the world of football generally.
The Week in Football – Liverpool FC:
Monday:
Liverpool appeared to jinx goalkeeper Adam Bogdan before he made his first Premier League start for the Reds. The club's official Snapchat uploaded a photograph of Bogdan in the pre-match warm-up with the caption 'safe hands'. Just three minutes into the match, the Hungarian dropped a corner, allowing Nathan Ake to tap in. (Metro)
Tuesday:
Jamie Carragher says appointing Jose Mourinho as manager would be a "desperate" move for Manchester United.
Carragher said on Sky Sports:
"Bringing young players through, no, he doesn't tick that box. Exciting football, cut-throat football, going for every game? No, he doesn't tick that box either.

"If that is someone that they go for, they are going to forget some of the principles that have made the club what is has been over the last 50, 60 years and they're that desperate to get back to winning trophies."
Wednesday:
Martin Skrtel has confirmed he will be sidelined for six weeks through injury. (BBC Sport)
In a post on his Instagram account, Skrtel said he had suffered a tear in his hamstring and tendon.
He wrote:
"I will work hard on my recovery and will do everything to come back as soon as possible and even stronger than before."
Jurgen Klopp has made his first significant move in the transfer market as Liverpool boss. The Reds have agreed a £5.1m deal to buy Red Star Belgrade's Marko Grujic. The 19-year-old midfielder will stay with Red Star until the summer and join Liverpool for next season.
Thursday: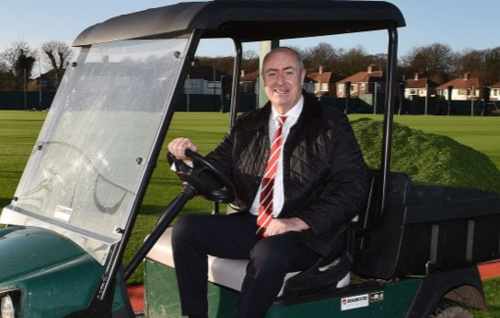 Anfield groundsman, Terry Forsyth, says farewell after 43 years working for the club:
Forsyth, who oversees the playing surfaces at Anfield, Melwood and down at the Academy, began as an apprentice groundsman when he was just 17 before progressing through the ranks.

But now, at the age of 59, he has decided to call time on a lengthy spell of service to the club that has provided many fond memories.

"It's been fantastic. I've always enjoyed coming to work and embraced the changes of my job. I started here when Bill Shankly was manager and people here have always been friends.

"I can remember pretty much every day [of work]. It really seems like last year when I started. You have two ends to a year with this job. You have the calendar year-end and then the football year concludes, so it just comes round so quickly."

"All different managers have their own way," he reveals. "Liverpool have always had this slick passing with the pitch watered and cut short. LFC have always had a fast-slick game and different players like it different ways.

"We always had to cater for the managers, there were very few moans. I always had a good rapport with the managers, their doors have always been open.

"Sometimes it amazes me where it'll be raining for three days before a match and the managers want the pitch watered before kick off and at half time!

"And it can be minus four degrees and they want the pitch watered at half-time. That totally amazes me but we just have to fulfill whatever the manager asks for.

"The techniques have altered but the principles have remained the same, it's just football. Different managers bring their own personality but there's always the same basics of football."
The official site also has a long documentary about Jurgen Klopp, looking back at his journey in football.
Some superb photos as well, so maybe save it for Xmas Day and watch it instead of the Queen's speech.
In an exclusive documentary, which will air on LFCTV for the first time at 10pm GMT on Wednesday December 23, the boss reflects on his life in the game.

His story begins in the picturesque town of Glatten, where he grew up with his family, fell in love with VFB Stuttgart and honed his football skills on the local playing fields.

Klopp developed into a promising player; however, his school reports were far from exemplary.

As the man himself explains in the hour-long film: "When I left school, the head said, 'I hope you can do something in football.

"If not, I don't have the best feeling for your future!'
James Milner is still injured for the visit of Leicester City on Boxing Day, although Simon Mignolet and Dejan Lovren are fit to return.
Watch the rest of Klopp's press conference here:
The Week in Football – General:
Monday: 
Several newspapers are reporting that manager Louis van Gaal will be sacked if Manchester United lose to Stoke on Boxing Day. (Various)
Manchester United made contact with former Chelsea boss Jose Mourinho about replacing Van Gaal, even before Saturday's defeat to Norwich.
Mourinho, 52, would "jump at the chance" to manage at Old Trafford. (Daily Mail) 
Chelsea have lined up Manchester City manager Manuel Pellegrini as a permanent replacement for Mourinho. (Fox Sports) 
Manchester City are favourites to land outgoing Bayern Munich manager Pep Guardiola, but they face competition from Manchester United, Chelsea and Paris St-Germain when he leaves the Bundesliga side at the end of the season. (Guardian)
The rest of this round-up is for Subscribers only.
[ttt-subscribe-article]