By Mihail Vladimirov.
One of the few genuinely interesting clashes on Boxing Day is that between the current league leaders Leicester and one of two big underachievers Liverpool. Both teams' contrasting story this season makes for a great Christmas subplot, making millions cast their eyes on the game. Will the plucky front runners continue their march towards an unlikely title bid or will one of England's traditional powerhouses get their act together and finally start pull out of the current slump?
Leicester – the Liverpool of 13/14?
On first glance it feels simply wrong to compare these two teams given they don't have anything in common. The history, the global fan base, the resources and windfall is totally contrasting. Therefore it feels overly ambitious on Leicester's part and in the meantime completely unfair from Liverpool's point of view to say the Foxes are even remotely close to the Reds' status.
And yet, on the pitch this season's Leicester have something very common with Rodgers' Liverpool of two seasons ago. Apart from the obvious thing – that both were sitting top on Christmas's Eve and that at the start no one dared label them as even remote title challengers – the other is the way both sides got to that position almost midway through the season is almost identical.
As with Liverpool back then, Leicester's surge up the table has mostly to do with a style of play which prioritises attacking at pace and directness with the obvious willingness to feed the team's two deadly attacking players as quickly as possible and let them work their magic. Similar to Rodgers' Reds, Ranieri's Reds don't have a particular interest in keeping possession for possession's sake – direct passes from deep, springing balls down the channels is their preferred way forward.
Another similarity is that although both teams are fairly well organised out of possession – in that each player knows what his overall job is – neither team impresses with being defensively solid. The contrast is that in Liverpool's case this was mostly to do with the lack of adequate protection ahead of the back four – something Ranieri's team has – while Leicester's defensive issues steam mostly due to the lack of top level centre-back options.
Ranieri's Foxes
What Leicester's Italian manager has showed up to now is almost a complete opposition to how he managed in the past. His nickname – the Tinkerman – although used as something to mock and under-appreciate his achievements – is actually very apt for what he has represented up to now.
Ranieri has always been a manager fond of rotation and constant tweaks both formation and personnel-wise. Additionally, although being an Italian suggests he will prioritise defensive stability and insist on overall tactical discipline, his team's have always caught the eye with a pleasing brand of football, which promotes possession as a means of achieving the required attacking penetration. All his teams – starting back from Chelsea and going through Inter, Roma and recently Monaco – has been often accused and being tactically naive and too mentally soft to really go on and challenge for the big honors. Which is why after a period of steady improvement and free-flowing football his sides often dipped in the most crucial periods and faded away. This happened at all the big clubs he managed
This was one of the prime reasons why his appointment at Leicester seemed so peculiar back in the summer. People were right to question, although the way they did was far from fair and respectful towards the Italian, whether the type of manager Ranieri is, was what the Foxes – who had just miraculously escaped relegation back to the Championship – really needed. The worry was that Leicester will try to play the same good and pleasing but ultimately flawed and non-efficient type of football, will generally impress, but as a whole will fail to achieve the set goals of preventing another relegation dog fight.
Another layer of concern was that this was actually Ranieri's first job at a relegation-battling team. Meaning there was always the suspicion whether the nice and calm Italian had what it takes to display the needed ruthlessness and dirty streak to survive in the bottom echelons of the Premier League.
And yet, in line with the totally unpredictable nature of the current season, what Leicester and their manager have showed is something not even the wily hipsters would have been able to predict. Right from the start Ranieri organised his side in almost a totally un-Ranieri way.
There wasn't the same tinkering with endless permutations regarding the formation, who makes the starting XI or which player is used where exactly. The team has always favored a 4-4-2 formation, with a couple of matches seeing the Foxes lining up in it's close cousin the 4-4-1-1 shape. Bar some changes following injury troubles, Leicester have played with a settled line up and even the changes have been largely the same and most like-for-like.
Additionally, the insistence on being attack-minded and possession-based team is no longer here as despite being the team with most goals scored, Ranieri's Leicester are a hugely reactive side who cedes possession in favour of endless opportunities to counter-attack at speed. As a result it's not a surprise that the Foxes currently have the lowest passing accuracy in the division (only 70.1%) and the third worst possession rate (43.6%).
Tactically, there is little that resembles the typical Ranieri team. The team plays a typical 4-4-2 formation (which Ranieri has not used since the start of the new millennium back in his early Chelsea days). The team depends hugely on either channeling the ball down the flanks from where balls will be put into the box or with long passes sent into Vardy's vague position for the forward to chase.
Defensively the team as a whole shows commendable work rate and willingness to fight for each other, but there is little to suggest the team is a properly assembled machine that simply crushes every opposition's attempt to breach them. Having kept only three clean sheets and conceded the joint most goals of all the current top ten teams strongly hints at this. If offensively everything depends on Mahrez's flair and Vardy's pace and their current hot streak in terms of finishing, defensively the team relies massively on the efforts of Kante – the French ball-winner who patrols the whole area ahead of the centre-backs and is tasked with the duty to break up the opposition's attacks before they have reached Foxes' defensive third.
The brand of football isn't eye catching, bar the scoring of some spectacular goals and the fact games involving Leicester are usually goal-fests. Leicester aren't technical, sophisticated or methodical. They are plucky, rudimentary and one-dimensional. The combination of them being incredibly efficient going forward and at times lucky not to concede even more goals is what propelled them to the summit of the current league table.
Ranieri's approach and possible line up
Leicester are one of the easiest teams to predict up to now in the league. This is because the man nicknamed Tinkerman has showed rigidity in terms of sticking to largely the same starting XI in the same starting formation.
For this game, the absence of Schlupp and Drinkwater basically means Ranieri's side picks itself
If the former was available, there was a chance to see Leicester switch to a 4-4-1-1 formation with him and Albrighton as natural wingers down the flanks and Mahrez shifted just off Vardy up front. Now, it seems going 4-4-2 is almost guaranteed with the main dilemma being who between Okazaki and Ulloa partners the forward leading the current goals scored table.
In theory, Okazaki should be preferred, as he is far more defensively diligent and suits Vardy more. When the Japanese international plays, Leicester are often seen transitioning defensively in an asymmetrical shape with him dropping back as a third central midfielder to allow Mahrez to stay high up and be ready to launch dangerous counter-attacks. Additionally, his ability to drop deep and join the build-up play before looking to send dangerous forward passes in behind gives Vardy that extra freedom to concentrate on working the channels and be ready to latch onto a throughball.
In contrast, when Ulloa plays, Leicester are even more direct and rudimentary; he stays high up, waiting for service in the mould of launched from deep balls. As such Leicester become a team that needs to feed two different forwards, who don't combine with each other much, meaning the team's style is even more direct and lacking any kind of possession sophistication.
Presumably Okazaki starts once again, with the rest of the team also unchanged. Huth will surely will start alongside Morgan following his return from a one-game suspension, with Fuchs and Simpson keeping their places at full-back; Albrighton (left) and Mahrez (right) ahead of them down the flanks. In midfield, Kante is a sure starter. Ranieri's second dilemma is whether to continue with the more technical King as his partner or utilise the former Napoli captain Inler's greater tenacity and overall defensive nous.
In terms of style of play, or overall approach to the game, Leicester are unlikely to deviate too much, if at all, from what they've showed up to now. Tactically, their style is such that it doesn't matter whether Leicester are playing home or away – it focuses on ceding possession to the opposition and waiting for chances to head forward on the break. It relies on Leicester defending in two solid banks of four, before looking to release the ball down the flanks or hit direct passes to the front pair who are expected to create chances for themselves.
Similar to Watford though, the nature of the wide men means Leicester are often prone to look like a 4-2-2-2 team going forward. This is because with both full-backs bombing forward, the inverted wingers are often seen drifting infield. This applies more to Mahrez, who is encouraged to drift between the lines and utilise his creativity and flair to act as the team's chief creator. Meanwhile, Albrighton is seen mixing it up more as he is often heading down the line before turning and delivering an inswinging cross or angled cut back with his right foot.
In midfield, Leicester have always used a split midfield pair. Kante is the ball-winner, expected to break up play and then do his best to try and release a teammate on the break, while Drinkwater (or King) is the one expected to receive the ball more and utilise his passing skills to deliver cross field passes or loft a throughball for Vardy in behind.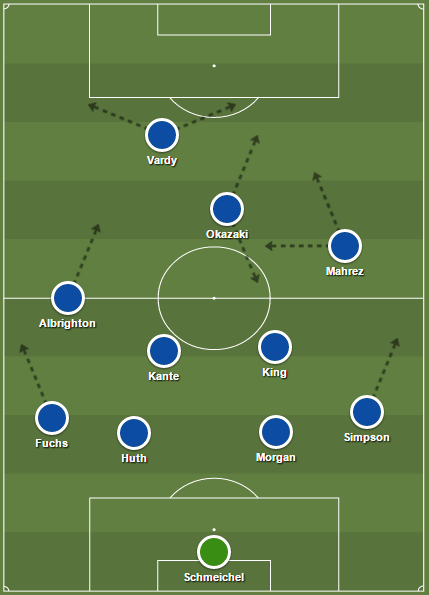 Liverpool – stealing ideas from Chelsea and Everton
With Liverpool basically guaranteed to have at least 55-60% of possession most of the time, it's hard to imagine pressing Leicester will play a huge part in this game. The Foxes guard against being pressed by being completely comfortable unashamedly hoofing the ball from the back and bypassing the back of midfield zone every time they can't pass it easily to one of their midfield players.
This means applying a counter-press will be incredibly demanding as it'll require Liverpool to not only press very quickly but look to stifle their opponent with at least six players pushing very deep inside their half and looking to press the ball before the visitors have even have time to hoof it out of this zone. All this is highly unlikely to happen, not least because Liverpool don't have six suitable players who possess the required pace and work rate to be utilised up front.
As such Klopp's job will have to be once again focussed primarily on having his team ready to turn all that possession into genuine dangerous attacking moves.
Recently, Leicester have been largely outplayed (despite rather luckily winning both games against Chelsea and Everton) when the opposition switched to more of a 3-4-3 formation. Tactically, this makes sense given what Leicester represent and where their strengths and weaknesses are.
The 3-4-3 formation (Mourinho switched to in the second half and Martinez utilised from the start) provides the required extra numerical cover at the back against Leicester's front pair. Chelsea did so using three defenders (Zouma sweeping behind Ivanovic and Azpilicueta who were tasked to cover the channels) while Everton used Barry as sort of a libero – midfielder when Everton were in possession but extra centre-back when Leicester tried to counter-attack. Meanwhile, the attacking threat, spread across the width of the front three is exactly what Leicester's centre-backs hate the most. Both Morgan and Huth are penalty box prowlers who relish the physical battle, especially if they can get tight to an attacker; but neither of them is comfortable stepping out or being forced to cover wide due to both lacking the pace and being easily turned over. Chelsea tore Leicester apart using Diego Costa as the roaming forward with Pedro and Willian continually drifting laterally and providing the late runs. Everton achieved this with Lukaku occupying the centre-backs' attention while Deulofeu continually stretched the play down the right and Kone darted infield off the left flank to exploit any gaps left in and around the penalty box.
Something similar can be done by Liverpool. Klopp is not fond of using back three formations, on top of the latest injury to Skrtel he barely has three fit centre-backs. Plus, there is no need to go with a proper back three unit until the side centre-backs are capable to step out and go wide as auxiliary shuttlers when Liverpool attack. Sakho and Can could provide that, but without Milner the latter will be needed in midfield. Clyne can theoretically play as the right-sided centre-back with Ibe used as the wing-back, but this will require too much reshuffling – again, something Klopp (unlike Rodgers, for example) has never been really keen to do.
However, going the Everton route is something entirely achievable by the Reds. Using a 4-1-2-3 who attacks in a 2-3-2-3 manner and defends in a 3-4-3 shape would be easily recreated. Sakho and Toure can play as the centre-backs with Lucas doing the Barry job – stepping out into midfield and dictating the play from deep, channeling the ball down the flanks or feeding the midfielders ahead of him, when the team is in possession; but being quick to step back and form a flat back three unit whenever Leicester regain possession and look to break away. His underrated ability in the air will be a great asset dealing with Ulloa, while his anticipation and positioning should have him in good stead dealing with Okazaki dropping off from the front. In both cases Sakho and Toure sweeping in behind should be enough to minimise the impact of Vardy working the channels and threatening to sneak in behind.
Going forward, such a 2-3-2-3 will depend on providing the combination of attacking width, diverse attack and movement fluidity to be really able to open up Leicester's rigid two banks of four. The fact the Foxes do not posses any midfield threat – in terms of someone bursting forward from deep – means Klopp can get away by fielding two players who can contribute mostly in attack. Can and Henderson should be asked to continually bomb forward is one way; another is to utilise Coutinho's dribbling and vision from behind the play, next to the captain, and dropping Can as the right-sided centre-back with extra freedom to also push forward.
Up front, depending on the nature of the centre-forward Klopp can arrange his front trio in a different way, providing different types of overall threat. If Benteke plays, having Ibe on the right and one of Firmino and Lallana off the left can perfectly recreate Everton's approach. The Belgian will surely relish the battle against relatively static centre-backs likely to stick tight on him, while Ibe surges up and down the flank (backed up by Clyne) with Firmino/Lallana roaming infield to provide the close support alongside Henderson bombing from deep, leaving Coutinho as the chief playmaker from a bit deeper through the middle.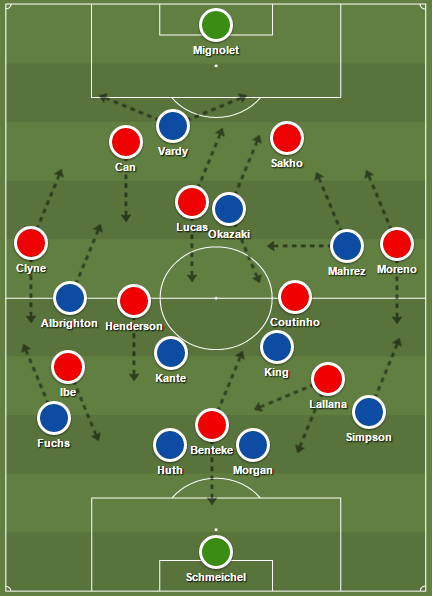 If Origi is preferred, having Coutinho closer to him – to feed him throughballs – would be more suitable.  With Lallana/Firmino roaming off the right and ghosting forward, both Can and Henderson looking to get up in and around the penalty area exploiting the space created by Origi's lateral movement, Liverpool should mount enough diverse threat too.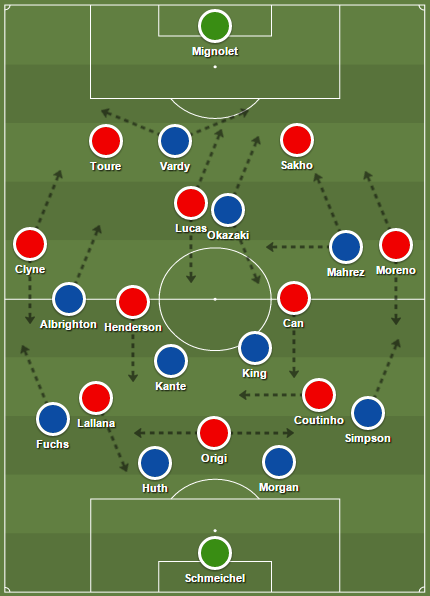 Defensively the 4-1-2-3, which attacks as a 2-3-2-3, can morph into a 3-4-3 to then occupy Leicester's attacking threats in order of priority. Lucas dropping back as a third centre-back will deliver the 3-v-2 advantage over their front pair, while the wing-backs (Moreno and Clyne) have the recovery pace to quickly get back and stick tight on Mahrez and Albrighton. This is bound to leave Fuchs and Simpson free on the overlap, but Leicester rarely utilise their full-backs on the break, because the direct emphasis means they don't have enough time to be a viable attacking threat. They contribute mostly by feeding the front quartet and getting high enough to force someone to cover them.
As such, Leicester's full-backs being the third in the list of priorities, means Liverpool can initially leave them free and engage them only when there is a viable threat posed by them going forward totally unmarked. In such situations, with the wing-backs focused on Mahrez and Albrighton, it'll be the job of the midfielders to drift wide and engage them – both Can and Henderson are good at this. On paper, this would then leave the central zone free for Leicester's midfield two to exploit, but neither Kante nor Drinkwater/King is seen surging forward from deep. The only threat will be if Inler plays, as he possesses clinical long-range shooting abilities, so he will need to be closed down quickly.
Alternatives
Of course, other formations – like the 4-diamond-2 and 4-2-3-1 – are also a viable alternatives.
The diamond formation would be a potentially useful weapon in that it emphasises on a central overload and double threat up front. The combination of Origi and Benteke should be enough to destabilise Morgan and Huth, while with Can and Henderson bombing forward the team would have enough extra support from deep. With these two roaming forward, Kante can't stick tight on whomever plays at the tip of the diamond, meaning that player will be free enough to roam between the lines and provide the ammunition for his teammates.
The potential shortcoming of this formation though is that it requires a very fine understanding and explicit tactical intelligence for it work as intended in terms of providing the required movement fluidity and complementary attacking diversity. This is not something Liverpool can guarantee and the risk is that – as seen in the last two games – the formation that inherently promotes a central overload can become too congested with players not really sure how exactly to pass and move in a meaningful way.
The other variant is to see Klopp going 4-2-3-1 and largely promote a man-for-man battle across the pitch, counting on his players' superior quality to eventually shine through. This approach will be risky with very few of the Reds' players currently playing anywhere near top form, and capable of outfoxing and outplaying their direct opponent. In addition, the man-for-man focus will leave Liverpool too open at the back, with the risk of seeing Vardy and Mahrez thriving in a one vs one and with oceans of space on the break.
Summary
This is a hugely intriguing game. The simplicity and repeatability of Leicester's strategy and overall approach will mean the emphasis is on Liverpool to come up with a game plan that is able to nullify their threats and expose their weaknesses.
The good news is that Leicester are far from the well-drilled defensive machine Watford were, which means the game will be largely whomever does better and is more efficient when in possession. The bad news is that Leicester are far more in unison and in much better form, meaning a straight shoot out might favour them more, despite Liverpool on paper having the better players.
Sooner or later Klopp will need to justify his big name and the tag of a world-class manager, showing he is able to lead Liverpool to a better future given time and patience. Outperforming one of the in-form teams would be a good start, more so given that ahead of this game Liverpool are trailing Leicester by 14 points. Unless the Reds' main hope for a top four finish hangs on the slim hope that both Man United and Tottenham drop out, Klopp's team will also have to focus on catching the Foxes.