By Chris Rowland and Daniel Rhodes.
W/c Monday November 23rd 2015.
Welcome to our weekly round-up, a diary of news and events on the site, matters relating to LFC and the world of football generally.
The Week in Football – Liverpool FC:
Monday:
The Premier League says its clubs' payments to agents from 1 October 2014 to 30 September 2015 have risen from £115m for the same period last year to £129.86m this year.
Liverpool spent most on agents fees, amounting to £14.3m, with Manchester United second on £13.8m, Manchester City third on £12.4m and Chelsea fourth on £11.9m.
I hate the idea that Aidy Ward got some of that.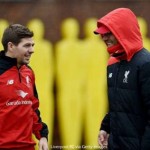 Steven Gerrard joined the #LFC squad in this morning's training session at Melwood.
Tuesday:
Lucas Leiva posted an Instagram picture of himself training with the Gerrard, with the caption: "Good to have you back my friend."
Former Liverpool midfielder Dietmar Hamann answered a Twitter appeal from 10-year-old Archie Palmer, who wanted a Reds player to visit his friend Myles Hemsley, who has been diagnosed with Leukaemia, in hospital.
Wednesday:
Liverpool have opened discussions with Simon Mignolet over a new contract in further evidence of manager Jurgen Klopp's confidence in the 27-year-old goalkeeper. (Guardian)
Jürgen Klopp is confident an effective balance is being struck between coaching time at Melwood and the turnover of matches as Liverpool look to kick off December by reaching the Capital One Cup semi-finals in the first of seven matches for the Reds before 2015 draws to a close (LiverpoolFC.com):
"Nobody should be in doubt about our ambition in this tournament," Klopp said at his pre-match press conference, where he confirmed intentions to select the strongest Liverpool side possible.

"We have an away game so of course we are not the favourite – we only have to be a real competitor and a real challenge for Southampton. At the end we will see what happens.

"I've met nobody who said 'come on, go out of the Capital One Cup early enough then you have a little bit more time to train'. Our situation is we are in all competitions and that's what we usually really enjoy.

"Two days or one day before a game, we have to solve some problems. From the moment you have your decisions you can start thinking about the game and the gameplan. But it always depends on the players you can bring."
Echoing the boss' sentiments, Alberto Moreno told Liverpoolfc.com:
"We just like to play matches, as many matches as we can, and at the moment I'm managing to do that.

"The manager has been putting his faith in me and I've being doing pretty well. I think that's the dynamic that I need to continue with.

"Keep playing well, keep winning games, continue to put a good run of games together and importantly, keep entertaining the fans.

"I don't think that at any point in my professional career have I had such a long run of consecutive games, and I can tell you that I'm enjoying it.

"It's nice to know that I'm in good form and feeling 'fit' like you say over here! I'm happy too, happy with myself and happy with the team."
Adam Lallana, 27, says Klopp's passion has helped him get back to his best. (Daily Telegraph)
Liverpool have recalled 18-year-old winger Harry Wilson from his youth loan spell with Crewe Alexandra. (LiverpoolFC.com)
Mamadou Sakho is getting into the Christmas spirit early, posting a picture on Twitter, of himself and his family next to a Christmas tree.
Thursday:
Jurgen Klopp revealed what he said to hat-trick hero Origi before Wednesday night's 6-1 victory away at Southampton:
Klopp said of Origi: "We had a talk. We sat together; it's not too often that we [manager and player] completely agree in each thing.

"I said 'You have to learn this, this and this, do this and don't do difficult things' and he said 'Yes, I know'. He wants to show everything in the short time he's playing, that's normal.

"Everybody knew him before Liverpool bought him and everybody wanted him. He's a really big talent. But he has to learn and he has to be patient, that's the truth.

"In 10, 15 years when he looks back on his career he'll have no idea about the games he didn't make in this moment. We can take the time to train.

"Today he made his easiest game, only easy passes, used his feet, was in the game and good defending. It was really good. And he got some good crosses! It was really good from him but he's still young and he has to learn."
There was also praise from the manager for the returning Daniel Sturridge, with Klopp revealing he'd never seen him live in the flesh before:
"I said to him after the game, 'Now I know what everyone is talking about! Thank you!' But of course I knew about his quality, that's not a problem.

"Not live in a stadium in an important tournament, but the rest I knew about. It's important for us that we have these good strikers that can react in the moments.

"Christian Benteke was injured then played two games and is in good shape so you have to think about how often you can play him – the same with Roberto Firmino and so on.

"Now we have our own little experiences where we know the third game is sometimes a little bit of a problem. So if we can bring completely new and fresh players, we have to think about it and that's what we could do tonight.

"The problem with Daniel is that we didn't know how long he could play; but if you don't know how long then he has to start because you can change on 35 minutes or whenever.

"Because he didn't have the perfect pre-season, everybody knows. It was a good decision, I have to say, and the same with Divock! Sometimes it works like this."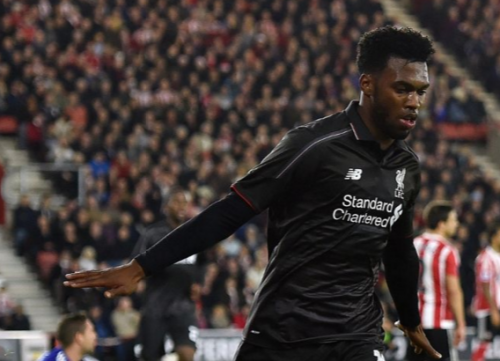 Friday:
Lucas Leiva confirms the belief around the squad, leading to a number of comebacks, is down to the new manager, as is the improvement in his own performances:
"It wasn't a good start, I would say, because in less than a minute we conceded a goal but we showed a lot of character to get back and at the end it was a brilliant result with so many goals and a comfortable win.

"Of course we still need to improve, especially the way we started the game, but when we score six goals there are more positives than negatives you have to look at.

"If you look back probably a few months ago, and especially against Southampton in the home game we played a few weeks ago, we conceded a goal late in that game and we didn't have the energy to get back [into it] and the belief to score another goal.

"Wednesday night we showed [belief] when we conceded a goal and we did the same against Chelsea when we got back and won the game.

"We showed that we are not to worry about this. Of course we don't want to concede but if we do then we have to work harder to get the other goals and that's what we did."

"I'm learning a lot and and he's a very demanding manager but a person who tells you what you need to do to improve," he continued.

"That's what he wants and if you make mistakes he just doesn't kill your confidence and he gives you confidence to improve and tells you what you need to do.

"So that's what we've been talking about and he's trying to add some things on my game and I think slowly I'm getting there. Of course it's never perfect but I'm very happy with the way I'm playing and improving.

"For me it was about the belief and the confidence that I needed. I think he's been giving me that and giving me an important role to play in the team.

"I think everyone in the squad feels important and everyone feels that you have a part to play."
The Week in Football – General:
Monday: 
Former Tottenham boss Harry Redknapp, 68, could take charge at Newcastle United if Steve McClaren is sacked, but 42-year-old former Liverpool manager Brendan Rodgers is favourite to get the job. (Daily Mirror)
Former Chelsea and Real Madrid boss Carlo Ancelotti, 56, will take over at Bayern Munich should Pep Guardiola quit the German club at the end of the season to move to the Premier League.
Victor Valdes' wife Yolanda Cardona has hit out at Manchester United for not inviting her husband to a charity function at Old Trafford on Sunday. She took to Instagram to criticise the club:
"Do not invite to my husband @vicvaldes1 to be part of the #united4unicef, it's the last thing you don't expect from one of the biggest club as @manchesterunited."
The rest of this round-up is for Subscribers only.
[ttt-subscribe-article]