By Mihail Vladimirov.
Despite all the talks of wholesale alterations being made in formation and personnel, McLaren went into this game with only one change from the thrashing at Palace the week before. De Jong, making his first start of the season, replaced Perez along with Cisse in attack.
Meanwhile, as expected Klopp made several changes to his line-up after the midweek Cup game. Mignolet, Clyne, Milner, Firmino, Ibe and Benteke were recalled to the starting XI. So it wasn't surprising to see Liverpool in a new formation, a 4-2-3-1 replacing the diamond formation used at Southampton.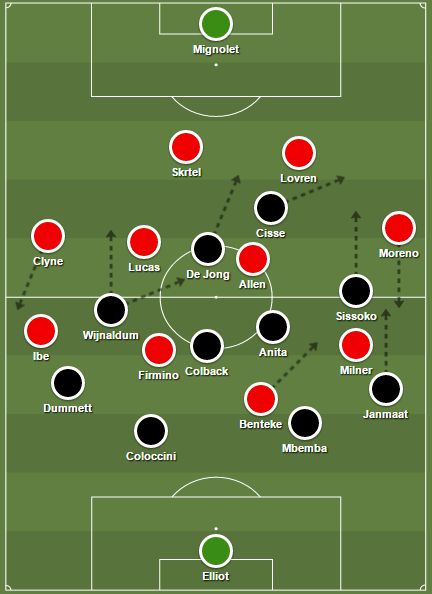 SUMMARY
Liverpool made a passive start, which had psychological and tactical implications
It let Newcastle off the hook by allowing them time to settle into the game and gain a sense of belief
You couldn't blame tiredness or Benteke for the passivity
With Liverpool's pre-match advantage lost, it became a battle between the teams' tactical approaches
Liverpool's set-up should have been OK – but it wasn't
There was no-one playing the 'connecting' role
Newcastle meanwhile were rudimentary but functional, with the clearer, simpler tactical game plan
McLaren's team showed a level of commitment and discipline previously lacking
Newcastle's shape was much more compact than usual, and they adopted a high defensive line, which is unusual for them
No half-time changes – understandable for Newcastle, not so for Liverpool
As a result, Liverpool remained stretched, low on pressing and without improvement
Newcastle were now matching Liverpool for possession
After an hour Klopp did try to change both formation and personnel with a double sub
But the substitutions and resultant change seemed poorly thought out and not really suited to what was needed
After the opening goal, Newcastle defended superbly and Liverpool still failed to penetrate
This was not a good day for Klopp tactically
Liverpool start passively
In a match against a team low on confidence and form (five league wins in the whole of 2015 up to now), the worst thing to do from a strategic point of view is to give them the chance to find their feet by going easy on them. But that's what Liverpool did in this match.
Such a strategic decision had clear psychological and tactical implications for both sides. By starting passively, with a slow tempo, low on pressing and overall aggression in their general play, Liverpool basically let Newcastle off the hook. Instead of putting them under pressure in and out of possession right from the start to increase their woes and add to their misery to the point of that they crumbled, the Reds gave their hosts time and breathing space to gradually settle into the game and gain that invaluable sense of belief that if they follow their manager's game plan all is not lost and there is still everything to play for.
It would be wrong to attribute Liverpool's lack of pressing from the start to either fatigue or having Benteke up front. Klopp's sensible rotation in midfield and attack over the last few games helped protect his team from tiredness. The latter suggestion is as right as to say that you can't play attacking football (or attack properly) if you don't play with a typical centre-forward up front. In modern football there are plenty of tactical ways to get around such preconceptions.
The rest of this analysis is for Subscribers only.
[ttt-subscribe-article]