By Paul Tomkins.
The idea that Liverpool were going to be faultless for the rest of the season, even with Jürgen Klopp in charge, was always fanciful. Klopp has had an incredible impact, but he can't turn water into wine.
With no one running away with the title, it automatically feels like the best chance for years; but it was seen as "there for the taking" only after Klopp arrived, with Liverpool starting from way down in mid-table. (Also, the title has been "there for the taking" according to some Liverpool fans every season, given that one big club always seems to suffer – while the others remain in the top four.)
Just as Chelsea are too far back to be able to afford bad performances or unlucky defeats in their revised aim to finish in the top four (and you'll always get some bad performances and some unlucky defeats), the same seems true of Liverpool and any potential revised aim of the title. In theory it seemed nice, and it can seem possible if everything comes together and stays together; but in practice it was never going to happen.
What's still up for grabs is a place in the top four, and also all of the cup competitions. And in this season of definite transition (new manager, and the majority of a squad that has only been at the club 6-18 months), that should be enough. Expecting more is fine, as long as you don't overreact when reality comes calling. Losing to Newcastle was unusually painful because Klopp started to make anything seem possible, but this was never going to be a team that defies reality. Just like Leicester it may spring surprises, but it takes more to be top in May.
Klopp has improved things since his arrival, but a group of hitherto flops, underachievers, new boys and youngsters, all fairly recently gathered, was never going to step that far, given that the core of reliable, top-class talent is fairly small (and much of it isn't fully match-fit). He can only do so much. He got the Reds running before they were able to walk, but there were always going to be days when they reverted to type – and fall flat on their faces. The fixture list looks kind from now on, but weirdly, it's been the tough away games (on paper) in which the Reds have thrived since the change of manager.
That core of reliable (in terms of quality, if not fitness), top-class players includes Daniel Sturridge, Jordan Henderson, Philippe Coutinho and Mamadou Sakho, all of whom were injured or not fit enough to start at St James' Park; so this still wasn't anything like approaching the strongest XI. Also, Emre Can has probably elevated himself into that group; his suspension meant he was sorely missed, with a workmanlike and diminutive midfield trio of Lucas Leiva, James Milner and Joe Allen the kind that frustrated fans under Brendan Rodgers.
Joe Allen was excellent against Southampton, but was poor here. Lucas has been excellent under Klopp, but was poor here. And Milner continues to baffle me: great lungs, big heart, but really poor passing; so far he's given the Reds a couple of excellent penalties and the occasional beautifully hit cross, but it seems that he needs to be the worker bee in a team of outstanding talents; when he's one of the senior figures it draws attention to his limitations. He's a good influence on the players off the field, but on it they appear to be carrying him.
Carried away
We all make the mistake of judging players (and teams) when they're at their best, but this weekend the Reds came up against a Newcastle side that played uncharacteristically well, at least in terms of commitment. "Why don't they play like that every week?" is a common refrain, but teams will almost always raise their game when they're the underdogs, as Liverpool did at City and Chelsea. Newcastle could afford to lose against Liverpool, as long as they tried, in the way they can't when they're at home to weaker opposition. Newcastle probably won't play like this against a weaker side at St James' Park, because the fans won't be so forgiving of a cautious approach, just as yesterday Liverpool didn't play like they did against Man City.
When Liverpool are expected to win they perhaps get a little complacent; or they feel inhibited by the pressure, which is perhaps a more common occurrence. It's been this way for years. It's perhaps the trap of never being able to assemble the best squad around – so you get great moments, but rarely great consistency.
Teams often only become truly great when they can handle that pressure: once they have enough incredible talent, and are of sufficient character, that they rarely crumble (see: Liverpool's halcyon years; Man United under Ferguson; Arsenal's Invincibles; the great AC Milan sides; Chelsea first time around under Mourinho; Barcelona in recent times; and so on – and maybe Klopp's Dortmund were close to being such a side, between 2010 and 2013. They all lost games, of course, but they did so rarely).
Lesser teams can have good seasons, but even Man United and Chelsea have looked short of quality and/or character in recent seasons, as have Man City (while Arsenal's character is frequently called into question.)
So if the best English teams of the past few years – who have better players than Liverpool right now – can struggle with consistency, and falter in the absence of a few key men, then Liverpool, with less overall quality, and also without some of their best players, aren't going to be immune.
A quick aside about Europe
As a brief aside here, I wonder if the general quality issue in England is as follows: as I've mentioned before, Spain has just two mega-clubs, and Germany only has one (their rivals pale in comparison in terms of wealth, and they often take it in turns to have a go in the Champions League – but Bayern, Barca and Real Madrid are ever-present). But there's something I want to add, that I haven't covered before.
The world's best players are attracted to Barcelona, Real Madrid and Bayern Munich, and to a slightly lesser extent, PSG – the rich elite of France.
England, however, has three mega-rich clubs, in Chelsea, United and City, plus the two "heritage" clubs of Liverpool and Arsenal. The best established players who want to come to England are probably evenly spread across the three mega-rich clubs right now, but the two heritage clubs can also still attract the occasional superstar, as well as being reasonably able to hang on to their best home-grown talents.
Between 2004-2010 just four English clubs were at this level, before Man City joined the party. Four into four Champions League places was ideal. The income and the positive exposure of Europe's elite competition kept those four clubs fuelled, in a virtuous cycle. Then, as I've shown in my Title Zone pieces, Man City blew Liverpool and Arsenal out of the water, to make for another "elite" Premier League side.
The key point I want to add is that not only did City help edge Liverpool out of the top four, but they bought the kind of players who would otherwise have gone to United and Chelsea, and possibly Arsenal or Liverpool (and they even bought players from those clubs, in a way that they wouldn't have been able to do before).
Even so, Liverpool, though now out of the elite, still had Steven Gerrard and bought Luis Suarez. Once Liverpool, England's 5th-richest club (Spain and Germany's heritage clubs are also their richest) had Suarez he wasn't going to be sold to another Premier League club, as Liverpool made abundantly clear. Meanwhile, Spurs, the sixth club in the mix, also had a major talent in Gareth Bale, and he too would only be sold abroad, whereas a few years earlier they'd have probably happily sold him to Man United.
These six clubs do their best not to sell to each other, unless forced to do so; Raheem Sterling is a rare example, a bit like Robin van Persie forcing his way to United. But these moves are less frequent now, particularly in terms of Arsenal and Spurs losing players to the Manchester clubs, as was starting to become a common occurrence. By contrast, the two Spanish giants hoover up the best La Liga players from everyone bar each other (plus maybe Atletico Madrid, although Atleti get first dibs on the rest), and also procure the best from the other major leagues.
Anyway, to bring this digression to an end, it seems that City emerging on the scene had two negative effects on the country's Champions League success: it broke up the way the same four clubs were constantly qualifying (and in taking one of their places, they had to learn how to cope with, and then thrive, in the competition), but perhaps more crucially, they bought players who would otherwise have gone to United, Chelsea, Liverpool and Arsenal. If you took City's best eight players (because in this alternate universe City never got rich) and gave two each to United, Chelsea, Liverpool and Arsenal, then those four teams would have got stronger. Imagine Kompany in Arsenal's back line, or the Toure of a couple of years ago playing for Chelsea, or Aguero at Man United. Indeed, imagine Joe Hart in Liverpool's goal and David Silva, who Rafa Benítez once wanted, alongside Coutinho and behind Sturridge.
Instead, the talent was diluted across five clubs.
(There may be other tactical reasons behind England's drop-off in quality in recent years, and issues with how many games we play over here, and the pace of the game, but it strikes me that although England still usually has the same top four – just with City instead of Liverpool since 2010 – the talent is more widely distributed at the top end of the table than it is in Spain or Germany, where the Champions League favourites reside. Like England, Italy also has a fair number of clubs who can attract the best players, although in their case it's because there haven't been anyway runaway leaders in terms of wealth, with Serie A struggling financially in recent times. Juventus are the richest, but not by miles; while Napoli, AC Milan and Inter Milan retain some glamour and cachet. Spain and Germany are set up to see Barca/Real and Bayern thrive.)
"Momentum"
Good runs can be undone in all manner of ways, and while Klopp was right to say that his team deserved nothing on Tyneside, this was an occasion where a perfectly good equaliser was ruled out. There will always be games when you don't play well, and you need luck on your side; and if Newcastle made their own luck with Skrtel's own goal (through hard work, if not skill), Liverpool still "deserved" to have a legitimate goal stand, just as any legitimate goal should. Instead of being level, and maybe coming away with a point, Liverpool had to keep pushing for an equaliser, and Newcastle broke again late on to seal a 2-0 win that killed Liverpool's supposed title hopes.
I only half believe in the concept of momentum – because in some form increased confidence can be beneficial. Several studies have questioned the existence of momentum (or at least "hot hands"), although some other studies suggest it might be real. However, momentum as a definite force in football comes unstuck on two counts: first, complacency, where players think they just have to turn up, as it starts to seem too easy; and second, improved results can transfer the team into a higher-pressure arenas, where the games get tougher (think of a cup run, where you face increasingly difficult opposition, or climbing the league table to where proverbial nosebleeds can occur). The 'momentum' of good cup runs can also lead to a short or long-term burnout, when the greater number of games means that the freshness just isn't there. Rotation can weaken the quality of the XI, but not rotating can lead to fatigue.
And of course, perceived momentum can always be killed by a result that goes against the run of play.
Momentum can be 'felt' when winning lots of games, but having the best players, and the best tactics/systems may be why those games were won. And although the squad has looked stronger under Klopp, with so many fringe players fighting to state their case, Liverpool just don't have enough quality at this juncture. So reality will bite, now and again.
Steady Eddies and First-Rate Robbies
Quality is all about consistency. Even the worst Premier League players will occasionally play a blinder – although their best may still not match a world-class player on a standard day. You get those Steady Eddies who give you "7/10 performances" each week, and that's a kind of quality. And you have those who are excellent – 8 or 9 or 10/10 – seven games out of ten (let's call them First-Rate Robbies – FRR), and that's another kind of quality.
Liverpool don't have too many in either camp right now, although some of that is down to age and experience.
At 21, Emre Can is developing into a mix of the Steady Eddie  (SE) and the (FRR). Jordan Henderson had previously also become a mix of the two – too good to be a Steady Eddie, but not quite spectacular enough to be a First-Rate Robbie. Both of these players represent bright futures for Liverpool.
I also think that Alberto Moreno has also developed into a mix of the two, under Klopp at least, although he seems to be edging towards a FRR in terms of his attacking work, allied to the pace and stamina to get back – but he's not quite there yet, and is not quite reliable enough to be a SE either.
All three of these players only attained that level in their second season at the club, although both Can and Moreno need to maintain their current standards to show that it's a permanent improvement and not just a temporary uplift in form (although given their ages, it bodes well).
Philippe Coutinho is now a First-Rate Robbie, although he took a while to develop from a Hot and Cold Kevin (HCK) – the kind who clearly has that special innate quality, but maybe only produces is three or four games out of 10, or for 10-15 minute spells within games before disappearing. Part of it was because he was just 20 when he arrived, and part of it is the way so many of these players (whether foreign or English) have inconsistent first seasons as they adapt to a new system, new team-mates, new pressures, new manager/s, new home-life and possibly a new language too. (On top of that, imports have to adjust to the pace of the game, although some pick it up quicker than others – just don't write off those who take time to adapt.)
Daniel Sturridge is a clear First Rate Robbie: the most natural finisher the club has had since an actual Robbie (and no, I don't mean Keane). Sturridge doesn't bludgeon defenders into submission in the way Fernando Torres and Luis Suarez did, and perhaps rarely scores the outrageous goals the Uruguayan popped up with – and he certainly doesn't work as hard as his erstwhile partner. But Sturridge cleanly finds the corners in the way Fowler used to, with a similarly sweet left-foot. His finishing ratio of big chances is phenomenal.
Sturridge looked like an FRR from his first game at Liverpool – a seamless transition into consistent top-level performances and goal returns, marred only by the injuries; he's a consistently good player, just not consistently fit. And yet he was never a FRR before he arrived at the club – the talent was there, but the consistency wasn't (perhaps due to being seen as a second-class citizen compared with Didier Drogba and Fernando Torres, in the eyes of Chelsea's owner, and again, perhaps injuries also played a part; and also, he was still quite young).
As such, he was only a Hot and Cold Kevin. (Not to be confused with a Cold and Colder Colin – those who at no point seem good enough, i.e. Iago Aspas, although his battered reputation is being repaired back in Spain.)
Nathaniel Clyne is the archetypal Steady Eddie. His pace, energy, tackling and overlapping runs mean that if I had to score him every game he'd get a minimum of 7 for the way he does all of those things consistently well. Unfortunately he'd rarely get more than a 7 as he's so average on the ball – but that's okay, in the grand scheme of things, with Moreno the more talented attacker and Clyne the more reliable defender. Not everyone can be perfect at everything. You need your Steady Eddies, not least because First-Rate Robbies have the potential to be temperamental.
Lucas Leiva is a solid-gold Steady Eddie: almost always a 7/10, occasionally an 8 or 9/10, although prone to the odd 4/10. James Milner should be an SE – and definitely was at City – but so far, in my eyes, he hasn't averaged a score much higher than 5/10 in a Liverpool shirt. If ever a player was a nailed-on to be an SE it was Milner – modest, dedicated, fit – yet this season, for me, he's been a Cold and Colder Colin. The second season is often the fairest time to judge signings, but he's just about to turn 30, and I wouldn't have him in the XI if everyone was fit. (I'm not totally writing him off, but time isn't on his side.)
I'd also say, perhaps controversially, that Simon Mignolet is also a Steady Eddie, although "steady" is perhaps a misnomer here. Most of the time he's very good indeed, but not quite good enough to be considered a First-Rate Robbie. His problem is the one or two games out of every ten where he has a total nightmare – his "lows" are really low – and the really elite keepers are more reliable (they may have one such game a season). However, as I said recently, Mignolet is at the level where he could be a title-winning keeper if the outfield ten are exceptional; he's just not at the level where he can inspire total confidence in team-mates, or consistently win points without also costing too many along the way. (It won't be easy upgrading him, mind, as the better keepers are all at rival clubs or Europe's elite. But Liverpool have to be looking.)
I'm not sure that Martin Skrtel is even a Steady Eddie. He has spells, and even seasons, where he looks like a possible First-Rate Robbie, then those where he has an entire category all to himself: the Self-Harming Stephen. I can't think of a more inconsistent player to have made 300+ appearances for Liverpool, but in fairness to him, all the centre-backs have generally looked better with Klopp's shielding midfield (even Dejan Lovren has looked comfortable), just as they looked better in Dalglish/Clarke's more compact shape.
When Adam Lallana arrived I wasn't really expecting a Steady Eddie, but under Klopp that's what he's becoming: hard work every game, but with very little end product. He impressed me after coming on against Newcastle, after a brave and battling display at his old club in midweek, but the goals and killer passes, which redeemed him at times last season, have dried up. Still, I'd pick him over Milner right now, because he's working just as hard, but (at least when he doesn't overplay) is at least capable of keeping possession.
Perhaps as is to be expected, Roberto Firmino and Jordan Ibe are both Hot and Cold Kevins. Firmino was linking fantastically with Coutinho, but has struggled since his compatriot's injury; it may not be coincidental that he's looked best alongside a player he'd previously played with for Brazil, whilst at times the rest of his Liverpool side look like strangers (which isn't too shocking after just 11 starts). He certainly appears to have zero chemistry with Christian Benteke. Meanwhile Ibe is simply at that stage where he's trying to put the different elements to his game together: still 19 (just!), his confidence has returned, and as well as tormenting full-backs he's started scoring goals, but the consistency in his end product is still poor (and was really poor at St James' Park). That usually comes with time and experience. He's progressing very nicely indeed, but he's not quite there yet.
Divock Origi also fits into this category: the talent is there, as seen at Southampton last week, but consistency is almost always an issue for younger players. Both Origi and Firmino should prove much better in their second seasons – even players as talented and experienced as Mesut Ozil can see their first season almost pass them by (which is why Arsene Wenger is so patient with his imports, as he knows the quality usually shines through in the end.)
Even English players can take a season or two to settle, as seen with Henderson – although he had only just turned 21 when he made his Liverpool debut, and therefore hadn't yet matured into a fully-rounded player. (This is why I'm harsher on Milner, because he arrived on a star-player salary, at the age of 29. And I say this as someone who liked him whenever I saw him play for City.)
Elephant
Then comes the elephant in the room: Christian Benteke. I defended his ability in the summer, and felt justified when he scored some good goals early in the season (particularly the one at Old Trafford, but also the flawless technique – which lesser players could not have shown – for that albeit meaningless pre-season goal), and then was happy when he added others against Chelsea and Bordeaux.
He's a very good player, and a fine (if not amazing) finisher; someone I was glad Liverpool signed, even if the price was fairly steep (but prices are rising all the time in football). Rodgers needed to shake things up, and he looked like an interesting new dimension to what the former manager was trying to do. Given the right service he's a Steady Eddie, with a one-in-two goal ratio in a struggling Aston Villa side, and a decent record of converting good chances.
But under Klopp Liverpool are not a crossing team, and to play with a big striker who does absolutely no pressing is a serious concern. We saw it with Mario Balotelli, and sometimes we see it with Daniel Sturridge (although he wins games because he's an FRR, and was helped by the dervish-like Suarez); and before that we saw it with the latter-years version of Fernando Torres. With all these examples we saw that a striker who stands around sulking absolutely kills the heart of a team. If the forwards press then the midfield have no excuse not to press. If the forwards don't, everything can grind to a halt.
Benteke remains a fine Plan B (a battering ram against deep defences, or to hold the ball up late in away matches), but unless Klopp is going to build his Plan A around him (and perhaps wisely, given his success has been built on gegenpressing, he won't) then that's one expensive Plan B. It would leave Benteke unhappy at being a bit-part player, but also not give him the chance to get into a rhythm.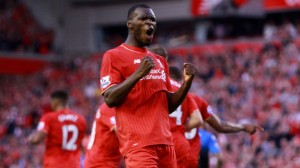 Although he's done well enough in terms of goals per game (five in 11 starts), the team itself scores far fewer when he's involved than when he isn't. That sample size remains fairly small, but the difference in the quality of the displays with and without him has to raise some concerns. (Origi's greater pace and movement, and increased work-rate, perhaps make him a more suitable understudy to Sturridge, especially now he's broken his duck with a hat-trick.)
I'd actually be tempted to sell Benteke in the summer, in the hope of recouping £20m (which I think is now achievable for an upper mid-table Premier League side), to find a more mobile front man; because whether or not Klopp actually rates the striker, it's not like he cost the measly £7m Aston Villa paid back when his Dortmund were apparently interested, and could therefore be used as an aspiring young option with a point to prove. The £32.5m fee, and Benteke's own increased worth as a 'proven' Premier League striker in his mid-20s, makes it harder to justify benching him for the long term, and even if the Reds lost £12.5m in a year, a better-suited £20m striker might be of more use next season.
This is precisely what Rafa Benítez did with Robbie Keane, who was failing to grasp what was being asked of him, and who was simply too high profile for the bench. The losses were cut quickly, and the Reds were able to get up to 75% of the fee back.
It's also worth remembering that Danny Ings looks much more suited to Klopp's style, even if it'll be next season before he's fit again, if all goes well with his rehabilitation. A more mature, settled Origi, and a fit-again Ings, would complement the FRR that is Daniel Sturridge.
Conclusion
Liverpool have quality, but it needs to be added to. Overall I make it two FRRs: Coutinho and Sturridge; two mixtures of FRRs and SEs (Henderson and Can); one getting-close-to-FRR in Moreno, plus a handful of very handy Steady Eddies.
On top of that there are a few Hot and Cold Kevins – players who are either new to the club/country and/or still very young; players with big potential, but where consistency will take time.
It all makes for a good starting point from which Klopp could make a few waves, but not a lot more; not enough to build a title-push on, but enough to bundle through some cup matches and maybe make the top four. Enough to have some fun, but also some disappointments.
It hasn't helped that some of Klopp's best players are lacking match fitness, and that quick, positive young players like Ings and Joe Gomez are out for the season, while others are loaned out (which was fine if Rodgers didn't want to use them yet, but some might better suit his successor).
And so, even if this season looks "open" at the top, it's more about Klopp experimenting, and learning about his players (and they about him), and seeing what works, what doesn't, and what he has to change over the summer, rather than setting ourselves up for a fall of dreaming too big, too soon.