By Paul Tomkins.
Fußball, eh? It's a funny old game. I write this wearing lederhosen (just lederhosen), with a big smile on my face. In footballing terms, spring has come.
Unfortunately I don't speak a single word of German, but Jürgen Klopp has certainly captured the zeitgeist. Just before Liverpool's new meister arrived, morale was virtually kaput, with the Reds playing an ersatz brand of football; a team of dummkopfs and doppelgängers – imposters, failing to perform like many suspected they could, as the Anfield faithful kept shtum (to the point where you could hear a pin drop).
Now there are confident wunderkinds in Jordon Ibe and Divock Origi, who finished off Southampton's schweinhunds in style, whilst Alberto Moreno's wanderlust along the left flank is now a frequent joy to behold, rather than something to fear. Adam Lallana was busy clocking up a shedload of schadenfreude at St Mary's, whilst Emre Can's über-passing and backheels have made the home defences of Manchester City and Southampton look like kindergarten kids. Both teams, like Chelsea, were blitzed.
September ended badly for Liverpool; but then began the Oktoberfest at Anfield, starting on the 8th, when the new appointment was made. We're now drunk on Jürgen…
So okay, I know a few German words that have crept into the English language, even if they had to be tortured into those sentences like Sam Allardyce cramming himself into a lycra leotard. Vorsprung durch Technik, as they say, even if I've no idea what it means.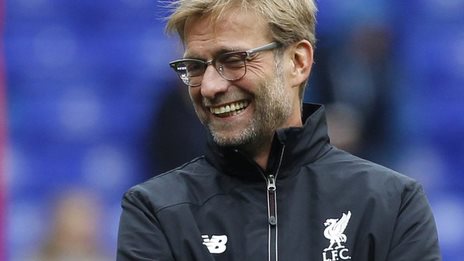 I don't care a lot for the League Cup – the runt of the trophy litter – and less so when there are plenty of European games in the first half of the season. But right now I'd pay to watch Jürgen Klopp manage the U9s. I'd even pay to see Klopp on the sidelines, talking to the assistant referee. Hell, I'd pay to see Klopp in an empty room on CCTV, although this might be considered cyberstalking.
It would be wrong to assume that Klopp has a magic wand, or that there will only be ups during his tenure, with no downs. But right now he's riding a wave of euphoria, with about 30 players busting a gut to get into his side. His ideas are working, and everyone is buying into his methods. I'm even considering changing my name to its German equivalent, although Google tells me that it's … Paul.
The rest of this post is for subscribers only.
Smiles all round
[ttt-subscribe-article]