By Paul Tomkins
Jose Mourinho has won everything and been feted by a (mostly) fawning British press over the past decade; with a fair bit of that praise obviously merited.
So it's refreshing to see him unable to arrest a shocking decline – looking as clueless as every other manager who has suffered serious setbacks. It doesn't nullify his past achievements, but to continue with the alliterative sibilance, he's not so special right now.
Indeed, the 'normal' one – still lacking several of 'his' best players (I use inverted commas as he hasn't been able to even play Sturridge and Henderson, or some others out for the season) – totally eclipsed the most self-promoting manager off all time. Chelsea were gifted an early goal but Liverpool bossed the game, and had far more corners, more possession, and where it counts, double the amount of total shots, twice as many shots inside the box and nearly four times as many shots on target overall.
And in a game where a player from each side could have been sent off, Lucas' possible second yellow only came after another Costa stamp on Skrtel. Liverpool got lucky with the added time at the end of the first half, but John Terry had already got away with raising his arm to the ball on the edge of the area. So it wasn't like luck, or decisions, favoured Liverpool over the entire game.
It all means that, right now, Jose Mourinho looks frazzled and beaten – talking like a southern states redneck who claims to have been abducted by aliens – while Jürgen Klopp oozes charm, charisma and confidence. And yet just twelve months ago Chelsea were running away with the title and Klopp's Dortmund were rock-bottom of the Bundesliga. To date, Mourinho has never hung around long enough to rebuild a side, and that remains the biggest question mark on an otherwise impressive CV.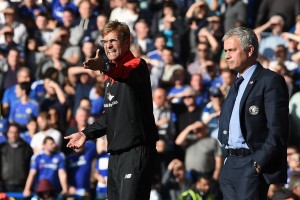 Fortunes ebb and flow in football, and it's often hard to get a true gauge of what a manager's abilities truly are; no two situations are alike, with different sets of players in different periods of time. On average, the best ones seem to come up smelling of roses (although to paraphrase Outkast – which is a first for me – some also seem to think that their shit don't stink.)
Last week Gabriel Marcotti wrote a fine piece about perceptions, and how managers are constantly selling themselves. It helps to show how difficult their jobs can be.
In football, every time a manager opens his mouth, he's selling. And he's selling himself, above all.

There are, generally speaking, two parts to the job.

One is the technical part: your coaching sessions, your philosophy, your tactical set-up, your in-game management, your assessment of players.

The other is the buy-in part. This happens both pre- and post-results. Before a game, the issue is whether the players embrace and understand what you tell them. After, it's whether the squad, along with the owners, fans and media, accept your reading of what happened on the pitch.
Marcotti ends up focusing on Rafa Benítez, whose early career fascinates him. He notes how the Spaniard overcame a torrid start to his managerial career when only in his mid-30s. After two brief, failing stints as a boss he went away and further studied the game, and came back successful. Getting Tenerife into the top flight earned him the Valencia job, and although he inherited a fine team, he took them to the next level. They went from nearly-men to double La Liga winners.
Benítez has won trophies everywhere he's been since, although things didn't go well at Inter Milan (but better than they are for Chelsea this season), and his second season at Napoli unhinged in the final weeks with two semi-final exits and a missed penalty costing them a place in the Champions League. Benítez is now working with a mega-budget for the first time in his career, with Real Madrid leading the league in Spain and topping their Champions League group. It was almost November when they conceded their first home goal of the season, albeit in a win (they've scored nearly ten times as many as they've conceded).
It seems to me that managerial suitability and 'fit' is perhaps more important than anything else. They need to have the right kind of players for their style of football, but they also have to handle the pressure (which differs from club to club), relate to the fans, and offer cause for optimism. If they can't handle the pressure, can't relate to the fans (or actively antagonise them) and look like they have no idea how to generate their next win, then it unravels.
As well as to improve things over the longer term, Jürgen Klopp was brought in to remove some of the negativity that Liverpool was drowning in. Klopp had also seen things go sour last season – albeit his seventh at Dortmund – but he didn't fall out with everyone, and left with a lot of love and good wishes. However, it gets to the point where a new manager – unless a totally wrong fit – can succeed (in the short term at least) simply by not being the previous manager.
Klopp hasn't flicked a switch or sprinkled magic dust since swapping yellow for red, but he is unbeaten in his three league games – against Spurs, Southampton and Chelsea – two of which were away. He is getting more from the players than Rodgers was, last season and this. And at Dortmund, Thomas Tuchel is getting more than Klopp could manage once it turned stale. That doesn't automatically make Tuchel a better manager; but he offers freshness. Changing manager isn't always the answer, but it can release the pressure valve.
The fact that Klopp's first league win with Liverpool came at Stamford Bridge, where the Reds hadn't scored more than twice since 1989, and that it compounded the pressure on the Reds' arch enemy Jose Mourinho, made it all the more perfect.
While Mihail Vladimirov will go into more detail on TTT, Klopp's tactics seemed spot-on, with hard-running and high-pressing in a striker-less formation followed later on by long diagonals onto the head of Christian Benteke, from which route the second and third goals came. (Having criticised so many the transfer choices made by Brendan Rodgers, I feel that his main legacy in terms of players he chose could be the big Belgian – a brilliant all-round striker. The only doubt with Benteke is if he can help a high-pressing game, or if he's merely a brilliant Plan B.)
Chelsea were happy to spoil Liverpool's party 18 months ago,  and have sung about it ever since, so if this result sends Mourinho his P45 then the schadenfreude will be sweet. And while I rarely focus too much on opposing managers, the unravelling at Chelsea is important to show just how no manager is anything other than human. Even the best are clearly fallible, if the situation gets beyond their control.
So far this season Mourino has shown zero humility, and his post-match interviews are descending into farce; but he might grow to have more sympathy for people like Arsene Wenger and Benítez, who have generally worked on much smaller budgets, which bring fewer safety blankets. The Portuguese has continually mocked that pair, and yet, in football, laughing at others can come back to haunt you. "He who laughs last", and all that. If I were Wenger or Benítez – joint top in England and Spain – I'd have Mourinho's latest post-match interview on a constant loop, as he mumbles incoherently with what looks like a huge pool of spit or drool on his shirt.
Maybe Mourinho will be laughing again in the future; you wouldn't write it off. But right now the joke is on him. There's a lot to dislike about Chelsea – some of their fans (like any club, they have their good ones and their bad ones); their owner and how he made his money; their manager's graceless antics, including the treatment of a female doctor; Diego Costa's dirtiness (although I've loved a few dirty Liverpool players down the years); John Terry's attitude to just about everything (team-mates' girlfriends, black opponents, disabled parking bays, etc.) – but I didn't find the club and the team anywhere near as distasteful when they won the double under Carlo Ancelotti. The Italian won in style, and didn't get nasty when things got tough. Either way – success or failure – he merely raised his eyebrow a little.
But for once Chelsea and Liverpool met in the bottom half of the table; the difference was that Liverpool had recently replaced their manager. In fairness to Chelsea fans, it's good to see them stick behind Mourinho, although part of me thinks it's just the wilfulness of knowing how much neutrals hate him. (Everyone hates us, we don't care, etc.) Mourinho's history earns him the right to time, but Chelsea are not as 'relatively' rich as they were 10 years ago in terms of the cost of their team/squad, and there's a startling sense of doom around that club at the moment.
Once it starts going wrong a negative momentum can build; if the existence of 'hot-hands' and positive momentum is still up for debate, there seems no doubt that nervousness, a lack of confidence and players fearing the worst (which becomes a self-fulfilling prophecy) can drag a good team down. While players can have confidence in themselves when things are going well, they can still be denied by the opposition's quality. You can be on top form and still lose. But a chronic lack of confidence almost opens the game up to the opposing team; as does a home crowd that is nervy, impatient or downright hostile to its own players.
It got that way at Liverpool under Brendan Rodgers (last season and this), and it got that way in Benítez's final season at Liverpool. Whether or not dressing rooms are "lost" – a term which suggests enmity – they can lose belief in the manager. It doesn't have to mean all-out internal wars, but something appears to break.
It's almost like a juggernaut skidding on ice: the manager can turn the wheel this way and that, but there's a good chance it will have absolutely no effect. With Mourinho, you almost feel like he's putting his foot on the accelerator and trying to drive it into a mountain, maniacal smile etched across his face, his silver hair standing on end. And if he's not actively trying to crash, he does seem determined to take everyone down with him.
He seems to earn an almost messianic loyalty from his players, but also seems to upset them more than any other can; the sense of betrayal on both sides heightened if once tightly bonded.
I don't feel that it got that way for Rodgers at Liverpool – there wasn't widespread hatred for him in the ranks – but the anger felt by Alberto Moreno and Mamadou Sakho, in particular, has been clear this week. For Rodgers, these were squad players. And while that was clearly a bad call on his part, and one perhaps fuelled by other issues, managers will always have those angry at not getting a game. Mourinho seems to upset everyone when it starts going wrong.
(As an aside here, Moreno was poor on Chelsea's goal, but it was interesting how BT Sports' English commentators and English panel all ignored Liverpool's English right-hand side getting caught ahead of the ball and failing to bust a gut to get back. I do feel that certain pundits play 'attack the foreigner', because they have this burning sense that English managers don't get the best jobs and English players get too easily overlooked.)
Klopp is the perfect fit
In some ways Liverpool already feel more like Benítez's Liverpool than Rodgers'. Though obviously not yet anywhere near as good, this side now has something of 2008/09 about it.
Beating Chelsea is one similarity, for starters. Coming from behind to win is another. There has been a return to the same kind of back-four work (both Benítez and Klopp assiduously studied Arrigo Sacchi's methods), and full trust in a holding midfielder, with hard pressing further up. (Well before gegenpressing, Rafa's Valencia were called the "crushing machine", and remain the most fervent visiting side I've seen in the flesh at Anfield.)
There's also a more Benítez-like use of substitutes (something TTT stalwart Andrew Beasley pointed out here, which was written before Christian Benteke added a goal and an assist to the numbers at Stamford Bridge). Rodgers never made the most of his options from the bench. And just like Benítez, Klopp enters the pitch after the game to point out details to the players.
Rodgers' Liverpool were brilliant for a while, but for all the permutations and formations, it never felt tactical (perhaps apart from the 13-game run last season.) He got the best out of Luis Suarez, and cleverly built the team around the Uruguayan's strengths – but the team shape never felt balanced. Gung-ho worked for a season, and I'll never blame Rodgers for that fateful Chelsea party-pooping, because the team was set up to attack. To have changed it for that one game would have been dangerous, and indeed, disingenuous.
However, while the best teams score a lot of goals, it's rare for them to concede too many, too often, and rely on having to score three or four to win games. Yes, the best teams can do that, in certain games, but they rarely put themselves under that kind of pressure. (Chelsea won the title last season; this season their efforts are being undone by bad defending.) It felt that Liverpool had to be totally open, or totally closed, under Rodgers. Balance eluded him. And while Rodgers 'got' the club, maybe no more than half the fans ever quite took to him.
Klopp seems to mix the warmth Rodgers showed to his players (well, some of them) with Benítez's tactical acumen (even if the German modestly ascribes the 'brains' as belonging to his assistants). And the current boss has something that neither of those Liverpool managers had, in terms of the sheer magnetism of his personality, and how it makes him seem like a force of nature.
Of course, Benítez, who was loved by most Liverpool fans, wasn't the right fit for Chelsea during his brief interim stint there – although the way in which he landed a European trophy and a top-three finish in the face of such antipathy from his own fans (whilst playing a record number of cup fixtures) is up there with his finest achievements.
Klopp feels right for Liverpool, in the same way that Benítez did. It's not just the two league titles in their homelands shortly before arriving on Merseyside – although such successes help with credibility. And while past achievements aren't always relevant, they buy time and belief from supporters. Having won a major league not once but twice, with a clear underdog, suggests a special talent, even if the challenges are different with Liverpool.
Klopp arrives to find a club at a slightly lower starting point than the one Benítez discovered 11 years ago, but probably inherits a slightly better squad, albeit one lacking in world-class talent (there's no Steven Gerrard). When (or if…) they're all fit, Klopp will certainly have better striking options.
Benítez was able to quickly add two key players (Xabi Alonso and Luis Garcia), while Klopp has to work with what he's got, at least until January. And just as Jamie Carragher went up a level when becoming a regular centre-back under Benítez, Mamadou Sakho (who most of us rated before this season) has looked a rock under Klopp. Others will surely improve, too.
By contrast, Dejan Lovren, whose presence in the team early this season seemed to cement Rodgers' fate, was used by Klopp as an emergency holding midfielder, yellow boots and all. New managers can do those kind of things and get away with them, particularly if they're winning.
And even if it doesn't last, the rare feeling of being better than Chelsea is something to savour as the Reds' new manager sets out to prove, over a number of years, why he's known as a winner.