By Mihail Vladimirov.
SUMMARY
Mourinho's strange selection, leaving out Matic and Fabregas
Their set-up left no doubt their first intention was defensive
Chelsea's early goal actually helped both sides
Klopp had tweaked Liverpool's formation to something approaching a 4-6-0
Liverpool were able to target both flanks rather than one or the other
But they still looked sterile going forward
Neither team established supremacy at the start of the second half
Benteke's introduction was decisive
The Team Selections
For this game Mourinho brought in Obi Mikel and Oscar for Matic and Fabregas from the starting XI in his last league game (the defeat at West Ham).
However, Mourinho made only one change to his starting XI for the midweek Cup game at Stoke – at left-back, with Baba Rahman giving way to Azpilicueta. Neither Matic and Fabregas started despite them not featuring in midweek – the former having been suspended, the latter omitted entirely.
In the meantime, after making no fewer than nine changes to his starting XI for the Cup game, Klopp started with his usual League starting XI here, but with the added benefit of all bar Clyne, Skrtel and Firmino having had five days of rest.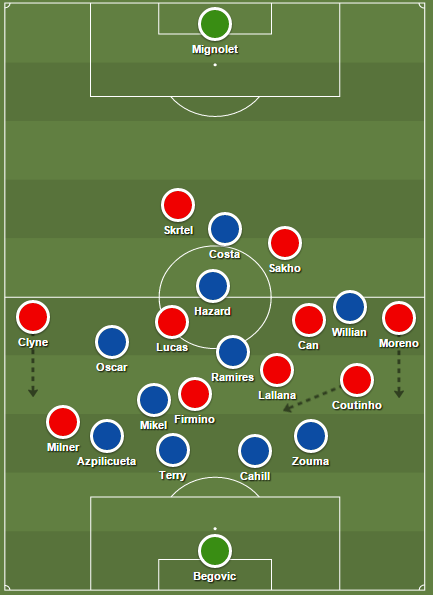 Chelsea's line-up
It was strange to see Mourinho deciding to leave both Matic and Fabregas on the bench for this game and preferring to continue with players who had to go through a tremendous workload in the past seven days. The poor results and the crisis his team is going through at the moment demands some radical changes, but this one made little sense tactically or fitness-wise.
The starting XI suggested the Portuguese would approach the game in his usual 4-2-3-1, even with his most defensive-minded and technically-lacking midfield pair of Obi Mikel and Ramires. However, once the game started it was clear this wasn't the case. Similarly to Southampton at Anfield, Mourinho preferred more of a 4-4-2ish formation, putting Hazard central and just off Costa with Oscar on the left flank.
The likeliest reason for this was that because having selected neither Matic nor Fabregas – two players who can help give Chelsea command, albeit in different ways – Matic through defensive security and reliable passes, Fabregas by pulling the strings in the middle third – Mourinho had to settle for a more reactive approach. In addition, he might have expected Klopp to continue with the recent 4-3-2-1, so the Chelsea manager wanted to guard against a potential Liverpool right-sided overload (as seen in the Southampton game) by playing Oscar on his left flank. This left Hazard and Costa to replicate the diverse counter-attacking threat showed by Mane and Pelle.
Early goal suiting both sides
It may sound peculiar (especially from Liverpool's point of view), but from a strictly tactical point of view the fact that Chelsea took the lead so early actually suited both teams, because of how the game state now provided each of them with a perfectly suitable scenario for their respective line-ups to thrive and suit the demands of what each side was set up to do.
Given the way Mourinho decided to set up his side – formation and personnel-wise – it was hard to see how Chelsea would be able to try and boss the game in a bid to build and maintain a platform to command the game and construct non-stop attacking moves. Not only had he opted for a formation with only two midfielders but it was an overly functional midfield pair. Obi Mikel isn't as creative on the ball as Matic, while Ramires is an entirely different type of player to Fabregas – an energetic runner, rather than a technical deeper-lying playmaker.
On top of this, both swapping Oscar and Hazard's positions and the choice of players starting at full-back betrayed Mourinho's intentions, confirming that Chelsea were here first and foremost to defend and then wait for counter-attacking opportunities.
For Liverpool, meanwhile, despite their different starting formation (more on this below), with so many ball-players, the lack of focal point up front and the absence of pace everywhere bar at full-back, the visitors weren't really suited to a counter-attacking game. So a dominant position and a focus on heavy possession would suit them much better.
The early Chelsea goal made it possible for both teams to settle on an approach that fitted what they were suited for, based on how they lined-up, and didn't expose their limitations by putting them in a different, and less favourable scenario (which would have been the case if Liverpool had been the ones to take an early lead).
Chelsea were now able to focus on getting back into their intended deep and narrow 4-4-2ish defensive shape, with both wide men tucking infield and Hazard staying closer to Costa rather than getting deeper to help make the side more compact. The team had a plethora of counter-attacking outlets to suit such an approach nicely, with Ramires and Willian with pace and dribbling from deep, and Hazard and Costa as a split forward pair offering different attributes and danger.
In contrast, for Liverpool the resulting game state allowed them to immediately settle into command, enjoying a possession and territory advantage as a way to involve their ball-players.
Klopp tweaking the formation
As soon as the game started, what caught the eye was that instead of going with the recently favoured 4-3-2-1 formation, Klopp decided on something that is broadly best described as a 4-6-0 (or a 4-2-4-0 and even a 2-2-4-2-0, if we want to be more exact). Coutinho and Milner were clearly playing in wider positions than up to now under the German manager, leaving Lallana and Firmino as the interchangeable pair of advanced central midfielders (without either of them staying high enough on a permanent basis to be labelled a de-facto forward).
The rest of this analysis is for Subscribers only.
[ttt-subscribe-article]