By Mihail Vladimirov.
Summary
Palace approached the game surprisingly positively and were bright early on
Palace pressed from high up early on and the visitors succeeded in destabilising Liverpool's passing
The approach was the same as Southampton's had been, but was more successful because of a change in Liverpool's formation
Palace then dropped deeper, positioning their team tightly around the midfield third
But they didn't drop their defensive line, which helped them minimise the space for Liverpool to play in
Instead of pressing from ahead, their front quartet now had a different brief
Liverpool started dominating as Palace went into their shell after taking the lead
On the whole, Liverpool displayed a nicely balanced structure in attack and enough flexibility in possession
Liverpool's fluid shape allowed them to create trios all over the pitch
Pardew made some clever half-time switches to counteract Liverpool's right-side danger and keep Clyne occupied
Palace also reverted to their high early press as at the start of the first half
The game opened up, and Palace took a gamble by leaving the door wide open, but got away with it
Poor execution of the final pass or touch let Liverpool down and let Palace off the hook.
Team Selections
There were few surprises from either side for this game. Following the Europa League clash and the long travel to and from Kazan, Klopp made a few changes as expected, with the likes of Skrtel, Lucas, Coutinho and Lallana returning to the starting XI and the recent 4-2-3-1 kept in place.
On the Palace side, injuries more or less forced his line up. Wickham was fit only for the bench, which meant Bolasie had to play up front. The surprise here was that instead of being played up front on his own, the wide man had support in the shape of another winger – Sako – as Pardew opted to play a 4-4-2 formation from the start.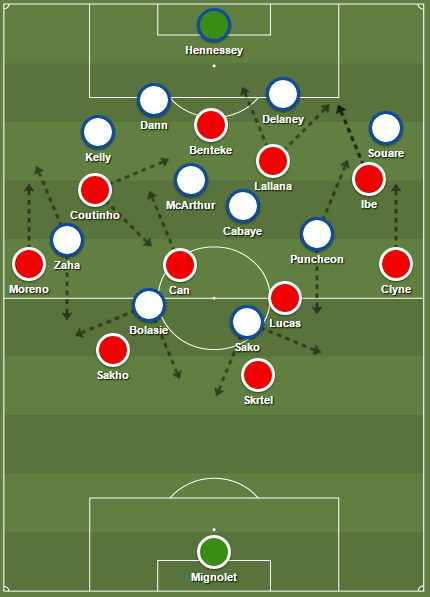 Palace press from high up early on
For this game it was entirely logical to assume the visitors would approach the game cautiously, defend most of the time and hope to spring dangerous counter-attacks as their main attacking threat. Especially after Pardew openly verified in his pre-match press-conference how his main aim was to prevent Liverpool pressing and counter-press efficiently.
But this isn't how the Eagles started the game. Instead of being locked on with a defensive-minded, reactive and passive strategy, they decided on completely the opposite approach. Their starting formation being a 4-4-2 also hinted at that.
What Palace did from the first whistle was identical to how Southampton started their visit to Anfield a few weeks ago. Like Koeman's side, Pardew's team start was bright and brave – using their base 4-4-2 formation to press high up in a 4-2-4 (which often morphed into a 2-4-4 when the full-backs pushed forward to support the pressing). The aim was clear – to make it as hard as possible for Liverpool to play the ball out and prevent them settling into a decent passing flow right from the start of the game.
Palace and Southampton may have had the same starting approach, but the difference in the effect and efficiency of both teams was obvious. Interestingly, this had nothing to do with either team doing anything better or different. The difference was solely in how Liverpool approached the two games in terms of formation and what effect this had on their play.
Back in the Southampton game, Klopp had his team line up in a 4-3-2-1 formation, which helped his team successfully bypass the opposition's pressing by having enough players placed in a way that allowed Liverpool to reliably pass around from the back. The back unit (the centre-backs and Lucas dropping deep) was sensibly supported by Can and Milner dropping either side of the Brazilian, with the full-backs also staying in touch down the flanks to help provide the wide outlets. All in all Liverpool had seven players in close proximity to beat Southampton's advanced pressing, which often contained no more than five or six players.
Here, however, Klopp's decision to start with a 4-2-3-1 formation largely had the opposite effect. It meant both teams were man-for-man across the pitch, which inevitably favoured the pressing team due to their pace and work rate early on. Liverpool didn't have the safety blanket of greater numbers of players in deep possession to outnumber the press, as whenever someone dropped in he was quickly followed by his close opponent and remained tightly marked and vulnerable to being pressed. As a result the visitors succeeded in destabilising Liverpool's passing and which in turn allowed them to keep the play inside the home side's half.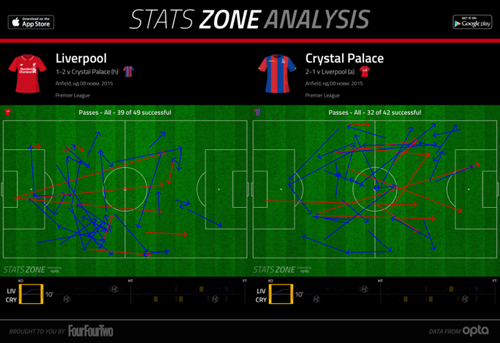 Visitors drop in to compress the midfield zone
Another similarity between Palace's and Southampton's approaches for this game was what happened following the ten minutes of high press. After the initial flurry of the opening period, Liverpool's opponents lowered their pressing intensity and dropped deeper, positioning their team tightly around the midfield third.
However, the difference here was that in contrast to the Saints, who more or less had to change their initial behaviour because of how easily their pressing was bypassed, allowing Liverpool to use their midfield bodies to pass the ball forward and exploit the space left free, here the Eagles changed tack arguably following a pre-planned script from their manager.
After pressing in what was essentially a 2-4-4 formation for the opening ten minutes, now Palace dropped into a shape closer to 4-4-2-0 (which had been a Pardew speciality at Newcastle). The front quartet become much deeper and closer to the midfielders and instead of pressing from ahead had a different brief. The front pair's task was to let Sakho and Skrtel free but focus on stopping passes being played into Lucas and Can by now getting tighter to Liverpool's midfield pair (which now slowed down Liverpool's build-up process). Similarly, instead of looking to press the full-backs and cut-off the link between them and Liverpool's centre-backs, Puncheon and Zaha were now responsible to track back Clyne and Moreno, respectively, and offer greater protection to their own full-backs. The fact Pardew played his wingers to suit their strong foot was also a hint of the defensive job he envisaged them to play from now on.
The rest of this Analysis is for Subscribers only.
[ttt-subscribe-article]