(Or 'We Can See Us Sneaking Out')
Assembled by Chris Rowland.
It was the German who started it. That comment about feeling alone after Palace scored their winner at Anfield last Sunday, to the sound of seats slamming back as many headed for the exits with the not too small matter of eight minutes plus five minutes stoppage time left.
"Eighty-two minutes – game over," said Klopp after his first defeat as Liverpool boss.

"I turned around and I felt pretty alone at this moment. We have to decide when it is over."

"I am not disappointed about this, the fans leaving, they have reasons," said the German. "But we are responsible that nobody can leave the stadium a minute before the last whistle because everything can happen.

"Between 82 minutes and 94 you can make eight goals, if you want, but you have to work for it.

"That is what we have to show and we didn't."
It has prompted plenty of introspective debate amongst Liverpool supporters, on The Tomkins Times as much as anywhere else. So we thought we'd present the highlights of that debate of the hot issue of the day, or week. Between us we've got all angles covered – amongst there are 90 minute zealots, early leaving apologists and all points in between. There were piquant observations, constructive suggestions, explanations, all sorts – so tuck in and see the kind of debating that forms such a central part of TTT life. Some of these are edited highlights rather than whole posts.
We'll kick off with this from Tzar:
I do understand you can't control people and force them to do things, but leaving the stadium at 82 mins isn't good enough and isn't worthy of a Liverpool supporter! No matter where you come from.

I also understand that with "success" the supporters will support more, but it's also in time of hardship and adversity you need the most support, and I do know that a loud voice from the home supporters will affect both your own team and the opposition. The last few years and I would say it goes back to 2008, the magical nights of European football have diminished at Anfield, and the reasons for that are clear – too many disappointments have affected the supporter culture!

With that in mind, I also understand that with the high ticket prices it also affects who will attend a match and who doesn't but it shouldn't be an excuse – because if you ARE at the stadium, it is your duty to support your team. So I don't understand why supporters don't get back behind the team when we face "lower" opposition. The glamour might not be as great as facing a tougher opposition, but nevertheless – it's Liverpool you are there to support, not fight the opposition…

YNWA
I tried to speak up for the early leavers:
Sometimes people are trying to beat the crowd to get a taxi – taxis being an unusually and disproportionately high part of travelling around Liverpool. I've heard people arranging to leave 'on the board' – ie when the number of extra minutes goes up – to leg it up the road and get a taxi, because three minutes saved there can cost you an hour once the taxis get nobbled. That means they can get back into town for the railway station in time for their trains home, and maybe have time for a pint and something to eat first.

Another aspect of early leaving is I suspect the inability to countenance any more disappointment, a form of self-preservation if you like, when staying to the bitter end is just too painful. That's what 'fuck it, I've seen enough, I'm getting off' really means.
Anthony Stanley weighed in:
I think it's up to individuals and I wouldn't get on my moral high horse about it. Like you say Chris, if people are under pressure to get trains etc. and the financial implications that could arise if they're stuck in the city, it's understandable.

Personally, I wouldn't leave early no matter what but then it's a rare novelty when I get to Anfield, maybe twice a year if I'm lucky.

But all clubs have fans that leave early. It's an odd one, I was glad to hear Klopp mention it but it doesn't concern me hugely. From all accounts, the atmosphere was fairly flat throughout the whole game anyway…
However, Daniel Rhodes classes himself firmly in the stay-to-the-bitter-end camp:
I get all the reasons, but that's part of the sacrifice isn't it?

With an average around attendance of around a 1,000 this even happens at Halifax Town, has done for years, and annoys my Dad no end! Which has been passed onto me. Pisses me off. No excuse (unless life gets in the way, which it will, but then maybe don't go in the first place if you can't 'commit to the whole thing').

Don't do it. In fact, it is close, but this is worse than half-and-half scarves.
And the thorny issue of half-and-half scarves triggered another debate, which also took in team colour jester's hats but which there isn't room for here!
I countered with:
Sometimes it's the ONLY train you can get back or you need to make a train connection later – especially when it's a Sunday match (ie most of them) and a late kick off, a day when train services are reduced or replacement buses are operating adding time to the journey. If you miss it, not only is there extra cost you may not be able to afford but it's work tomorrow. It's just too much to risk to stay on till the very end, you just have to make sure you get that bus/taxi back to town by nipping out before the masses leave.

Just another bloody irritation about matches being switched to Sundays!
But Daniel Rhodes wasn't having any:
 I know all about this after turning down plenty of tickets because I knew I couldn't make the connection train back home from Chester to Holyhead. That's my point, if it means I need to leave 10 mins before the end there's no point me going to the game.

The people who leave early probably then moan about a lack of effort by the players on the phone-ins!
Krishaldo then added his two pence worth:
I used to go to games more regularly than I do now. Mainly due to less disposable income and time constraints (had to turn down a ticket to the Palace game).

But when I did used to go, I'd go with a mate of mine. It was difficult getting tickets (as we all know) so we used to mainly do CL, EL or cup games. These were predominantly 8pm (ish) mid week kick-offs, meaning (presuming no extra time) they finished around 10. We'd leave home in the early afternoon to miss rush hour and arrive with plenty of time to get some grub (Toby Carvery on the way from the M62 was a regular), maybe half a shandy and then to the ground all parked up and ready to roll (sometimes needing to collect tickets as booked last minute).

If we left after the final whistle, we'd need to get back to the car and onto the motorway and travel back to Bedford (around 180 miles). On a good run, with a bit of luck and no stops that'd take three hours meaning we'd be home for ~1am.

If we get stuck in the god awful Anfield traffic (getting out of the car park is bad enough), roadworks at night (they can sod off) plus a stop along the way, we may not get home until ridiculous o'clock (I think 4am was the latest we made it home once).

Consider that we have taken a day off work to get to watch the game, getting home at a reasonable hour to avoid missing another day of work is pretty high up on the list of priorities. We are both self employed, so if we don't work, we don't get paid.

Is watching the last 5 minutes of the game worth losing another day of work? Or being completely drained when trying to do what we have to do (thankfully I work from home, but my mate is a gardener).

As Arrigo Sacchi put it:

"football is the most important of the unimportant things in life"

We had to choose what was more important, and as much as we love LFC, our day to day lives are more important than (as my GF puts it) 22 men kicking a bag of wind around a piece of grass.

Don't confuse making a decision for the greater (personal) good as being a lack of support. Doesn't a full day off work, travel, cost of tickets, late return home and everything inbetween suggest otherwise?
Chris Rowland:
I agree Krish, and people shouldn't forget that the majority of the early leavers will also be season ticket holders. You can't accuse fans of being fickle and uncommitted for missing the last 5 minutes when they've forked out god knows how much for a season ticket.

The argument that if you can't stay for the whole 90 minutes you shouldn't go at all is nonsense too. Maybe as a Liverpool fan you'd rather watch 85 mins of your team's match than 0? If you have to get away early due to personal circumstances – and I too have been self-employed for the last 20+ years so understand exactly what you're saying Krish, especially for night matches  – that should not be taken as an indicator of the degree of your committedness.

I've had enough of this 90 minutes po-faced piety! 😉

This is not a new phenomenon by the way – I recall the Kop singing 'Sit down you bums sit down' to the Main Stand and Kemlyn early leavers in the early 1970s! It also happens at every stadium, but only ours makes news.
Beez Turned to Klopp:
It's such a tricky debate.

Leaving a few minutes early is one thing, but a mass exit in the 82nd minute isn't great support for the team either…. The context of the match situation is hugely relevant too of course.
Chris Rowland:
It is Beez, but it doesn't affect the time of your train!
Vinnylfc:
Surely if everyone is now leaving early, it's better to stay and avoid the rush!
Anthony Stanley added another viewpoint:
….. Consider what one of the lads said – a friend of his who is from Northern Ireland missed his flights a while back because he left after the game and got stuck in traffic.  You might argue he should have booked later flights but the original booking (Saturday) had to be rearranged due to the Europa League Thursday kick off.

Just like Krish's point above, there are genuine reasons to leave a bit early and I wouldn't be hurrying out to castigate those who do so; we make mitigating circumstances ad infinitum for the players on the pitch.  Sometimes, supporters should maybe be given the benefit of the doubt also…
T.I.N.Klopp raised the more important point than early leavers; the support you give while you are in the stadium:
Leaving early is still no reason for not singing and cheering while you are there and that is more important in my opinion. I always do. I may look and sound like a moron, but if I don't I can't call myself a supporter, merely a spectator, and then I could just as well watch it on TV. It would mean nothing to go to a match and see it live unless I would participate in the way I can and I would bet that the players appreciate the support they get and try the harder knowing there are fans caring enough to give the matches decent atmosphere. that's my (not so humble) opinion of it all.
Krishaldo came back in:
In 13/14, you wouldn't be able to shut the crowd up (even after the 2-0 loss to Chelsea). But that was because the on pitch performances were great and gave us 'hope' and something to cheer for.

But until we have something to cheer for, continual cheering the team on can get tiring and wane (even watching the games on TV last season was gruesome at times).

It's not an excuse, but it's the truth. We all want LFC to win games and trophies, but if we are playing crap, we can't be perenially upbeat with cheering the team on. Human psychology just won't allow us to (maybe we need Dortmund style 'cheerleaders' to get us going – but I bet we'd get ridiculed for that by other fans).

I'm not suggesting we were crap on Sunday. In fact we were quite good. But the 18 months prior to that had been grinding down on the fanbase (let alone the 13/14 hangover).

It's going to take some time to get that out of the supporters' collective system.

Changing from doubters to believers won't happen overnight, just as the team won't transform over night.
Then Kloppy D spoke up for the early leavers:
My two pennies worth on the leave early issue. I also take the view that leaving five mins early can save you 30% of the journey time home. Equally, I make the decision to stay at Anfield until the end as its not something I can do every week given where I live. But it comes at a price especially with an 8 year old in tow.

I wonder, though, if Jurgen in saying he felt "alone" was making a broader point – not just that people started to leave but also (and more importantly in my opinion) he felt that the crowd was not part of helping the team get back into the game.

There were 13 minutes left – easily enough time for us to score. An engaged crowd of Anfield lore baying for blood, screaming at Linesmen and Refs to give peno's, acting as the fabled "12th man" is what I think he wants – sadly, it hasn't existed at Anfield for a while. Maybe he is just commenting on the general silence that meets the team after the first five minutes if we're not winning. Which is compounded when we go behind after 80 odd minutes and he feels the crowd have their part to play in helping the team win and they don't respond.

Just a thought.
Chris Rowland:
Klopp must be finding the lack of support at Anfield a profound disappointment as it holds near-mythical status on the continent, not really matched by the day-to-day reality. And it is certainly completely eclipsed by the support received by his Dortmund team in the Westfalen Stadion.
SuffolkScouser added:
I can't believe that people are leaving Anfield before the end of the match! Do they not remember that its not over until the 95th minute??! Seriously who would go to a film and leave before the climax at the end? Why do that with a football match? You never, ever know what is going to happen. Think Gerrard goal in the FA cup final, think Istanbul! As for being quiet, I can't undertand that either. When I stood on the Kop there was always someone starting a chant off, even if it was only Brucie, Brucie gissa wave (to Bruce Grob!) Sad to see how times have changed!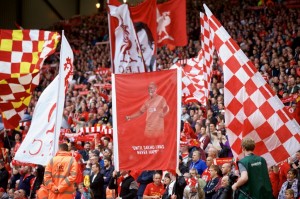 I never leave early if I'm driving (although I wouldn't jump down the throats of those who do) but there really is no option if your last train home requires you to beat the crowds.

It constantly amazes me, though, just how many people get up on about 35 minutes and don't come back until about 50. Never understood the need for a pie/piss being greater than the desire to watch your team play!
Sometimes people need to leave early, due to the reasons mentioned by Chris and Krish. But, I don't think the majority of leavers on Sunday had anything to do with early trains or traffic.

I think people were starting to believe Klopp had waved the magic wand and we could get the elusive 4th place, with Chelsea struggling, City drawing, we'd be only six points off top, depending on the Arsenal result. And then Palace (the c**ts) burst everbody's bubble, and we woke up in the present.

On top of that, Sunday's game was extremely frustrating as there were so many nearly moments when we could have won the game, but for a missed pass, a wrong run or a defensive mistake, to bring us all back to reality. We  looked like what we are: a young team, with lots of new faces and a new manager, trying to gel mid-season. The final period of BR's reign is not consigned to the past yet.

I think the early leavers on Sunday were just crying with their feet. Women cry, men slam the door on their way out to the pub (insert gender role stereotype disclaimer as necessary).
I don't have a long journey to make but even if I did I wouldn't leave the ground early. I just don't understand some people. Several people around me missed the goal on Sunday in the first half because of the need to get a pie or piss out half of the pub they drank before the game.

I have seen people leave in the middle of a penalty shoot out even. I can understand leaving early in some circumstances like prior commitments, the same as getting there late occasionally because of things that crop up at the last minute and can't be avoided.

To run out 5 or 10 minutes early when the game is still in the balance just to get the car out the car park I just don't get. Park a little further away and walk to the car. Yes its a bit longer but in the main it will save sitting in the car park for an hour. Its not as quick as leaving early but it is a good compromise.

Another option would be for LFC/EFC to redesign some of the parking areas so they have exit tunnels or bridges or some such that means car can flow straight onto the road and not have to wait for pedestrians to be stopped while cars come out.

Do I really care that much about these people though? Probably not. They are probably not likely to be singers or really vocally passionate about Liverpool. They probably think they enjoy watching football but really they are only there because they have nothing better to do and it allows them to have a good moan when things go wrong.
Chris Rowland:
I think that's a sweeping assumption. Since over 32,000 of the crowd are season ticket holders, proportionally a good many early leavers must be too. It doesn't automatically make them fanatics, but it doesn't mean that they're not either. They're committed enough to fork our the best part of a grand for the privilege. And you can't know whether they were enthusiastic singers or not. You assume not, but some may have been. And they may argue that seeing 85 minutes of their team is better than 0 minutes.

OK, I'm playing devil's advocate here to an extent, and your assumptions may well be right in a number of instances, but it wouldn't do to lump all early leavers under that label. Some may be longstanding and legitimate supporters with a genuine reason to leg it ahead of the masses.

Some may just not be able to stomach the final whistle of a defeat though!
MikD felt that "regular attendees need to make more of an effort to fix the atmosphere at Anfield":
That might sound harsh but what else does it ultimately boil down to? Is it apathy? Do too many people simply expect to be entertained – a sense of entitlement without making a contribution themselves? I do not know the answer but there seems to be plenty of reasons / excuses, be it not sitting together, not knowing the songs, poor results, having to catch the train home. They may all contribute but there has to be a solution and a willingness to change.

What I do know is those who get to attend regularly are very, very lucky. This is a club with a worldwide fanbase that runs into tens of millions, perhaps hundreds of millions. 40,000 get to watch the team. They are part of the match, they are in the stadium, in the images broadcast around the world to the watching millions. Those 40,000 are the only ones who can impact the match, the mood of the players, the manager, the effort, the officials, the opposition at a time when hundreds of millions are shouting and screaming into their tv's, yet mute. Those 40,000 are the voice of all LFC fans around the world and they have a responsibility.

The rendition of YNWA at the MCG in Melbourne was a reminder of the passion that exists for this club on the other side of the world. That strength of feeling exists in many countries and everyone tunes in and sees and hears the 40,000 lucky ones at the game. Sitting arms folded, silently, leaving early. It looks bloody dreadful and if a new manager has cause to mention it just five minutes into the job, it is having an impact. We need to find a solution as it is becoming embarrassing considering the world renowned reputation Anfield managed to build up through past generations. This needs to fixed not just for Klopp and the players but for LFC fans themselves.
The last word – for now – goes to Madchenkliop – although publishing this article will no doubt reignite the debate:
The elephant in the room on this leaving early issue is that people are having to make 3+ hour journeys to get home in the first place. Anyone think this is a big problem for Watford, Stoke or Palace home game supporters? Of course I'm sure there are plenty of examples of people who travel from afar, but not on the scale that's happening at Anfield.

I think all the problems – singing, leaving early; the lot – lie with a lack of acceptance by all – but especially the club itself that things have changed and are changing massively.  The demographic has changed. There's no need to go round blaming anyone, but equally it's self defeating to ignore it.  Surely the club, instead of just taking the money and turning a blind eye could accept that it's many supporters from further afield are so numerous and consequently desperate to leave a bit early they are causing disruption?  Surely LFC ltd. could address the issue and try and find solutions? Get smart and creative about where to seat their fans…

I remember thinking at the time, it was embarrassing on camera to see Klopp with the backdrop of shufflers. It looked awful. I've worked a lot in theatres and concert halls and if anyone does have to leave early then the venue AND the spectator themselves will go to lengths to make sure they are seated near an exit. You wouldn't expect them to walk across the stage. If you have to leave early say you need to sit near the back for god's sake!  And LFC – ask people when they're buying tickets. It's a co-responsibility and you should do it for the good of your team! I think the least both parties could do would be to make it clear this is likely to happen, publicise it and then make some kind of provision to minimise the fuss.  At the moment, there just seems to be no guidance from anyone.

The same with the singing. Why don't the club get involved so singers can sit together and help provide resources and encouragement to do so? Why don't websites (like this one) and supporters groups organise to at least try and get to a point where there is a living culture of songwriting and songs that people can access easily? You can't sing if you don't know what the fuck you're singing! It's half assed bollocks if you ask me. There could be an ongoing top (Klopp) ten of songs across all the fan sites. Wasn't there an initiative from the club to collect entries for the best Luis Suarez song and people sent in home made recordings? That was fun!

Oh my god, I'm falling off my soapbox ….. aaaargh!!!!!,/:'04a'@#3,!