By Paul Tomkins.
We've all got theories on the right and wrong ways to manage a football club, especially if it's the club we support. We can mock the fans of other clubs when they get all high and mighty, but each set of supporters has its own requirements.
At times these expectations may be unrealistic – indeed, they often are – but it's part of the reason why managing one club can be totally different to managing another. There are differing levels of past success, and styles of play, to live up to. Everyone wants to win, and win in style, but some fans expect it more than others.
There's never been more information out there, and although not all of it is helpful, it leads to all kinds of different opinions on the best way to approach the game. At times I feel overwhelmed by the sheer quantity of information, thinking that if I'm supposedly an expert I need to have read it all. Yet I'd never have the time to write anything.
It is human nature to find things to criticise; and the fewer things there are to criticise – if almost everything is going right – the more we focus on those few details. Rare is the contented football fan, no matter how his or her team is performing. The more we know – or think we know – the greater the chances of finding fault; we can scrutinise the minutiae, in a way that wasn't possible before.
It's now possible to be unhappy about stuff that we didn't even know existed a few years ago. For now, we are happy with whatever Jürgen Klopp does – even in defeat – but in time we'll start questioning his ideas, just as we have done with his predecessors. (Some of it will be fair, some of it unfair; and some of it will be nastily personal, but that's another issue. I wonder how long it will take for the rabidly anti-Klopp campaigns to start?)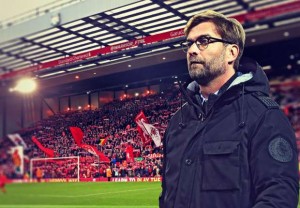 Klopp will make mistakes, but he will also do things that don't fit with our preconceived notions of what works. He has his methods, which worked wonders in Germany. Some will transfer to England, and to this set of players; others might not. He has to learn about Liverpool FC, but we also have to learn from him.
Just this weekend he learned that with 12 minutes to go, in a tightly-balanced game, the stadium will start to empty. I'm sure that's not in the romantic folklore of Anfield that has spread around the world. These early exits may well have been for logistical, transport reasons (in which case, why bother going at all?), but it sends a message to the players: we don't believe in you. It's a message that also gets transmitted through groans, and nervy silence. I'm sure there was a time when the crowd stayed until the end, to boost the team's chances with hearty chants, but these days that only happens in the very biggest games. Klopp has brought his passion; too many in the crowd haven't matched him.
Criticism in the modern age
Thirty or forty years ago, how much could a manager in English football get wrong? He'd play 4-4-2, and the choice seemed to be between whether one of the two strikers was a big man, to go with the other big man, or a little one who dropped into what used to be called the hole. His team could be direct, or choose to pass it around. And while this simplifies things somewhat, and ignores what the likes of Liverpool and Nottingham Forest were doing, these do seem the broad brushstrokes of English football.
A manager was allowed one substitute, to be picked from a bench of … one. He dealt almost exclusively with British players (or Scandinavians who often spoke better English), in a one-language dressing room. He'd buy and sell a couple of players each season. If the best XI was fit, they played every week.
He didn't have to speak on TV too often, and while 'big charisma' coaches were not a new thing, you could have someone who looked and spoke like your confused granddad – even turning up to sign players in a cardigan and slippers – and yet somehow have the outstanding football acumen to win three European Cups. Of course, Bob Paisley wouldn't last a month in the modern game – at least not as someone whose job involved fronting up to the media several times a week. Managers from bygone eras would obviously adapt to the new ways of working (if they'd been born in this era they'd have been shaped by this era), but it would also work against those who did not have an obvious charisma.
There weren't many experts; and all of the amateur ones were confined to pubs or workplaces. There was one TV highlights package, either on a Saturday night or Sunday lunchtime, and from the '80s onwards, maybe one live game a week.
In short, there wasn't anywhere near as much to be unhappy about. At most, a manager would maybe make one selection you disagreed with.
The rest of this post is for subscribers only.
[ttt-subscribe-article]