By James Nalton. 
In the recent Tactics podcast and in he and Bob Pearce's Tactics For Beginners series, our tactics expert Mihail Vladimirov discussed how the conventional way of describing 'positions' is largely redundant in modern football, and we should talk instead about the roles that players undertake.
Here, James examines exactly that issue.
Which is more important, a player's position on the field or their role?
While they are two very different things, one can't exist without the other, and one defines the other.
The number of positions on a football field is up for debate. From simple assignments such as goalkeeper, defender, midfielder and forward, all the way up to 25 or more nuances of each slot on the pitch. There are probably more grey areas than there are common positions.
On top of these positions countless roles have emerged over the years, some defunct, some reinvented, others constant, and many altering as the game evolves.
Know your role
Descriptions of player roles can be taken from writers, commentators, pundits or video games, but the only true definition of a role is the one which a coach gives to their player.
Under Brendan Rodgers, Liverpool used many different formations and as a result there were numerous player positions and roles on show.
The number of formations used by the Northern Irishman produced some interesting and successful experiments when it came to players operating in new roles, but these sometimes hindered the team by stifling players' strengths, which in turn weakened the collective.
It's not inaccurate to say that players were playing in the wrong position, and it could also be said that during Rodgers' tenure players were playing in the wrong role, or at least unfamiliar roles.
Lazar Markovic played as a wing-back on both sides, and while there are plenty of attributes which are transferable from the "wing" position, there are plenty of others required to perform the "back" elements which aren't transferable.
A player's adaptation to a role also depends on the type of team they're playing for. A winger might be comfortable at wing-back in a Guardiola team full of attacking stars who always have possession, as they're able to perform the wing element of the role more often than not.
At Liverpool however, they would often end up being part of a back five. Whether this was the intention or whether it was supposed to be part of the role, it happened anyway because Liverpool were regularly under the cosh.
Not that either wing or wing-back are Markovic's best position anyway…
What is "best position"?
"Best position" should be a combination of a starting position and role which gets the best from a player individually, and in turn goes on to naturally benefit the team as a whole.
Players will often determine their own roles in a position thanks to their natural strengths, style of play and strongest foot.
There are numerous examples of players shifting roles and becoming uncomfortable when you might not expect them to, and also several examples of a player performing a similar role regardless of where their starting position is. Some players are more versatile than others, but all will have a preferred role. Here are some examples:
Brendan Rodgers and Emre Can
At times, Rodgers' use of Emre Can in a back three suited the young German down to the ground, mainly because he could play the ball out from defence and step up into midfield.
Even though Can is an excellent footballer, and could probably be moulded to play any of the ten central positions from sweeper to central midfielder, he did display some weaknesses in this role which Rodgers created for him.
The role required a combination of the attributes you'd expect from a full-back, sweeper, centre back, and central midfielder. The German was almost being asked to play two or three positions at once, particularly as he was making up for the weaknesses of Simon Mignolet and Martin Skrtel, and maybe even weaknesses in the team's overall defensive organisation.
He had played some minutes at centre-back for Germany's youth sides, and he'd also played at full-back for Leverkusen (albeit on the left) as well as his more common position of central midfield.
As the right sided centre-back in Rodgers' back three, Can was able to combine all three roles, becoming a right sided libero who would also perform the job of a defensive midfielder and a right-back.
The moments when Can struggled in this position were when some of the defensive attributes of a full-back or centre back were required, especially when defensive nous and experience were required, which is understandable for a 20-year-old.
Ultimately, he was being asked to do too much, and could look as flummoxed in his defensive duties as he did elegant in his attacking ones.
Martin Skrtel and Martin Skrtel
Martin Skrtel is a good example of a player who looks comfortable at right centre-back in a two but not at right centre-back in a three. In a three he looks most comfortable as the middle centre-back, as it suits his strengths and hides his weaknesses.
The Slovakian shows that playing as a right sided centre-back in a back three is much different to right sided centre- back in a back four.
It could be argued that this is merely a different role, yet the differences are such that it could also be argued that it's an entirely different position. Some players could perform effectively in both positions, but the attribute set isn't the same for both.
Skrtel likes simple interventions. His trademark sliding tackle wouldn't be considered good defending by many students of the art, and neither would his penchant for a clearance – a statistic he often leads the league in and gets credit for, but one which Opta defines as:
"…a defensive action where a player kicks the ball away from his own goal with no intended recipient of the ball."
The John Smith's advert featuring Peter Kay springs to mind: https://www.youtube.com/watch?v=izkYlTVnpwQ
Philippe Coutinho and Harry Wilson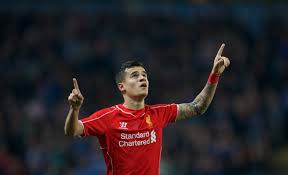 Philippe Coutinho is often described as a "number ten" in terms of role, but he's able to play this role from the position of a number eight, ten, or eleven. However, he'd be a much different number eleven (or left-winger) to someone like, say, Harry Wilson, even if they were both playing in the same position.
This isn't just because Wilson is left-footed, though this does make a difference. The young Welshman also has the attributes to perform a number ten role, but his natural ability and physical attributes, on top of his left footedness, mean that he'll naturally perform the role of a left-winger at times, whether he tries to or not.
Coutinho could never be described as a left winger, but can play from the left wing position. Wilson could be described as a left winger when playing on the left, but could also play a number ten or creative role in the middle. This where confusion begins to arise, and clearer definitions are needed.
Away from the numbers
The description of positions as numbers, as used in the previous passage, confuses things further. The most popular descriptions of a role as a number seem to be number nine, number ten, and more recently a set position for six and eight.
Even more confusion can be triggered by the use of old-fashioned phrases such as centre-half and inside forward. The latter has seen a revival thanks to the attacking intent of many possession-based sides, but it's not quite the inside forward of old.
The position known previously as centre-half is more akin to the modern day roles of defensive midfielder and anchor man, and is another role which could creep back into the game as defenders push further up the field, but it hasn't quite done so yet.
Positional evolution is never-ending. As tactics evolve, adapt and react to the most recent developments, positions change with them. The 2-3-5 formation of old looked ridiculous a decade ago, but is now creeping back into the game thanks to the determination of certain coaches to dominate possession in games.
More possession means certain positions within modern team shapes have evolved, but while the formation may revert to a 2-3-5, the roles will be much different.
Change returns success
Versatility is an increasingly desirable trait in a footballer, and at the top of the game being tactically intelligent is now a requirement for the majority of players in a starting eleven.
The ability to change positions, or adapt to new formations, is vital as the game evolves. Replacing the idea of best position is the idea of 'one of his best roles'. Young players need to be taught football from a tactical as well as technical standpoint, using their natural attributes and tendencies to grow into various roles, rather than being taught one rigid position.
The job of the coach and manager is to get the players into the positions and roles where they can benefit the team while also flourishing as an individual.
If players have to be shunted around to cover weaknesses at the expense of their own strengths, which in turn weakens the team as whole, then the manager is using them incorrectly. Or the club is signing the wrong players.
It's still perfectly reasonable to say a player is being played in the wrong position, even though the explanation behind this might need a 1500 word essay to explain why and the phrase "wrong role" might be more accurate. Semantics aside, 'wrong position' is still a thing.
It's too complex to define simply, but maybe: position is roughly where a player is within the team shape, and role is roughly what they're doing from this position. If the player is moved to the detriment of either themselves or the team, then it's wrong.