By Krishen Bhautoo. (TTT Subscriber Krishaldo)
Prior to our League Cup game vs Bournemouth in October, Eddie Howe said "It's difficult for British coaches to get a job at the top clubs and may get harder."
Astoundingly, Mourinho echoed similar thoughts with him saying 'I'm speaking against myself but I disagree with there being so many foreign coaches in this country and in the Premier League at the moment. I don't see a reason for it because I don't feel the English managers are behind the foreign ones on any point.'
Dave Bassett lamented the appointment of Dick Advocaat at Sunderland too: 'What's wrong with giving the Sunderland job to an English guy?'. Hopefully Allardyce will prove him right.
It has emerged that the Russian Ministry of Sport has signed a document banning all foreign head coaches from the Russian League. Under the terms of the bill, clubs will be able to employ foreigners as coaches, but non-Russians are not allowed to be head coach. However, the Russian national team will still be allowed to have a foreign manager (how bizarre).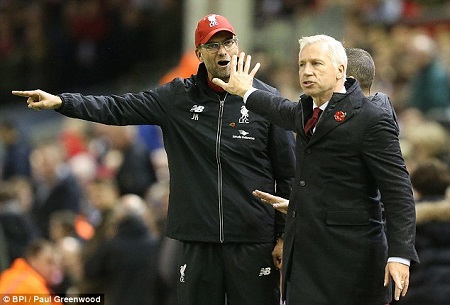 Who is right, and who is wrong? I doubt there are any steadfast answers, though there may be trends we can see in the numbers (though being a proper footballing man, I doubt Mr Bassett has any interest in what facts and figures can tell you).
Since the start of the PL (and we all know that's when football was invented), British managers have overseen 14,571 games, whilst their foreign counterparts have managed just under a quarter at 3,628 (foreign for the purposes of this piece is anyone not born in the British Isles).
The Brits win 34.1% of games with a PPG of 1.29. Those pesky Foreigners win 47.1% with 1.67 PPG.
Additionally, of all the managers to have beaten the 50% win ratio, almost 59% of them are foreign. In fact, if you take out Pat Rice, Brian Kidd, Ryan Giggs and Trevor Brooking (who have managed 12 games between them in this study), you find that this ratio goes up to 68%.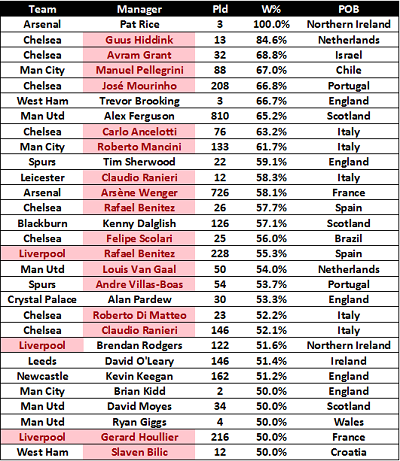 When it comes to the 1.84 PPG figure (which is 70 points in a season, therefore probable CL qualification), it is a similar story.
17 managers have achieved this figure, 12 (71%) are foreign. Again, take out Pat Rice and Trevor Brooking for having only managed three games each, and this figure goes to 80%.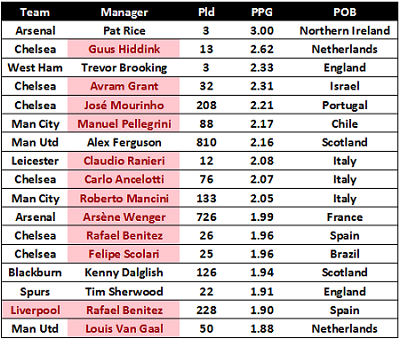 On a slight tangent, I wanted to see what the most 'successful' nationality is (out of curiosity as opposed to feeling it will give us any meaningful conclusions). And the winner is……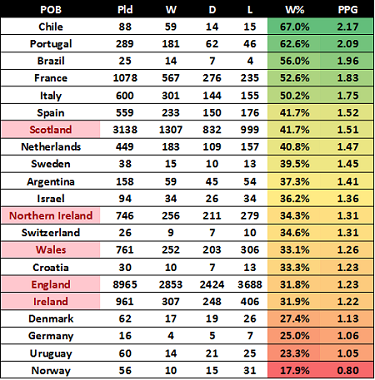 Let's hope JWH and co. don't read this as they may sack my Jurgen.
"BUT!!!" I hear you cry, "You can't compare how well Mourinho has done versus someone like Gary Megson!"
And I agree, you can't so now it's time to look at how clubs do under each type of manager.
This in itself is fraught with difficulties too, as how do you compare Man City or Chelsea before and after their takeovers?
Some clubs have had a foreign manager for more than 80% of their games (Chelsea and Arsenal, LFC is almost exactly 50%). Apart from the teams who have had no foreign managers at all, Palace have only had one in control of 2.8% of their games.
The sample sizes aren't always big enough, or are heavily skewed one way. For example, even though 81% of Arsenal's games have been managed by a foreigner, there are still 172 games (~4 1/2 seasons) managed by a Brit.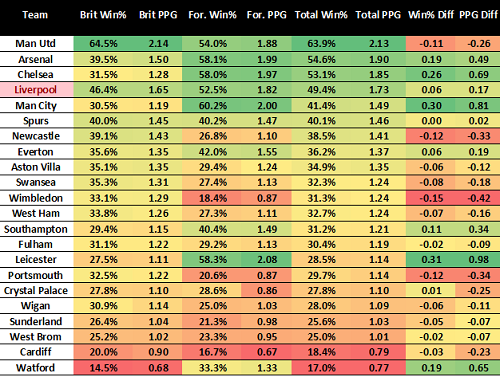 When you sort the table by the average PPG scored by each club, it becomes quite apparent that the 'better' teams work better with a foreign manager (apart from Utd who had Fergie).
Could this be due to the number of foreign players at those clubs who don't necessarily respond well to the British management methods? Even Fergie rotated his coaches frequently, becoming more of the Head Teacher than the one taking the classes.
The biggest drop in PPG from a Brit to a foreign manager is Joe Kinnear being replaced by Egil Olsen at Wimbledon in June 1999.
Secondly come Portsmouth having had four British (203 games – predominantly 'Onest 'Arry with 158 of them) and three foreign managers (63 games) in their PL history.
Newcastle's only foreign manager in 16 appointments was Ruud Gullit back in August 1998 who managed them for 41 games compared to 777 British managed games – and he got a better PPG than 8 of them (though four were caretakers).
So what can we deduce?
As mentioned previously, it would seem that foreign managers do better at 'better' clubs. Without further investigation, we can only speculate as to why, however the opening weekend of the Premier League saw only 73 English players among the 220 who started for the 20 clubs; a low of 33.2 per cent.
Last season's overall figure of 35 per cent represented a huge decrease compared to the opening 1992-93 campaign of the Premier League, when 69% of the players were English.
Spain, France, Germany and Italy boasted percentage figures of 58, 56, 48 and 43 respectively.
Also, from the BBC (regarding 2014/15):
English players accounted for less than a third of playing time last season – the 32.36% figure compares to 69% 20 years ago. The 45% FA target is still less than domestic players' total in Spain and Germany. England was last at 45% in 2000.
Top clubs use fewest UK players – Manchester City, Chelsea, Manchester United, Arsenal and Tottenham use the most non-UK players.
Foreign players are being used as squad players – of the 373 non UK players used in last season's top flight, 92 (24.66%) played less than 10 games.
Is this why foreign managers are preferred and seemingly getting better results at the 'better' clubs who have the more foreign players?