By Paul Tomkins.
If there's one thing we gleaned from Liverpool's 3-1 win at Chelsea, and the even more impressive 4-1 dismantling of Manchester City this weekend, it's that the team ethic Klopp promised to bring from Dortmund is in full effect. Some changes take time, and intensive training, to implement. Others can be more immediate.
It's still early days, and football provides various ways for things to go wrong – there may never be a good time to count your chickens, hatched or not – but this was easily the best Liverpool display in more than 18 months. Even allowing for City's failings, it was glorious.
And while it hasn't been all smooth sailing since the managerial switch, the hysteria and excitement that greeted Klopp's appointment was because we – and I very much include myself in the 'got giddily carried away' crowd – felt things like this were possible. Winning league titles and European Cups has become a pipe-dream; but great performances and stunning victories make the journey – whatever the destination – pleasurable as a fan.
Superstar
The Reds began this season at the start of the post-superstar era, before Klopp's arrival; and yet the manager as superstar is palatable because in this case he's so humble. Until he pitched up, Liverpool were fresh out of what used to be called the x-factor, before the phrase was co-opted by a pop show that peddles mediocrity and conformity.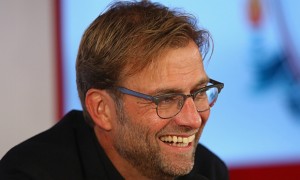 Controversies aside, Luis Suarez was the kind of superstar any team needs – the intense work-rate, no matter what the situation; but he was too good to retain, and is now at the best club side in world football. By contrast, Steven Gerrard – by the time his legs had gone in his mid-30s – had become an encumbrance. He was also an unwitting symbol of past glories: his struggles last season, when his past outweighed his present, summed up a team in decline.
Even in the fallow years since the last league title, there had always been sensational star performers at the club, with Gerrard the longest-standing in a list that included Michael Owen all the way back to 1997, and Robbie Fowler dating back to 1993, before which the remnants of the 1990 side (Ian Rush, John Barnes) were still around. In 1998 and 2004 Liverpool appointed star managers, too.
It's impossible to think of the kind of display we saw at the Etihad with Gerrard (as he'd become) in the midfield, even if there would always be a place in any team for the wonderful force of nature he was in his pomp (Liverpool could still use that player).
The transition to this new era needed someone like Klopp, especially when Brendan Rodgers – who, for a while, looked like he might become a superstar manager at Liverpool – lost that sense of being in control, and of having a clear plan.
The rest of this article – which includes a lot of gushing about Liverpool's display last night –  is for subscribers only.
[ttt-subscribe-article]