By Mihail Vladimirov.
For all the good news surrounding the fact Pellegrini had the chance to play Aguero from the start, the Chilean manager still had Kompany and Silva unavailable for selection.
In addition, the City manager took the peculiar decision to bench both Otamendi and Fernandinho, reportedly due to him being worried about neither of them being 100% fresh following their travel back from the World Cup qualification matches. All this left him with an imbalanced starting XI – close to first-choice attacking unit (attacking quartet and full-backs), but quite a patched up defence and midfield pair.
For Liverpool, Klopp had the luxury to bench both Sturridge and Benteke, because he returned to the striker-less approach he first used in the Chelsea game. The difference was that instead of the 4-2-3-1 (or 4-6-0) shape he lined up at Stamford Bridge, the German manager now opted for a 4-3-2-1 (or a 4-3-3-0) variant of it.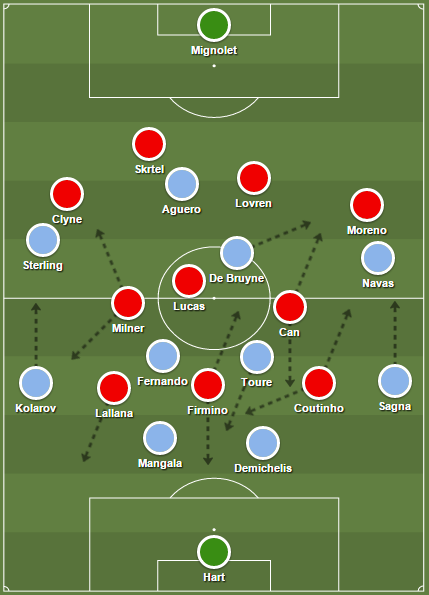 The period before the first goal
The way the game started was exactly as one would have expected considering both teams' shape and starting XI and what they hinted about each manager's supposed approach. Man City started with their default and attack-minded 4-2-3-1, so there was no surprise to see them try to take the game to their opponents and generally dominate while Liverpool were obviously tasked to try and suffocate them by disrupting their passing flow early on due to their narrow and congested midfield zone 4-3-2-1.
As it were, this period didn't really offer any insight on what was to come later in the game and how exactly the overall clash of these two different approaches would play out. Apart from a couple of heavy touches by their centre-backs, the home team coped well with Liverpool's attempts to press them in numbers when the ball was around the midfield third. By all means City weren't really on top and pinning their opponent back but they weren't exactly struggling either and in reality succeeded in moving the ball around before reaching the final third.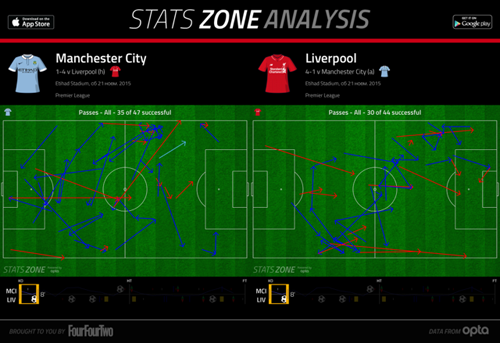 Then came the first blow for Man City in the 7th minute where what looked a fairly standard situation, which on a first glance posed little threat, and on another day would have been dealt with accordingly easily. But here, first Coutinho dispossessed Sagna in what was a 1-v-1 duel, before he passed to Firmino whose cut-back was accidentally put into the back of the net by Mangala.
Liverpool exploiting City's struggles
In fact the goal did nothing to change the pattern of the game. Bar the occasional slack pass, City continued to dominate in terms of possession. What changed now is that being a goal down meant they had to play with greater urgency and attacking ambition as the onus was on them to chase the equaliser. Their biggest issue now, and what helped changed the game in Liverpool's favour, had more to do with their inability to convert their deep possession into something meaningful higher up than how they were coping with the opposition's press or that they were a goal down. All this was mainly down to two factors.
The rest of this article is for subscribers only.
[ttt-subscribe-article]