By TTT Subscriber Bob Pearce
"To win the title will require one of the outstanding managerial performances of all time. Or the owners are going to have to throw the bank at it and give him the money to entice top-class players to Merseyside. Will he be able to sign a Lewandowski, Gotze or Gundogan, who has already been linked with Liverpool? Will he join Liverpool or Barcelona, Arsenal, Chelsea, Real Madrid? To win a league Klopp will need to attract that level of player".

Gary Neville
To have success you need to attract 'big names'.
To attract 'big names' you need big money.
To attract 'big names' you need to keep your 'big names'.
To attract 'big names' you need to be offering regular Champions League football.
To attract 'big names' in England you need to be a London or Manchester-based club.
Everybody knows that in modern football these are the laws of gravity. They lead to an upward spiral of success breeding more success.
The bad news is that in 2015 Liverpool fail on all five laws. This puts them into a downward spiral of disappointment breeding further disappointment. For Liverpool to succeed they would have to defy the laws of football gravity.
After the euphoria and elation of Klopp's arrival that should bring you back down to earth.
The good news is that Klopp is not one to allow the laws of gravity to hold him down. He has already demonstrated that he is capable of defying these so-called laws.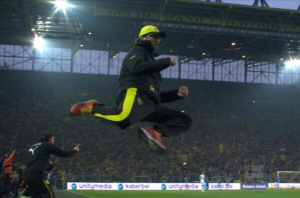 Klopp's fifth season with Borussia Dortmund began with them selling Kagawa (one of their 'big names') to Manchester United, and it culminated in the Champions League final at Wembley. They went into that final without the injured Götze (another of their 'big names'), but still nine of the starting XI that evening had been signed by Klopp. It was the team he had built over his first five seasons.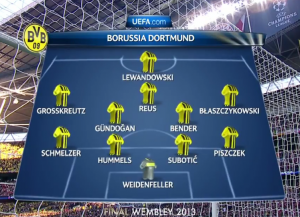 Of those nine players Klopp only paid for six, with an average fee of £4.37m (which was inflated by the relatively 'astronomical' £11.97m paid for Reus). The other two that made up the starting XI had joined Dortmund pre-Klopp. One was a free transfer and the other an undisclosed fee. So Klopp put out a Champions League final starting XI in 2013 that cost a total of £26.26m. A mere £2.38m per player.
Those nine Klopp signings in the starting XI had an average age of 20.8 on the day that they joined Dortmund (the two pre-Klopp signings had both been 22). Yes, of course you recognise their names now. Yes, we can all estimate the total value of that XI today. But would you have known a single one of the names that Klopp brought to Dortmund on the day they joined? Would you have been impressed by the fees being spent by Klopp?
Would you have expected these young, cheap, unknown players to comfortably top a Champions League group that also contained Real Madrid and Manchester City? With their big money, 'big names' and regular Champions League football, they are two of the best examples used to prove the laws of football gravity. Would you have expected Dortmund to prove it was not just down to luck by then meeting and beating Real Madrid again at the semi-final stage?
It is also worth noting that seven of the nine Klopp signings joined Dortmund in the three seasons when they did not offer Champions League football. Klopp's starting XI at Wembley had largely been assembled before they had qualified. Only Gundogan (£3.85m) and Reus (£11.97m) joined when Champions League qualification had been achieved.
If you had to sum up Klopp's transfer activity in his seven seasons at Dortmund it would be a) he developed his own 'big names', b) he bought young, c) he bought cheap, d) he promoted youth from within. That starting XI was made of players from all three Klopp sources. The Bought, The Free, and The Promoted.
The Bought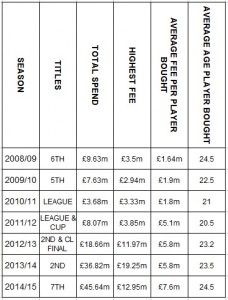 Putting aside his first season when he was working with an inherited squad, Klopp only twice spent money on a player over 25 (spending £6.79m and £700k).
The average fee paid per player went from £1.8m in his first season to a 'hefty' £7.6m in his seventh. While Klopp's spending did increase season by season, from a total spend of £3.65m in 2010/11 to £45.64 in 2014/15, in simple surplus and loss terms he went from small losses (of no more than £3.28) in his first three seasons to surpluses in seasons five and six (of £3.74m and £5.14m). So, while the actual spend increased rapidly in seasons five to seven, Dortmund still showed a surplus in the transfer market in seasons five and six.
The Free
In Klopp's first three seasons he drew on free transfers with ages averaging 22.5, 22 and 24. Of those nine free signings Grosskreutz (signed at 20) and Piszczek (signed at 25) made the Champions League final starting XI.
The stand-out name in the group of free signings is Kagawa, signed at 21. After two seasons he was sold to Manchester United for £11.2m, to then re-join two seasons later aged 25 and bringing a £5.6m profit with him.
This was one of only two occasions when Klopp spent money on a player from the Premier League. The other was the 31 year old Lee from Tottenham for just £350k in his first season.
The Promoted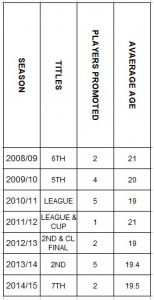 Over his seven seasons at Dortmund, Klopp averaged three players a season promoted from Dortmund reserves and youth teams, with ages ranging from 17 to 22. For recent cases it is too early to judge if they are successes. 14 didn't make it and moved on. Three went on to play for the German national team.
The stand out name here is Götze, who was promoted at 18 in Klopp's third season, sold to Bayern Munich at 21 for £25.9m, ending that season scoring the goal that won the World Cup.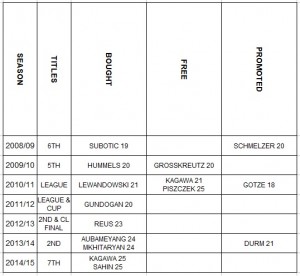 Every season a future 'big name' that you'd never have heard of was added to the squad.
2008/09 Subotic for £3.14m and Schmelzer promoted from within.
2009/10 Hummels for £2.94m and Grosskreutz for free.
2010/11 Lewandowski for £3.33m, Kagawa and Piszczek for free, with Götze promoted from within.
2011/12 Gundogan for £3.85m
2012/13 Reus for £11.97m
2013/14 Aubameyang for £9.10m and Mkhitaryan for £19.25m, with Durm promoted from within.
I have not mentioned loans because Klopp only took two players on loan – both in his first season. Players were loaned out every season. In the first two seasons of an inherited squad the average age was 25.75 – a mixture of old and young. Thereafter the average age of players going out on loan was 21. Not one returned to establish a place in the Dortmund squad.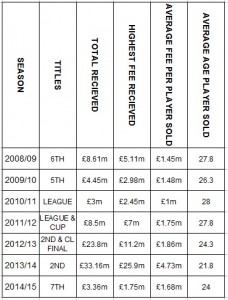 In seasons one to four the average age of players that were sold for a fee ranged from 28 to 26.3. Klopp was selling both old and young players. In seasons five to seven the average age ranged from 21.8 to 24.3. This may simply be due to having fewer 'old' players in the squad, which is supported by the difference seen between the average age of players signed and sold each season. Klopp was always replacing 'old' with young, with a dramatic push in the two seasons they won the Bundesliga and the double. Going from a difference of 3.3 years in average age bought and sold in season one, to a difference of 7.3 years in the average age bought and sold in season four.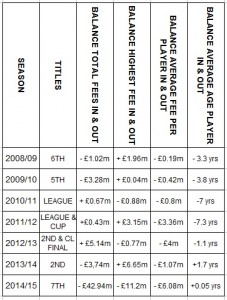 While the sums received from sales varied through the years, the transfer balance in seasons one to six ranged from a maximum of £3.28m spent to a surplus in the three seasons of titles, cups and finals up to a maximum of £5.14m
In each of seasons four to seven Klopp 'lost' one of the 'big names' he had developed. In three of those seasons the money was reinvested and the books balanced. It was only Lewandowski who did not bring in a fee that Klopp could re-invest, hence the dramatic change seen in the balance sheet to a £42.94m 'loss'.
Sahin is a player that sits in a unique place on the Venn diagram of Klopp's transfer activity. He returned from loan aged 19 for his first season in 2008/09. At 22 he was sold to Real Madrid for £7m, to then eventually return on loan to be a late substitute in the 2013 Champions League final, before re-joining Dortmund permanently, aged 25, bringing a £2.1m profit with him.
New expectations
After seven seasons it seems unlikely that Klopp will have a drastic change of approach. So we should expect more of the same. This means we fans will need to make some 'big big' changes in our expectations and judgements.
1) Don't expect 'big name' signings.
2) Don't expect Klopp to buy Premier League players. Outside the Premier League market, just down the road, prices are different. Why buy 'Heinz' baked beans for 75p when you can buy 'Campo Largo' baked beans for 25p? They can do the same job. They are both happy to sit on a slice of toast.
"For me attitude was always more important than talent".

Jurgen Klopp
3) Don't expect Klopp to return to Dortmund to pay big money for the 'big names' he grew there. Only once did he return to FSV Mainz, his previous club, for a player. This was his first season when he paid £3.15m for the 19 year old Subotic. He'll grow a new crop.
"I don't care if we can't sign certain players who are so expensive. They play football all over the world but only here is money so important. Always it's 'money, money, money' – but you don't have to spend all the money."

Jurgen Klopp
So much for those laws of gravity.
Klopp has demonstrated that to have success you don't need to attract 'big names'.
You don't need big money.
You don't need to keep your 'big names'.
You don't need to be offering regular Champions League football.
You don't need to be a London or Manchester-based club.
Klopp and his Liverpool 'project' are the attraction. For young unknown players around the world this is their great opportunity of success.
"For me it's enough that I have the first and last word, and in the middle we can discuss everything. It won't take a long time because we only want to discuss very good players. I'm not a genius, I don't know more than the rest of the world, I need other people to get me perfect information and when we get this we will sign a player or sell a player".

Jurgen Klopp
1) Expect cheap, young 'unknowns' and promotions from within.
2) Expect to say 'Who?' and 'From where?'
3) Expect to see 'names' become 'big' before your eyes.
4) Expect to say 'We did well to find him'.
5) Expect some of these 'big names' to be sold.*
6) Expect their replacements to be perceived  on the day of their arrival as a 'downgrade' (by those still held back by their belief in the rules of football gravity).
"Fenway Sports Group will have to put their hand in their pocket more than they already have. Or Klopp will need to be an incredibly shrewd recruiter to outgun the wealth of Chelsea, City, United and Arsenal".

Gary Neville
So what was it that attracted this gravity 'defyer' to Anfield? We know it couldn't have been the wealth, the squad of 'big names', the regular Champions League football, or being based in London or Manchester.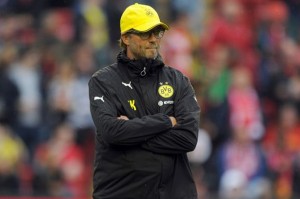 Klopp had only visited Liverpool once before – for a pre-season friendly.
"I'm not a dreamer but I'm a romantic. I love the stories and Anfield is one of the best places in the football world. It was my first time and I thought about how it would be. Now I'm here. I'm a lucky guy. It's the biggest honour to be at one of the biggest clubs in this world and the opportunity to try to help the situation. I feel really proud. I'm looking forward to the intensity of football and how the people live football in Liverpool. It's a special club".

Jürgen Klopp
It was the magnetic pull of Anfield. It was the attraction of Liverpool. It was the overpowering gravity of the fans that he found he could not resist.
Jürgen wants the kind of things that money just can't buy.
* What would Klopp have done with the £75m from Suarez, £50m from Torres, and £49m from Sterling?
All information from http://www.transfermarkt.co.uk/