By Anthony Stanley.
I've been thinking about optimism. Optimism and, perhaps oddly, sheep.
Sometimes a constant positive outlook is viewed as tantamount to bleating. The cool kids, the hipsters, aren't overly optimistic – it's better to remain aloof and be grounded in realism.
I'm not overly positive in most walks of life – just football. And I firmly believe that this is a football fan's duty. Okay, maybe if you support a Villa or a West Ham you don't have designs on winning leagues or genuine top four challenges. But a Liverpool fan?
Fucking sure you do.
We get mocked for thinking every year could be our year, and I always think that. Without fail.
My constant mantra is that it's right to question and it's part of the joys of football to speculate but that ultimately we are all swimming in the murky, opaque waters of relative ignorance. Those on Twitter that slagged off Rodgers (and continue to do so) probably miss the point that he has forgotten far more about football than they'll ever know.
Even Hodgson, the pariah, the nadir of our recent coaching past, probably deserves more respect than he gets. But that may be a stretch.
I suppose my point is that even the most well informed and knowledgeable fan – and there are plenty on this site – is essentially groping around in the dark.
So I tend to trust those who have been asked to captain the ship that is their club. I bow to their vastly superior knowledge and acknowledge that they see these players every day. Who am I to question them? But the paradox of course is that we all constantly do and that is our right as football fans.
But I've been questioning myself lately; questioning whether am I wrong to be constantly optimistic about the Reds. Am I becoming a walking cliche on the site, almost a parody?
Is it akin to the sheep in Animal Farm, constantly silencing any nascent doubts from a Clover or a Moses by bleating out: 'Four legs good, two legs bad'?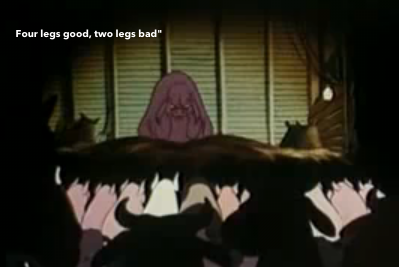 I've realised I don't care. Being wrong doesn't bother me. I don't have a need to be proved right or to be seen as knowledgeable about the club or the sport. I love this site because there are far more that possess these characteristics than I do and possess the ability to articulate and express them.
But I keep thinking back to something I heard Neville Southall saying years and years ago when Everton were not the bitter blues but a superbly crafted monolithic football team put together by the recently, and sadly, departed Howard Kendall. Southall, then viewed as one of the best 'keepers in the world, was asked what the goal for a coming season was. His reply? To win every single game. His reasoning was, what's the point, why bother even starting the slog of pre-season training if you don't think you can do this?
Eleven against eleven. Eleven lads trying to stop you doing what you so desperately want and put that ball in the net. For a goal to be scored, one player has to make a mistake or one lad has to do something stunningly good or at least two have to do something that's very tasty indeed.
Not easy. But why not err on the side of thinking it can be done?
I'm not saying we should set our stall out to realistically think we can win every game, or even do what Arsenal did in their Invincible year.
But I am saying that we should expect us to have a shot at winning the title before a ball is kicked.
As a Liverpool supporter that is our heritage. Right, I get it, we sagely predict fifth or perhaps a shot at top four if one of the colossi screw up. But I genuinely think that every single one of us thinks, deep down, you just never know.
It's crossed your mind lately, I fancy. Admit it. Fleetingly, lighting up your brain for a nanosecond, a shooting star across your consciousness.
You just never know.
"Four legs good, two legs bad".
Dave Hendrick, the ultimate hipster, said on last night's Anfield Index podcast that he wouldn't completely rule out winning the league this year. Well, that's all it took to get my feverish mind whirling with suppositions and speculations and visions and dreams.
I'm not that interested in cups (although it'd be nice this year). Even the Champions League doesn't pickle my ardour that much right now. The league, the league. That's all I want, so badly it sometimes scares me. I want to walk into a bar and order a pint as a Premier League champion and savour it. I want to spend the summer being champions of England, savouring the delicious knowledge that we are the best side in the land and that thirty eight games says that we are. I want, with every fibre of my footballing being, to spend the following season being referred to as champions. I want to shut the Mancs up and watch their eyes as they stare with foreboding and dread at the slumbering beast who is suddenly stirring and licking its salivating lips. The league title. My wife sometimes says that if we actually do win it, there'd be two possibilities: I'd keel over, dead, a combination of a heart attack and just simple brain-frying ecstasy or I'd just give up on football. You know, like the Joker without Batman. The passion springs from seeing us as perennial nearly contenders.
But I can't help but indulging in wild supposition.
"Four legs good, two legs bad"
There is no writer on football on this planet that I respect more than Paul Tomkins. Let me be very clear on that. I tell my friends about the research done on this site, about TPI, about wages and the correlation between what a football club pays and where they finish.
But then I think that Borussia Dortmund, in the year that Klopp first won the league, had the seventh highest wage bill in Germany. I know, I get it, it's different and they are two very different leagues; the Bundesliga doesn't have four super powers. I know Paul's argument isn't that we should be content with fifth, with par, but that realistic ambitions temper ridiculous expectations and that there is a joy in the outlier seasons when, due to a combination of events, we mount a title tilt. It's all the sweeter when it's rare. Look at Man City fans, for example. Look at Chelsea fans, if that's not an oxymoron, and the difference between the plastic fucks last season and the year we bathed in glory and so nearly won the league. No comparison.
I get it but I still have this little gremlin in my ear who constantly whispers 'you just never know. It can happen again.'  A title tilt every year will never happen. But any given season could be this one.
To think anything else is, to me, akin to the betrayal of the sheep in Orwell's allegorical masterpiece who, prompted by the scheming pigs, started bleating "Four legs good, two legs better".
Two legs may be better, may possess more knowledge, may be cool.
But four legs is more fun – at least for a while.
So, why not now? Why not this season? Just listen while I get utterly carried away by one performance but four legs and all that lads …
After three league games, we can see – palpably – what Klopp brings to the table. We can see the plan, we can see that the players are 100% on board. They are buying into his vision, something that can be difficult to get across for some managers. Klopp's charisma and magnetism is tangible and can almost be seen on the player's faces, in their demeanour on the football pitch, in their running and triggered pressing, in the sheer joy that can be seen when they greet the manager walking off the pitch. Yes, his methods will take time but we're getting there. No doubt about it.
We started Saturday's game without a recognised centre forward. Around £80 million of striking talent was not available from the start. The Reds bossed the game after going behind. When is the last time that we could say that? Imagine once Sturridge is finally fully fit – and that will happen. And soon. Imagine when Benteke is also fully fit. Drop those two into Saturday's game and wonder at what that could look like. Take Milner out and put in the Duracell bunny that is Henderson (if ever a player looked tailor-made for a manager's style, it's Jordan). Picture Firmino with a couple more games under his belt, playing for a manager who knows his strengths intimately, who is familiar with what he can do, who trusts him completely. The Brazilian is probably playing to around 80% of his capability at  the moment. Conjure up a vision to yourself of the former Hoffenheim star fully integrated and playing to his full potential.
Think about this: a settled back line over the next few months. Moreno continuing to improve, to work so hard, to press like his life depended on it, to break at pace at the opposition goal. To terrify lads. Think about Sakho, finally playing under a manager that trusts him implicitly, picture the mountain as he continues to grow as a defender. Wonder to yourself who could be brought in to improve a unit that is finally functioning as a whole.
Then there's Coutinho. Imagine if he does what he did last season; kick on to hitherto unforeseen levels in the second half of the campaign. Imagine Philippe with lads on the pitch that he knows well – Henderson and Sturridge. Imagine him dropping slightly deeper to accommodate Firmino and Daniel.
There is absolutely no reason why this side cannot continue to improve; indeed, I'd be very surprised if this is not the case. As Klopp's methods crystallise, as they spend more and more time on the training pitch, as the squad learn to fully implement his way of pressing, we are only going to see massive improvements. From Christmas, this could be on a weekly basis.
Yeah, it's a stretch. All these things have to come together and that's not even taking into account the uber squads that are above us in the race for top four.
But: "four legs good, two legs bad".
Apart from Manchester City, all of our most difficult away games are out of the way. All the big guns still have to come to Anfield. If Klopp can forge more optimism with the Liverpool crowd, if he can tap into the unbridled passion that is inherent in Kopites, waiting to gush forth, just needing a divining rod, does anyone think that we won't make Anfield a fortress again?
There is no other support in the world that can do what we can when there is belief. If that belief is there, it could be worth a few extra points as the season enters its business end. Don't believe me? Ask Chelsea in 2005. Or Inter in 2007. Or Chelsea again in the same year. Or a host of clubs that came to our ground in 2013/14. If Anfield senses that something mad is about to occur, the players will become more than they actually are.
Winning the league. Just imagine. Now I'm not saying it will happen this season, but I have a sneaking suspicion that we'll see a challenge. That we'll come from nowhere and suddenly be talked about again.
In hushed voices because you don't want to wake that beast.
But get used to it lads – that time is nearly at hand.
This beast has four legs and that is always better than two.