By Paul Tomkins.
The famous Benjamin Franklin quote is that Guests are like fish – they begin to smell after three days. Maybe with managers it's three seasons. Even plenty of managers themselves admit that after three years they've said everything they can possibly say; used every trick in the book.
Managers that last longer than three years often need to renew the playing staff – something Alex Ferguson was acutely aware of. At Liverpool there has indeed been a great turnover of players, but to my mind Brendan Rodgers – so inspiring in 2013/14 – had to share the blame for what has gone wrong since.
Even so, the hope that he'd get some of the spark back into his team lingered with me. But with every passing game the good times seemed to recede further into the past.
I give Rodgers full credit for one amazing season. Even now, in the aftermath of his dismissal, people are telling me that it was all down to Suarez. Well, someone had to unleash him; and Liverpool didn't have a side that was supposedly even good enough for the top four that season, so it's not like people can write it off as being down to one player. Rodgers took that team and ran with it – 101 goals, 26 wins, 84 points. Obviously luck plays a part, but Rodgers handled that season beautifully.
Equally, if I give him full credit for that season, then I can't absolve him of the mess of the past 15 months. I thought he should get the summer to turn things around (admittedly if there wasn't an elite alternative), but this season has felt like a continuation of last. Others may blame his tactics, or his persona, but I've stuck to the transfer issues – and that's where I always felt he was in danger of losing his job.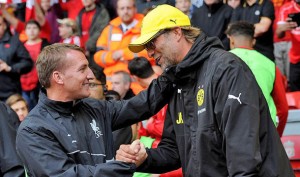 The transfer committee gets a lot of stick, and of course, he was part of that process. But it seems that he's had more say in some deals than others, and the ones in those there has been a far greater wastage of money (not that the transfer committee has had a great record). I argued all last season that 5th was 'par' based on transfer spend, and yet the Reds eventually finished 6th, and now sit 10th. So if that was my argument, I can't now go against it. It's always sad to see a Liverpool manager get sacked (unless it's Roy Hodgson), but Liverpool had started to punch below their weight, after one glorious season of punching above it.
For Liverpool to finish higher than 5th, and do so on a consistent basis, they need to spend money more wisely (and even then, it would probably only last a few seasons, unless revenues were increased in the process – success breeding success, as it does). Therefore, with Rodgers so keen on proven Premier League players he was always going to put himself at a disadvantage – as your money doesn't go so far, and by my analysis you get no greater guarantee of success. If you want Dejan Lovren, buy him at £8m in 2013, not for £20m in 2014. (Or if you do, you really need him to be good.)
And while Adam Lallana isn't the worst player to wear a red shirt, it's possible to find better talent overseas for half that price. These are just two examples, and I at the time I argued that if Rodgers rates them then it's his right to buy them – I hadn't professionally scouted either player, so what did I know? However, once he got the players he wanted, they had to be better than the alternatives.
Crazy
Even though it looked like it was coming, and the whispers on the grapevine said 'after Everton', I'm still slightly surprised. Were it not for Chelsea absolutely imploding under Jose Mourinho's favourite manager, then Liverpool's plight would look a lot worse. Chelsea are doing the unthinkable and making Liverpool look good, and I wondered if that would actually save Rodgers.
If you'd said to me at the start of the season that the Reds would defend much better than Chelsea (shipping seven fewer goals), and be four points ahead despite a trickier start on paper, then I'd have assumed that meant that Liverpool would be top of the table. Instead, the Reds sit 10th.
Had Mourinho been replaced by any manager this summer, then Chelsea's slump would have been put down to faults with that new man, as well as being used as further evidence to prove the "Special One's" greatness. Instead, the Portuguese looks – and sounds – like he's been on the Special Brew. That a team can go from being so good at something (defending) to so bad at it when nothing has really changed shows the crazy nature of the sport.
If Mourinho – who has won everything – can look like a rank amateur, then anyone can be made to look a fool by this game. However, the Chelsea manager's troubles stretch back eight games, not 15 months.
Drifting
I noted after the Norwich game that a draw didn't really help either side in the Rodgers In vs Rodgers Out debate (leaving the Shake It All About brigade as the only happy party). That particular 1-1 draw was a bad result, but not the total disaster of defeat, when the fury would have become unbearably ferocious. And the results and performances since then failed to clarify anything.
A draw in Bordeaux, with such a young side, was good, but a draw at home to Carlisle after 120 minutes was dreadful (given the needlessly strong starting XI), and a draw against Sion fairly underwhelming – although there was the excuse of sensibly saving key players for the weekend. The victory over Aston Villa was undoubtedly deserved, with some good attacking play, but the utter cluelessness of the opposition looks clearer with the Villains currently in the bottom three, with just four points.
While Rodgers needed to avoid defeats to stop things spiralling further out of control, he also needed to start racking up a few wins, especially with points dropped in two of four 'gimme' home fixtures. (You will always get "those days" when you fail to beat a weak team at home; you almost never win every winnable home game, no matter how good you are. But to have played Bournemouth, West Ham, Norwich and Aston Villa and only won half of those games is not good enough. It leaves no leeway, and heaps on the pressure.)
The away record actually isn't too bad this season, with a win at Stoke and draws at Arsenal and Everton – pretty decent, if not exactly spectacular – but the home form has been well below what you'd expect, and that has left the Reds in need of making up the difference. And it's been at home where the boos have rung out in three different competitions. During good times all teams want to play at home, when the crowd is behind them; during tough times they can make it harder, as there's no place to hide. The mood at Anfield seemed pretty grim.
The main frustrations with the draw at Goodison – a game that had apparently been given to Rodgers as the deadline for real improvement – was that it was another short-lived lead undone by poor defending, and that Everton had a makeshift defence without Stones, Baines and Coleman. While Liverpool also had some absentees, Everton were "there for the taking" in terms of inexperience at the back (especially when it comes to time spent playing as a unit, with two rookies and a new buy thrust together). Of course, taking advantage of it was never going to be easy when struggling for form and confidence.
Rodgers needed to start winning "vital" matches. The best managers usually find a way, and Rodgers hasn't done that enough during his three-and-a-bit years. The one time his side did so was during the run-in in 2013/14, and although they ultimately choked (none more so than Steven Gerrard, who lost his head with eight poor second-half shots), it came after a string of impressive displays where wins were vital to stand any chance of the title. But on the whole the big games tended to get away from the Liverpool manager, with the worst example last season's FA Cup semi-final.
This weekend was another chance for an inspirational win, but we had to make do with another draw. Perhaps it would have been too little, too late.
Again, it didn't really advance the whole Rodgers In/Out narrative – but in the end it didn't matter. A horrible defeat at Goodson and the pitchforks would have been sharpened to the keenness of carving knives; an incredible win and the pressure valve could have been opened, the monkey tossed off (you know what I mean), the corner conceivably turned. Instead, it all just drifted along.
It made for a record of just six wins in the last 22 competitive games, and the three league wins this season have come against the current bottom seven, two of them at Anfield.
Draws can be glass-is-half-full or glass-is-half-empty exemplars. You can choose your own angle. A run of games that almost all end in draws has to be looked at mostly two points dropped each time, although against Carlisle penalties saved the day, and Europa League games aren't a priority for most clubs until it gets to the later stages – to put too much time and energy into it is a big risk when it's been shown to take so much out of a team's league form.
Where It Went Wrong
After the match, perhaps knowing that the writing was on the wall, Rodgers seemed to be having digs at his employers by talking of the job being one of constant rebuilding, even if, to some degree, he has a point. He certainly has a point when it comes to last season, when Luis Suarez was sold, albeit at a juncture where even Champions League football wasn't going to keep him at Anfield.
But I have less sympathy regarding this summer, not least because Raheem Sterling – the "star" player sold – wasn't a pivotal player last season; and unlike Suarez, part of the reason he left was down to the manager, at whom he expressed displeasure (although he may have been trying to mitigate his own perceived greed).
At 35, Steven Gerrard had to go at some point, but it seems that Rodgers contributed to what some see as a premature departure (although for me, the time was probably right, with Gerrard wanting regular football). And in any case, Gerrard was no longer a key player, even if he was the club's one true icon.
Also, the players that Rodgers himself supposedly brought in during 2014 – Lovren, Lallana, Lambert and Balotelli – cost quite a lot of money, and added precious little (much like other signings he supposedly drove). If he did indeed drive the purchase of those four players then the fact that none were making his XI is its own kind of indictment.
It's too early to say what the rebuilding works from this summer will lead to, although Danny Ings has already exceeded expectations. (That said, in a rare case of getting it right, I was one who argued that he was a very good player, based on what I saw of him in the Championship with Burnley at 20/21.) It's a young squad, so Rodgers had some leeway there, and it is a kind of transition.
However, where I also lost some sympathy for Rodgers was with the number of new arrivals, part of which has been down to the failure of last summer's work (which he allegedly had more say in), and which was nearly exacerbated by the sale of Lucas Leiva this summer. If Liverpool still had a world-class midfield, and other defensive specialists, then maybe the popular Brazilian could be waved on his way, but that was never going to be the case.
I was shocked that the manager would be looking to offload one of the few proven, experienced Premier League players who have an understanding of what's required at Liverpool, even if he's not quite as good as he was before injury struck a few years ago; especially as Rodgers was intent on bringing in proven, experienced Premier League players. Lucas is not perfect, but you need a reliable core – and it becomes even more important when you're averaging eight new arrivals each summer over a three-year period. Lucas is part of the fabric of the club these days.
Indeed, to add such a player – as can be seen with James Milner – is in itself tough, because he has to get used life at a new club, which can be problematic for anyone. Milner is a good footballer and a solid character, but he hasn't yet played like he's worth £150,000-a-week. He's moved from a valued but peripheral figure at Man City to the vice-captain of Liverpool at the heart of the midfield, and to date has been patchy at best. After a good display against Villa he was poor again at Everton.
Some of the supposed committee flops – including Moreno and Sakho – are now looking like they're good enough, whereas Rodgers' own buys could have been what cost him his job; especially as Daniel Sturridge was another committee-led deal, and apparently a player that had to be forced onto the manager in January 2013 (according to Tony Barrett in The Times).
Had Rodgers got more from the money spent on Borini, Allen, Sahin, Toure, Lambert, Lallana, Balotelli (albeit in desperation) and Lovren, then things might look different; instead, he has, at best, two fairly good but inconsistent/injury-prone players (Allen, Lallana), and a list of flops.
You can also argue that he was targeting the right calibre of player when asking Steven Gerrard to text Toni Kroos, but others may point out that it also showed an overconfidence, if not outright delusion.
Rodgers can bemoan some of the players supplied to him by the committee – a 50/50 success rate is par for the course – but when he's flexed his own transfer muscles he's been found wanting. While I give him credit for helping to improve players like Jordan Henderson and Sturridge, it's also true that he wanted neither in the summer of 2012.
By my reckoning (as discussed in last week's piece), the committee have bought better than Rodgers, when allowing for my guesses at the tangled nature of who did what.
In some cases the manager helped those players to flourish (Sturridge and Coutinho, and more lately, Moreno and Ings), so he won back a little leeway. But his own judgement hasn't been good enough, and as yet, the signings he drove this summer haven't helped the Reds sit above 10th, or to win any of three cup games over 90 minutes. In time we may be thankful for Milner, Clyne and Benteke (the three who were labelled his picks), but despite some promising moments, none has lifted the Reds to a new level. Even so, these aren't necessarily the problem. That goes back further.
Had Rodgers been forced to work with Borini, Allen, Sahin, Toure, Lambert, Lallana, Balotelli and Lovren then I'd focus solely on his coaching, and have been able to offer more of a defence when it came to giving him time to turn things around. But he has had a big hand in the remarkable turnover of players since 2012, and to my mind that counts against him more than if he'd played a passive role and had to put up with what he was given. He himself added to the churn, and with a worse hit rate than the much-maligned committee, therefore he has to take some of the responsibility for the continued state of "transition".
The players he had most success with were either inherited or driven by the committee. That's a tick for his coaching ability – I will not be dissuaded from my belief that 2013/14 was in a large part down to the way the manager got the best out of the attacking talent at his disposal – and a demerit for his transfer judgement. Had just a couple of the players he himself signed (or "drove") proved really successful – or had he kept out of the transfer business completely – he'd probably still be in a job.
As it stands, I think he'll go on to be a success somewhere else, and that he will have learnt a lot these past three years. He delivered no trophies, but he did provide one of the most enjoyable sides I've had the pleasure of watching, and that's its own kind of achievement.
Where Next?
Some rumours are that Jurgen Klopp was interviewed this week, while others suggest Carlo Ancelotti is a shoo-in. I'd be happy with either, for different reasons.
What Liverpool shouldn't do is take a gamble on another young, unproven manager, unless they are absolutely certain of his qualities; especially with such a young squad, and with so much pressure and scrutiny at Liverpool. (And how do you know how good a coach or manager is if they haven't been doing it for long?) Expectations are always too high at Liverpool, but the club has to have someone prepared to try and meet them.
Ancelotti has never had to build a young squad up; many see him as a "finisher", who you bring in to lead you to a title, when you're already on the verge. However, he has a mass of experience, and you can't underestimate what someone of his stature could bring to a club like Liverpool, which has lost all of its star quality. Ancelotti is seen as someone who doesn't dabble in politics, and who produces attacking sides that win things. He is still only 56, so he has to be an option, if his back has healed after an operation, and of course, if he'd be interested.
Klopp is younger, but built up Dortmund from a sleeping semi-giant into one of the best clubs in Europe. The DNA of both clubs is similar, but Dortmund were still the 2nd-richest club in that country, so it's not like they were paupers. Still, he undeniably did a great job, before going stale at the end – albeit, like Rodgers, partly due to losing his best players to richer domestic rivals.
Liverpool would represent a tougher challenge, but he has the personality, and also the track record of success. That would buy him some leeway, but it wouldn't guarantee success. No one can guarantee success, especially when you're running on the 5th-biggest budget in a system that rewards the top four. But by the end, Rodgers looked like a beaten man, and therefore anyone who can lift the players, and the fans, and organise a defence without losing the ability to get men forward, stands half a chance of being appreciated.
That said, how long before #KloppOut or #AncelottiOut are trending?