By Paul Tomkins.
Jürgen Klopp's first game ended up being a largely unremarkable contest, after an incredible week of hype and giddy expectations. The net result was yet another draw for Liverpool. It did nothing to prove that Klopp walks on water, and there was also nothing to suggest his task will be much harder than anyone imagined.
However, it was heartening to see harder work and better defending result in a long-overdue clean sheet. It was even more encouraging to see Klopp put his stamp on the team, despite only three days with most of the players, and so many injuries to contend with. It wasn't full Klopp, but it was partial Klopp.
Success takes time – great teams are not built overnight – but a new identity can arise surprisingly quickly from a managerial change. You'd expect the additional effort that comes with trying to impress the new boss, but the team shape already looked better. This type of performance wasn't beyond a Rodgers' team – they did so at Arsenal (and at times away from home in the middle of last season) – but such tight defending wasn't the norm.
It will probably be next season before we start to see the best of what Klopp brings to the table, but until then he can look to inspire a short-term bounce, add some defensive stability, and start working out what needs changing in January and then the summer. Things might fully click before then, but it's unlikely.
While I loved the wave of euphoria that sprang up last week, it's important to not get disillusioned if there are a few setbacks, and to judge the manager after a sufficient amount of time. (If it's still not working in season four, then that's different to week four.)
Klopp said before his first game that getting things tight at the back would be the platform to build from, and in that sense a 0-0 draw away at an in-form team represents a good starting point. And while keeping up the intensity of running will be a challenge, there's also no doubt that this is a key characteristic of a Klopp side.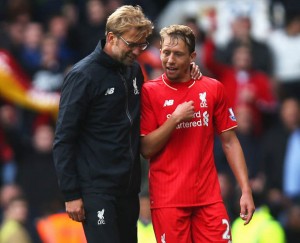 Steve McManaman, like all dark-agers, laughed at the statistic that Liverpool were the first team to outrun Spurs this season, at 116km to 114. Klopp wants his team to outrun everyone, having aimed for a combined 120km with his German teams. It's a vital stat to Klopp, something his success was built on; McManaman, in all his infinite managerial wisdom, disagrees (possibly because it's a statistic, and therefore automatically meaningless.)
"Chelsea and Manchester City won't have been concerned about that when they were winning league titles", he sneered. Well, they had the super-expensive teams with the greatest depth.
If Liverpool are to achieve anything of note under Klopp, then it needs some points of difference. Merely emulating the richer clubs on a smaller budget is the surest way to confirm the 'par' of finishing below them.
If Liverpool run harder than anyone else then that will be a start. The visit to Spurs saw the greatest combined distance the Reds have covered this season (a whopping 11km more than in the 3-0 home defeat by West Ham, and nine km more than the team's average), and while it wasn't full of flowing football, it was still one of the better displays of the campaign – and any improvement is to be welcomed. Crucially, it meant that Spurs' passing success rate was greatly reduced, and they couldn't do what they did to Man City recently.
Martin Samuel said on the Sunday Supplement that running is no good if everyone else is doing it too, and other teams have more quality. The last part is true. But the fact is that everyone else isn't doing it. When Spurs recently thrashed Man City 4-1 at White Hart Lane they also outran them by a massive distance. City had far more quality; Spurs did the running. On that occasion effort easily outdid talent, although City will find life simpler against teams that don't work as hard.
And no one is saying that running 120km automatically wins you the game. Running without footballing skill is pointless; no one is going to bring Kenyan middle-distance athletes to the club. But setting such targets guarantees that the effort is there, to underpin the work that gets done with the ball.
The rest of this post is for subscribers only.
[ttt-subscribe-article]