By Mihail Vladimirov.
Both teams had major injury concerns ahead of this game, which eventually contributed to a poorer game than expected in terms of excitement and overall quality.
Tottenham's were exclusively concentrated in midfield where Carroll, Mason and Bentaleb were injured with Dier suspended – meaning Pochettino had only two fit and available midfielders, Dembele and Alli. To make the matters worse, Chadli had to be replaced inside the opening 10 minutes, which effectively meant Spurs were also without two of their three best goal-scoring options (only Kane was left available).
For Klopp the injury crisis was bigger and diverse due to the variety of players unavailable. Defenders (Lovren, Gomez), a midfielder (Henderson) and plethora of attacking options (Firmino, Ings, Benteke, Sturridge) were all missing. As a result Klopp had a hugely decreased capacity to tinker tactically and his starting XI was clearly easy to predict.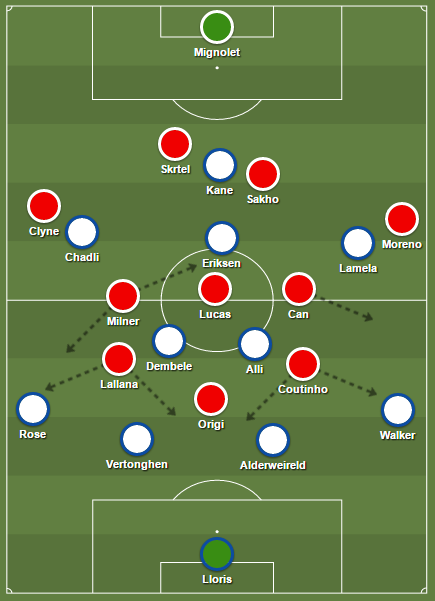 Liverpool's starting formation
The first main talking point from the game was the formation Klopp actually decided to start with. Based on the selected personnel (which was the one anticipated) it seemed the German manager would go with either a 4-2-3-1 or a 4-1-2-3 formations, both orthodox and something he used so often during his Dortmund days. However, as the game started, it quickly became clear Klopp opted for something unorthodox (at least for the English football). His choice to go with a 4-3-2-1 managed to spring a tactical surprise, which was a no mean feat given his limited resources on that front.
The formation in itself was not genius or previously never seen. The genius was actually in recognising this was perhaps the only formation able to cover all of Liverpool's needs in this game, except one – the ability to construct rapid counter-attacks.
The main shortcoming of the starting line-up was that – bar Origi – it simply lacked the availability of pacy players, meaning being a threat on the break will be hard to achieve no matter the exact formation. The only way to increase that particular tactical aspect would have been to start with Ibe as the second player with the directness and pace to aid the chances of being dangerous on the break.
Covering for that one shortcoming was something the 4-3-2-1 couldn't achieve, but what it did succeed with is to take care of all the other tactical needs Liverpool had for this game.
Ahead of this game Klopp arguably had three primary tactical concerns. First, how to press the opponent in an efficient way, as this is clearly a cornerstone in his overall style of play and something he won't compromise on unless it's an emergency situation or extraordinary context he founds himself. Second, how to increase the team's overall defensive resilience. This was particularly important given Spurs' increased overall attacking fluidity this season following the tweaks Pochettino applied in his front players' roles. Third, how to ensure neither will make it harder for the other to be achieved. There was the danger that focussing too much on the pressing might lead to leaving too much gaps in the team's defensive shape; while in trying to be too solid defensively might mean not enough pressing capacity.
Liverpool – compact and pressing (not counter-pressing)
The 4-3-2-1 formation achieved all of the above by simply sacrificing playing with wingers or having an extra presence (apart from the full-backs) down the wide areas. There was no way his team would be able to produce the required wide and counter-attacking threat with players lacking pace, so Klopp gave up trying doing this with the trade-off being to increase the central presence as a way to bolster the team's overall compactness and ability to press.
Although gegenpressing is the most Klopp tactical aspect currently existing, in this game Liverpool actually pressed instead of counter-pressed their opponent more often than not. The latter implies that a team will immediately try to press upon losing possession or being out of possession; while the former points to a general tendency of being proactive while trying to win the ball back. This is typically done by first regrouping in the intended defensive shape and then go on to press the ball in a coordinated way, usually waiting for the opponent to reach a certain part of the pitch or following predetermined triggers by the manager.
The rest of the post is for subscribers only.
[ttt-subscribe-article]