By Matt Bacon (TTT Subscriber Blackfox26).
That's it, I've had enough. For too long now this subject has been left on the sidelines, and I feel now is the right time to bring it to the fore. Kloppmania's been in such full flow you see, it's been very easy to overdo everything Jürgen at the expense of everything else, so time for a change. No longer can I stay silent on this matter.
I must now confess my love for Mamadou 'The Beast' Sakho. A player who seems to be everything we need and yet who for so long was discarded on the bench in favour of Dejan Lovren. Well, no longer. The time has come for the French scouser to take the bull by the horns, grab the defence by the scruff of the neck, eyeball anyone who gets in the way and make LCB his permanent place in the team.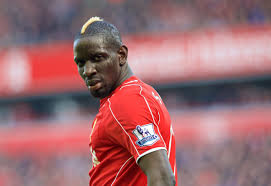 Klopp wants passion, check.
Klopp wants wild, check.
Klopp wants 'in your face' football, double check!!
If there was one positive that came out of the recent derby game, it was seeing that Sakho is no wilting violet. He is a beast, a wild lion, caged and waiting to be set free and ravage any and all strikers foolish enough to underestimate and get too close to him. The fact that he had a small falling out with the previous boss after being left out of the XI for a previous derby game says all you need to know about him. This man has heart.
Take a look at his off-field behaviour. Helping decorate houses in the community. Regularly attending the local primary school to teach not just football but French to the local kids. Visiting kids in hospital. Why is this important? Well, it seems most footballers see their very very well paid jobs as just that. They turn up, play ball, go home. Sakho seems to realise the connection it has with the fanbase, especially the local ones, and how being in the privileged position that he is in, he can make a difference to others, put something back into the local community. It seems like he has a 'moral compass' and thinks about more than just himself. He seems intent on learning most than just enough English to get by. He even sees himself as 'scouse'. Get in lad!
The rest of this article is for Subscribers only.
[ttt-subscribe-article]