By Paul Tomkins.
While Jürgen Klopp's impact was clear against Spurs, the idea that he'd turn things around overnight was obviously ludicrous. Some kind of bounce might have been expected (although research suggests that the managerial bounce might not be as clear cut as previously believed).
Klopp's appointment was incredibly exciting, and I, like many others, felt a massive surge of optimism, bordering on euphoria; but it wasn't based on what might happen in the next few games. Or even the next few months. Yes, it would have been lovely to see him win his initial games, but here is a manager with a half-fit squad, and who has had zero say on the procurement of any of the players at his disposal.
Sam Wallace, now at the Telegraph, wrote bizarrely that: "Most of all though, he [Klopp] needs that first victory and the home tie in the Capital One Cup fourth round against beleaguered Bournemouth should be that moment, if not then there will be more serious questions to answer."
Yes, let's start asking serious questions after just four games. Indeed, why has it taken so long? What the hell has Klopp been doing this past fortnight?
Klopp brought from Germany a feel-good factor, and the players were inspired to run their proverbial red socks off. However, their confidence issues – damaged by a season-and-a-bit of falling short – couldn't be flicked on like a switch.
For the most part Klopp kept faith with what Rodgers was doing, only there was a fresh impetus – increased effort, undermined by the same lack of quality in the finishing. Given the injury list he wasn't going to be able to make too many drastic changes. A valid criticism could be that he kept more-or-less the same side for three games in eight days, and that rotation would have left the legs fresher against Southampton. But he also has to learn about his players, and the team dynamic, with no preseason to experiment. He has to be given the right to do things his way, albeit with plenty of compromises as he feels his way with these players.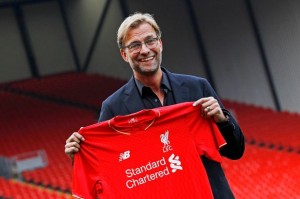 Klopp has put his faith in Mamadou Sakho, a player whose exclusion – in order to play 'his' signing Dejan Lovren – may have pushed Rodgers closer to the brink. After a great season of coaching and management in 2013/14, Rodgers' increased influence on transfers ended up undoing his own good work. The team became increasingly lethargic. Some of those mistakes will take time to undo.
For example, however good (or not) Lazar Markovic proves to be, he is a quick player who can attack from wide areas – but is not an option for Klopp right now. At just 21 he was discarded for a year, and although the loan may actually do him good, he may have needed time to settle in – just like Kevin De Bruyne at Chelsea, at the same age. Mourinho seemed to think that De Bruyne was a cry baby, always complaining, not made of the right stuff. Well, he's been the best player in the country this season.
Klopp was chosen by Liverpool's hierarchy in part because of how long he stays at clubs: he builds things, rather than flying by night. He shares with Mourinho a big personality and the desire to make an impact, but unlike the Portuguese he sticks around and constructs success over time, and without the luxuries of limitless money (and without causing incredible ructions). Klopp has had two jobs, both of which involved success way beyond expectations. He stayed at each for seven years. None of his success was overnight, even if Dortmund did improve from 13th to 6th and 5th in his first two seasons.
Effort in itself does not overturn depleted confidence. But increased effort can help players get that half a yard on opponents, and the harder you work the more you do to help your luck change. But sometimes an overeagerness to impress can be anathema to the art of finishing, where cool heads and iced-up veins are preferable (not literally, of course; no one is suggesting cryogenic syringes be introduced to Melwood.)
Effort alone will not overturn the fact that there's an absurd lack of wingers in the squad, beyond a teenage Jordon Ibe. Klopp has had little option but to retain the narrow formation, which leaves the full-backs operating as quasi-wingers. The problem here is that Moreno is capable of being really good going forward but is not (yet) consistent in his final ball, and on the evidence of the season so far, Clyne has incredible pace, and looks a top defender, but wastes the space he finds himself in when overlapping by not being a particularly good passer of the ball.
If there was a wonderful winger ahead of Clyne he'd be a great asset, to back up play and not do anything too fancy (and to be able to quickly get back into position if the move breaks down) but instead he has James Milner, who, one great cross aside, continues to look utterly mediocre.
The current captain remains a good signing in theory – in time he should have his uses, before his legs give way – but right now he looks like one of too many average/solid, one-paced players (particularly across the midfield). There is talent throughout this Liverpool squad, but it is not evenly distributed.
One of the reasons Klopp accepted the job was because he liked the look of the squad. He had genuinely tried to sign players like Origi and Benteke whilst at Dortmund (and Liverpool had also identified targets who went on to be successes at Dortmund).
But he has yet to get a game out of either Jordan Henderson or Daniel Sturridge, and Christian Benteke and Roberto Firmino are only just getting match fit. That's four players Klopp has yet to be able to start, and on top of this, Danny Ings and Joe Gomez, two of the only bright spots of Brendan Rodgers' final months as boss, were out for the season before the German had even sat in the dugout.
In part due to these injuries, and in part due to the departed manager apparently not prioritising wingers (and quicker players – particularly in his raid on Southampton in 2014), there isn't the devastating pace in all areas of the team that can really make a difference.
If you don't have pace then you need to be pretty special at what you do. Xabi Alonso could get away with being slow because he thought so quickly (and at Liverpool he had first Momo Sissoko and then Javier Mascherano to compensate if he got caught out). So could Sami Hyypia, whose positioning limited the races he found himself entered into. Luis Suarez wasn't the quickest of strikers, but he could get away from defenders with a combination of skill, determination and a decent amount of acceleration. Outstanding players can get by without pace, but what if you're not at that level?
Klopp finds a squad containing quite a few players who are neither quick nor exceptional. This is not to say that they're all bad players; indeed, some are very good players. However, his pacier options were instantly cut by the serious injuries to Danny Ings and Joe Gomez, with Lazar Markovic already loaned out for the season. (And of course, Raheem Sterling had been sold.) In Germany, Klopp told his academy bosses that he was only interested in quick players.
Now he's having to field four or five slow/slower ones, including Lucas Levia, who has been excellent – but who remains the only defensive-minded midfielder (and one Rodgers was looking to offload). Rodgers did plenty right during his time on Merseyside (at least until 2014), but one (raw) winger and one defensive midfielder were major flaws in Klopp's inheritance.
Liverpool have four quick strikers, which bodes well; although Ings is injured, and the quickest, Origi, is a work in progress – but I'd rather the club invest in pacy potential than slow "honest" strikers like Rickie Lambert, whose legs had gone.  Indeed, Southampton's Sadio Mané looks like the kind of non-Premier League player Liverpool should have been chasing 15 months ago, rather than proven Premier League talent.
Sturridge is very quick, but fitness – and then the time it takes to find sharpness – remain an issue. Benteke is also quick, but not to the point where it alone terrifies defenders. And although Klopp has shown throughout his career that he's flexible, his preferred system seems to revolve around a lone striker. He has inherited a puzzle, and it may take time to put it together, and then even more time to improve it.
I keep coming back to the surfeit of players who just don't have a change of gear. Individually you can make a case for most of them to be in the team, or at the very least in the squad; but put too many in the XI at once and it becomes one-paced.
While there's a mixture of speeds across the batch of James Milner, Adam Lallana, Philippe Coutinho, Lucas Leiva, Joe Allen and Emre Can, none can use pace to devastating effect. (You can add Firmino too, although he seems to have decent acceleration, which will hopefully improve with fitness.) They're all good players, and some of them are very good players. But put too many in the team and it can lack explosive runners, and most want the ball to feet. Perhaps only Firmino is a midfielder who runs ahead of the striker.
Perhaps crucially, none of them is happy out wide (Milner has spent much of his career there, but has made it known that he prefers to be central). Those who start wide are going to be tempted to drift centrally, which needn't be a problem if the manager wants them cutting infield; but will be a problem if he wants some width from the midfield. Right now, all he can do is line-up narrow, and hope the full-backs bomb on. Or try to use Jordon Ibe, who is yet to build upon his fine start to his Liverpool career (a bit like Raheem Sterling two years ago).
Coutinho is horribly off form, and this remains a big concern. Right now the team is partially built around him, and he's not delivering. Klopp arrived to find a raft of players low on confidence, although at least Coutinho has the inherent quality.
Lallana works hard, but to me remains an utterly 'fluffy' player who is all fancy footwork and little end-product. He can finish when he does get into the positions, but he seems to spend too much time dribbling back towards his own goal, or walking back from offside positions looking annoyed at his team-mates. His goalscoring ratio isn't awful, but it's not great for someone who spends so much time playing just off the striker (and for all Coutinho's potential for brilliance, his goal return isn't good enough). You'd also have expected Lallana to spend extra time in the gym by now, and to stop shooting from 25 yards when he can't even kick it 20 yards.
And although flat-track bullies can have their uses, his eight goals in 51 games have come against Swansea (2), Crystal Palace (2), Sion, Bordeaux, Leicester and West Brom. He's scored just one league goal for the Reds away from home. It's just so … mediocre.
I'll reaffirm my bias here in that he frustrates the life out of me, but I'll admit that this is better than thinking he's useless. There's something there – he's not a hopeless case – but the price tag, and his age, mean that flattering to deceive isn't good enough; he's a £25m player approaching 28 years of age. He doesn't have enough pace or strength to do as much damage as he should, even if his turns can be things of beauty (although in the last two games he's done a fancy turn straight into a defender when receiving a simple pass). I remain baffled as to how any Liverpool striker could possibly know when he's going to pass the ball – will it be after his first touch or his 23rd?
If he was 21 or 22 you could argue that there's a big surge of improvement ahead of him – and equally, I'd ask for leeway if this was his first season at the club – but unless Klopp can work wonders (and in fairness he seems to like him, at least out of the non-injured options), he'll remain a player who does a few lovely things that don't make a lot of difference to the outcome of a football match.
By contrast, I will stick up for Divock Origi – who did very well at Spurs in holding the ball up, but who has struggled at Anfield against packed, deep defences allowing little space to run in behind. To date, his movement hasn't been good enough, but that can be coached.
He arrived after a season of stagnation in France, and played well in preseason with the Reds. He was then left out of the team once Benteke arrived – which was fair enough – and only started getting games once the side was struggling.
He only turned 20 in April, didn't cost a fortune, is new to the league, and is playing as a lone striker (rarely easy) in a team whose main creators are Coutinho (out of form) and Lallana (who flatters to deceive). On the evidence of the season so far he's the 4th-choice striker, and yet he hasn't lost the potential that has seen him amass almost 20 caps for world #1-ranked Belgium at such a young age.
For comparison, Daniel Sturridge's record at Man City was just six goals in 32 games, and in his first 26 league games after moving to Chelsea for what wasn't a massive fee – spread across two seasons (aged 21-23) – he scored just a single solitary goal. As I've written on here many times, strikers like Michael Owen and Robbie Fowler are exceptions to the rule – and vitally, it now seems much harder for really young strikers to be prolific in the elite leagues.
Pierre-Emerick Aubameyang, taken to Dortmund by Klopp two and a half years ago, is currently the top scorer in Europe's five leagues this season, at the age of 26 – 20 goals in 17 games (13 in 10 in the Bundesliga). Aside from a spell in the French 2nd division, his record on loan at Lille, aged 20, was two goals in 14 games; the next season at Monaco, now aged 21, it was two goals in 19 games; and in the second half of that season, shunted to Saint-Etienne, it was – you guessed it – two goals in fourteen games. His record at Dortmund has got better with every passing year.
Having looked at the stats of many of the world's best strikers on several occasions, the exceptions to the rule are the prolific teenagers. Even Luis Suarez was a good but an unremarkable teen; and to many Liverpool fans, a great player but terrible finisher in his first 18 months.
Origi – a star of Belgian football through all age brackets from age 15 onwards (he was prolific for the U19s, but only played one U21 game as he bypassed that group for the senior side) – may well end up as another promising young talent who fails to blossom, but we have to give leeway to youngsters of all descriptions. Or we could be like AC Milan, who gave up on Aubameyang in 2011. Sometimes the bigger mistake is to let these players go, rather than giving them time. Even Robert Lewandowski was 20 before he was playing top-flight football in Poland, and having joined Dortmund at 22, his first season was unremarkable (he didn't even hit double figures in 43 games).
If Liverpool are going to genuinely thrive under Klopp then it will require four or five of these types of young player to come good over the next two or three years; to evolve gradually, like Jordan Henderson did, from 20 to 23, and to supplement the bigger purchases.
If we have no patience for what Klopp is trying to do, especially with the younger players, then we might as well all give up now.
Plus ça change
I've seen people saying that if Liverpool had played the same way under Rodgers, everyone would be complaining. But Rodgers was in his 4th season; Klopp's not even close to his 4th week. Klopp is essentially managing a side built in Rodgers' image. He was the one who identified the positions that needed addressing, and who had the final say on so many of the problematic members of the squad.
Klopp can change the emphasis in certain areas, but he has the same limitations; indeed, since he arrived he lost Danny Ings (credit to Rodgers) and Joe Gomez (credit to the committee), two of the only bright sparks of the season to that point.
I'm buying into Klopp, 100%. His record, and his methods, deserve the utmost support. But if this is what he's serving up in season four, then we'll need to talk. Indeed, even if he's serving this up in season two we might have to raise some concerns.
But let's see him build a team in his image. Let's allow him to get the players to the level of fitness required for his style of play – and to jettison those who can't hack it, and add (and promote from the youth ranks) those who can. Let's hope that he does well this season, but know that it also may need to be chalked up as a write-off – but not a waste of time, for the one major benefit of it being that Klopp would not have arrived back in the summer, but he was prepared to in October, and he has roughly six months to properly assess each and every one of his (fit) players.