By TTT Subscriber Paul Little.
To be honest, I'd be as excited and fascinated as any Liverpool fan if Jurgen Klopp became Liverpool manager – even though it may not seem that way to some. That said, I'm by and large always excited by new players and new managers. It's in the very nature of football fandom after all. Klopp has a strong pedigree and box office appeal. I'm sure he'd be great fun – although given the very different English environment, I'm not convinced of what impact he'd be able to make long term.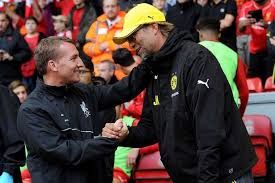 And I'm even less convinced he'd come at all. Klopp looks to me like many of those player targets we've missed out on over recent years – Liverpool may well interest him, but there are going to be bigger jobs out there. Bigger and indeed easier. Having spent years battling against the odds in Germany helping build Borussia Dortmund, does he really want to do all that again at an even bigger sleeping giant? Maybe he does. But given the makeup of the Premier League and size of the clubs who challenge for the top 4 (soon even to be the top 3), then I can't help doubting it.
However, whilst I'd be very interested in Klopp as Liverpool manager, I'm still interested in Brendan Rodgers remaining as Liverpool manager too. It's not a universally popular position, I'm well aware of that. But as I've said before, I always feel an allegiance to the current incumbent, always believe that he can turn things round. Well ok, obviously not always – there was Roy after all.
I do recognise that Rodgers has made mistakes. I accept he annoys people with the way he talks and what he talks about – although I do feel that a lot of people just want to find things to be annoyed about. But I also believe that he is a coach with many fine attributes – and I'd hate to see him go away and end up proving that elsewhere.
Of course, this means giving Rodgers time and many feel he's had enough of that. So often we hear in football that a struggling manager needs time. Often amid the hoots of derision and the howling masses, it's hard to hear the sense in that way of thinking. Maybe there's nothing in it, although the success of Alex Ferguson remains one of the biggest arguments in favour of the theory.
And no, before you say it, I'm not comparing Rodgers to Ferguson, I'm not saying he'll ever be as good or even close. But I am saying that if Liverpool's owners were to give Brendan Rodgers time, I for one would be happy to get behind it. Because I think the club are actually in an excellent position to see if indeed time could be the vital ingredient.
Why? Liverpool have plenty of resources. They have a young squad with plenty of talent. And they have a young manager who although he has shown weakness and embarrassing inexperience at times, at others he has also exhibited inventiveness and the ability to communicate his ideas to his players (the only place where his ability to communicate really matters to me), often with stunning results. Maybe, just maybe, with time and further support, he could grow into the kind of manager we dream about.
Given the backing he received in the summer, there is evidence that FSG might be thinking that way and won't pull the trigger at the first or even second sign of trouble. But as with any manager, results will ultimately dictate and Rodgers will need a positive trend to survive.
Which brings me back to Jurgen Klopp. He was not an overnight success as a manager. He has, had tremendous success – but he has also had difficult times. At Mainz, his first job as a very young manager, he guided them to promotion to the Bundesliga after a couple of seasons in charge. He even got this unfancied club into the UEFA Cup. But he also guided the team back out of the top flight, and failing to bring Mainz back up again, he quit.
Klopp joined Borussia Dortmund in May 2008 – but the first of his heralded Bundesliga titles didn't arrive until 2011, after sixth and fifth place finishes. By then, he was working with a team (not all of his own building – after all, he had the help of an excellent sporting director in Michael Zorc) that included the brilliant schemer Mario Goetze and a goal machine in Robert Lewandowski. Excellent coach that he is, Klopp got the absolute maximum out of such players and BVB became one of the strongest clubs in Europe.
However, in common with many clubs across Europe who aspire to join Europe's elite but don't have the financial muscle of Bayern, Real Madrid, Barcelona, PSG and the other English clubs, the struggle for Klopp and BVB to keep pace with the giants took its toll. It was a struggle not helped by the eventual loss of their key talents. In fact, since BVB's last league title in 2011-12, Klopp's men won nothing but a couple of German Charity Shields. There have been flashes, and for a while they maintained their position as Bayern's main domestic rivals, even outspending them in Klopp's final transfer windows. But once key ingredients have been lost, it can be hard for a club and coach to create a new, winning recipe.
Klopp left Dortmund after a seventh-placed finish in a league where even a BVB denuded of so much talent should have eased into a Champions League slot.
The point is that while Klopp is an extremely attractive option right now, in his career he has needed time, support and often just the right kinds of player to get things right. And he experienced times where things just wouldn't come together.
This is not to denigrate the man or his achievements, just an attempt to put a realistic slant on the life and times of a football manager, and maybe add a little balance to a rolling narrative that is too often one-sided. It is a narrative that offers sympathy to Klopp for losing his best players and struggling thereafter, but that dismisses Brendan Rodgers as a fraud for suffering the same fate (and if 2013/14 really was all down to Suarez, then why isn't Kenny still the manager?). A narrative that presents Klopp as just the kind of charismatic single-minded maverick that Liverpool need to put manners on the owners, whilst ignoring the fact that he has always been happy to work under the kind of two tiered system that "Yes Man" Brendan Rodgers has constantly been at odds with.
I'm not saying that either manager is right or wrong in any of this – just illustrating that perceptions of both can be skewed.
I suppose in a way I can't really lose. Brendan stays and turns things round, that's great. Brendan fails in the short term and trigger is pulled, Klopp arrives – great. Either way, it'll be interesting to me, and either way the manager gets my full support (within reason). Of course, scenario two only works for this piece of typed prattle if the German gets the job, which as I said before, I rather doubt (bet you he ends up at Bayern). But even if one day he comes to be manager at Anfield, I still can't help feeling that what was possible in the Bundesliga won't necessarily be possible in England. And if Klopp finds it all a bit of a struggle, will I be one of the few calling on all and sundry to just give him a little more time?