By Mihail Vladimirov.
SUMMARY
• Bournemouth made a positive start – inspired rather than intimidated by the occasion
• Their tactical set-up was well balanced
• Bournemouth's effective zonal coverage was preventing Liverpool using the midfield zone
• Their initial supremacy was based mainly on enthusiasm, pace, hard work and energetic approach
• Bournemouth failed to convert their early dominance into decent goal-scoring chances
• Liverpool started to get into the game more after the first quarter of an hour
• It was two changes Bournemouth made that visibly contributed to the change of flow of the game
• The Cherries' midfield pair became isolated and unsupported
• Liverpool now had a fully functioning 4-v-2 midfield supremacy, resulting in space opening up around and behind Bournemouth's midfield pair
• But this only highlighted Liverpool's problems in attack
• The main trouble originated from the Lallana/Coutinho pairing
• Lallana is a unique player, one who doesn't really fit into any specific description or role
• It was a case of right plan, wrong players
• Liverpool's whole attacking unit functioned poorly again
• Bournemouth were poor out of possession, and both teams were poor in attack
• Bournemouth made an interesting tactical tweak as they again made a positive start to the second half
• Gomez was being overloaded by Francis and Ritchie
• Once again Liverpool got back in control after Bournemouth's initial spark faded
• Bournemouth switched from 4-4-2 to 4-2-3-1, which made sense but had unexpected consequences
• Once again, Liverpool didn't follow up regaining control by creating dangerous attacks
• Firmino replaced Ibe
• In the last ten minutes Rodgers solidified his team defensively
• Moreno came on for Coutinho in a more robust 4-1-4-1
• Neither team performed anyway near close to their perceived potential, but neither was outrageously bad either
Rodgers kept the same starting XI and formation for this game from the Stoke match. The only change was to shuffle his band of attacking midfielders, with Ibe moved to the left flank, Lallana central and Coutinho deployed in a narrow position down the right.
Slightly more surprisingly was Howe's decision to stick with the same 4-4-2 formation he used in his Premier League debut last week. He made a couple of changes though, with O'Kane replacing Gosling next to Surman in midfield and Gradel coming in for Pugh down the left wing.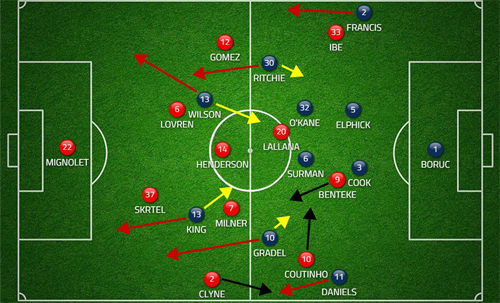 Bournemouth starting brightly but lacking efficiency
Prior to the game Howe was adamant his team wouldn't feel intimidated by the venue and stature of opposition but inspired to show and give their best. Certainly the way the visitors started backed up their manager's words. The Cherries made a really positive start to the game, showing great enthusiasm and appetite to play proactively and go toe-to-toe with their illustrious hosts.
Tactically, it was interesting how Howe has decided to set up his team personnel-wise. Instead of the usual structure (no matter the overall formation) of having two deep-lying passers (two out of Surman, Arter and Gosling) in midfield and one of the wide men (Pugh) playing more as a wider-placed central midfielder, here a natural defensive midfielder (O'Kane) was put in midfield with a natural winger (Gradel) deployed down the flank. Such a shift suggested Howe was planned to use one of two theoretically likelier strategies here.
The first one was more reactive – drop in two banks of four, defend deep and narrow and wait for suitable moments to counter-attack dangerously by counting on the front quartet to use their pace – possible due to the introduction of a ball-winner in place of a second passer in midfield and another pacy wide threat instead of an extra midfield player.
The second one was the more proactive one – trying to push on from the start and utilise the front four's mobility, backed up keenly by the full-backs, to press from high up before swarming forward whenever the ball is regained, with O'Kane providing extra defensive cover in midfield to hold the fort.
In reality, however, what Bournemouth showed was a fusion of the above two potential approaches. The team was neither as outright defensive-minded as the former variant, nor fully committed to the gung-ho strategy that the latter scenario implied.
Out of possession, the two centre-forwards were keen to drop in and get goalside, closer to their midfield partners. There were two obvious benefits of this. First, the visitors gained a more compact shape with less space between their lines. And second – the positioning of King and Wilson made it very hard for passes to reach Henderson and Milner. During the first 15 minutes (the period when the Cherries clearly dominated), Liverpool's midfield triangle received the grand total of 6 passes between them which showed how effective Bournemouth's zonal coverage was and how successfully they prevented Liverpool to use the midfield zone. What's more, half of these passes were received by Milner down the right flank, away from the well occupied central zone.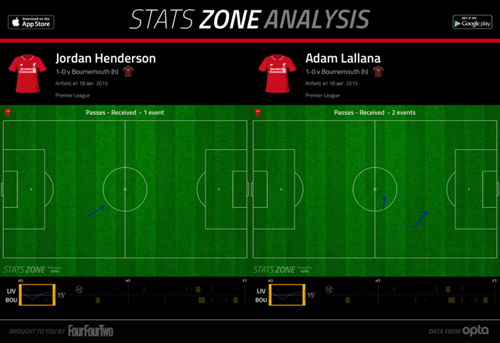 Meanwhile, with both wingers getting narrower, Liverpool's passing angles were further cut-off centrally, while the visitors' defensive shape received extra compactness with the midfield pair protected from both ahead and on the sides.
When possession was regained and Bournemouth attacked, there was a clear element of directness in their play. The wide pair down each flank was very quick to push forward, which helped the 4-4-2 to transition quickly. Although the players were keen to split up, it was obvious the plan's main emphasis was to try and create wide overloads in order to fully utilise the presence of attacking full-backs, pacy wingers and a front pair working the channels and getting in that space between Liverpool's overloaded full-backs and centre-backs who were being dragged around the place. This was true especially for Wilson, who in that period motored forward past Lovren a few times, which then led to the whole defensive unit being stretched.
Considering the above, Bournemouth spent the first 15 minutes dominating territorially. They made it really hard for Liverpool to get out (bar the occasional long ball towards Benteke) due to how well they occupied the midfield zone and basically minimised the possibility for the ball to be played there. In addition, their very direct approach when on the ball continually made Liverpool retreat and chase back.
However, the main danger the visitors managed to create following this kind of chaotic opening was a few corners (granted, following one of which they had a goal probably harshly disallowed). Bournemouth's initial supremacy was based mainly on their energetic approach, enthusiasm, pace and hard work, with minimal technical quality on the ball. As such their overall play lacked cutting edge – the final pass was often poorly thought-out or executed and the players' attacking movement was more chaotic than coordinated. The end result was the team's inability to convert their dominance into anything resembling decent goal-scoring chances. As usual, they looked effective but lacked efficiency.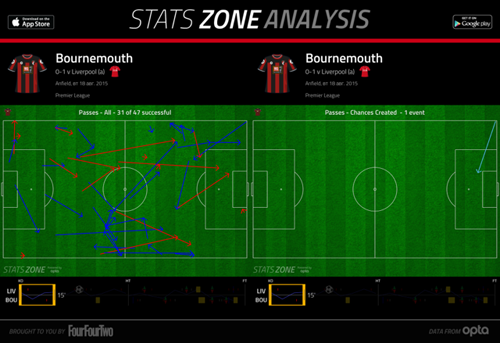 Liverpool gain control
In that 15-minute period when Bournemouth had the upper hand, Liverpool only managed a few dangerous attacking moves. The pattern was similar in all of them – Benteke would receive a long ball from deep before laying the ball to someone getting closer to him (often Coutinho), the ball then being sprayed around in a search of more space. But nothing really came out of all this.
Eventually, after their initial troubles receded, Liverpool started to get into the game more and more. The home team didn't do anything specifically different or change their set up to turn the flow of the game around. But there were two things Bournemouth changed which visibly contributed to Liverpool having more scope to calm things down and settle into a decent rhythm – something they couldn't achieve in the opening 15-minute period.
First, Bournemouth's initial spark based on their intensity and high tempo gradually faded away, so all Liverpool had to do was to just weather the storm and wait for it to pass. Second, once the visitors' overall pressure eased off, they adopted a different defensive shape which made it easier for the Reds to start controlling the proceedings. Instead of the previous compact shape (centre-forwards dropping goalside, wingers tucking narrow), now Howe's front pair stayed higher up the pitch with the wingers nearer the flanks. Most likely the different context – not being on the front foot, needing to cover the opponent who were gradually having more and more of the ball whilst retaining a counter-attacking threat – resulted in the different roles to the front quartet. The wingers now had to track back Liverpool's full-backs, who became more and more prominent, while the front pair had to act as the only out-balls with the team now defending in two deeper banks of four.
The rest of this analysis is for Subscribers only.
[ttt-subscribe-article]