By Mihail Vladimirov.
SUMMARY
Arsenal's loss of their centre-backs had a greater impact on the game than Liverpool's absentees
Liverpool started with an unexpectedly high line, probably because of Arsenal's lack of threat in behind
This gave Arsenal problems they are not used to facing at the Emirates, and they looked unfamiliar and uncomfortable
There was also an obvious drawback to Liverpool's advanced positioning but no real pressing – gaps in behind 
Coquelin and Cazorla swapped their usual roles from the start, which was surprising – and surprised Liverpool
It improved Arsenal's attacking, but at the expense of their defence
After Ramsey's disallowed goal Liverpool retreated deeper into adopted a clearer, compact 4-1-4-1
Arsenal now had the time and space to play out from the back more freely and work the ball forward, which led to greater possession supremacy
But it became harder for them to convert that possession into anything meaningful 
Meanwhile Arsenal's poor passing out of defence meant Liverpool came much more into the game
Liverpool finished the first half strongly as the dominant team
Arsenal tweak their second-half set up and take the ascendancy
As Arsenal improved, Liverpool struggled to cope
Arsenal's left-sided overload was the basis of their second-half supremacy
The substitution  of Firmino for Ibe didn't work – but nor did Walcott's for Giroud
Eventually Arsenal's pressure faded and Liverpool came back into it
Both teams missed important first-team players, with Arsenal's loss arguably the greater. Liverpool were without their captain Jordan Henderson and Adam Lallana but their replacements – Lucas and Firmino respectively – played important roles in creating a different outlook which arguably suited the game more.
After using a lopsided 4-2-1-3 for the previous two games, here – arguably due to the change from Henderson to Lucas – Rodgers opted for a 4-1-2-3 formation instead.
Arsenal lost their first-choice centre-backs. Not only did their understudies simply not have the level of understanding and cohesion Mertesacker and Koscielny have forged in the past few years, but neither looked able to compete with the all-round threat of Benteke. Chambers is a lightweight defender who used to play at right-back, while Gabriel is more of the opposite to Koscielny, preferring to sit back and sweep in behind instead of quickly stepping up and aggressively engaging the opposition.
This meant there was no a like-for-like replacement to the Mertesacker-Koscielny pair, which brought a completely new feel to Arsenal's defence, further exacerbated by the way the midfield pair ahead of them were set up (more on this later).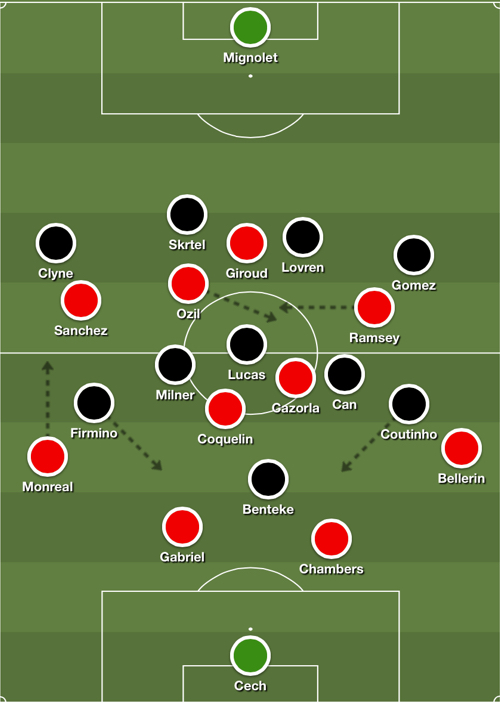 Liverpool start high up the pitch
The first tactical feature of interest was the way Liverpool lined up following kick-off. We could have expected the Reds adopt a deep and compact 4-1-4-1 (or even flat 4-5-1) shape and look to weather the initial pressure the Gunners almost always apply at the Emirates.
Instead, Rodgers had his whole side push in much more advanced positions. So instead of seeing the backline on the verge of the penalty area and the anchor man (Lucas) just ahead of them, the team was closer to the halfway line than their own box. As a result, Lucas was defending the area closer to the centre circle than the 'D', with Can and Milner joining the front three inside Arsenal's half.
This analysis is for Subscribers only.
[ttt-subscribe-article]