By Chris Rowland and Daniel Rhodes.
W/c Monday July 27th 2015.
Welcome to our weekly round-up, a diary of news and events on the site, matters relating to LFC and the world of football generally.
The Week in Football – Liverpool FC:
Monday:
James Milner admits the lure of playing in central midfield was a big factor behind his move to Liverpool from Manchester City. (LiverpoolFC.com)
"This move was a selfish move for me," said Milner. "Obviously playing at City and playing in different positions – the team will always come first, that's the way I believe it should be, no matter where you are. "But I think the move to come to Liverpool and take that mantle on myself was more of a selfish move and hopefully I can do well and contribute to success at Liverpool. "I'd like to think you will see the best of me now I am in the central role.
The letter Bill Shankly wrote to tender his resignation as Liverpool manager in 1974 has been posted on Twitter by ex-Liverpool striker John Aldridge. He tweeted:  "This is Shanks' last letter before his resignation was accepted. Liverpool FC's greatest employee. Still adore Shanks."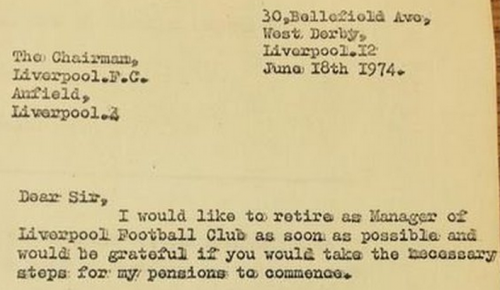 Tuesday:
Danny Ings believes his movement can help Liverpool's attacking midfielders do damage next season. (LiverpoolFC.com)
"After my knee injury [in 2012] I sort of devoted my whole time to working on my speed, my movement, and my creativity," he told Robbie Fowler in an exclusive interview now available on LFCTV GO.

"What I've found was really effective, even at Championship level, was making runs constantly in behind.

"As soon as a defender switches off that run in behind is so effective.

"As long as there's someone stretching the pitch and you've got your creative players behind you in that space – and you've got players at this football club to feed those runs – you can be an effective team.

"It's certainly something I'm looking forward to."
Ings also insisted there is still a place for a player like him in the modern game even if he is, as Fowler suggested, part of 'a dying breed'.
"I think with the way the game is going, it's full of creative players now, players who want to be on the ball all the time," he added.

"[But] I really do think, even if I don't touch the ball as much as those guys if I'm still stretching the game it's still as effective.

"It can all get too crunched and if you don't create space for those players in behind you then it's hard to create opportunities.

"I'll always work on my game and stretching in behind."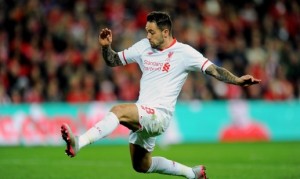 Mark Lawrenson fears the Reds could be "undercooked" for the new campaign because of facing a lack of quality opposition in pre-season. (Liverpool Echo)
That's it Lawro, get behind your team.
A 650-tonne roof truss has been lifted on to Anfield's Main Stand as part of work to expand Liverpool's home ground. (BBC Merseyside News)
The structure was fixed on to towers by two of the UK's largest cranes and took eight hours to be put in place.
Work is under way to increase Anfield's capacity from about 45,500 to 59,000. The Main Stand will feature a new third tier, adding 8,300 seats.
The Anfield Road Stand will then be expanded to add a further 4,800 seats.
The £100m work is expected to be completed in time for the 2016-17 season.
Ian Ayre, the club's chief executive, said:
"This is an historic milestone in Anfield's history as the stadium transformation continues to take shape.

"This is a redevelopment that gives us a fantastic opportunity to ensure that all the rich history and traditions that make this stadium so special can continue for many years to come."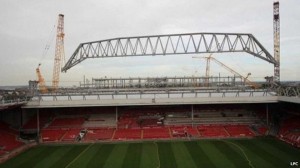 The rest of this round-up is for Subscribers only.
[ttt-subscribe-article]