By TTT Subscriber Si Steers.
When FSG acquired Liverpool FC in 2010, they made a commitment to build a sustainable future. Unlike Hicks and Gillett, or the Glazers at United, they would not take any money the club made out of the club. They would grow revenues so that the club would become self-sustaining. They made no commitment on the stadium, instead preferring to look at options and make an informed decision that best suited the long term needs of the club and the city.
One of the biggest myths that circulate around FSG's acquisition of Liverpool is that they got the club 'on the cheap'. But they paid the market price for the club at a specific moment in time. Yes there was huge potential for growth, but for that to happen there needed to be a great deal of hard work and investment. The club was only a bargain in 2010 in retrospect because of the work that has gone into building it since.
One of the biggest criticisms of our owners has been how they have managed the football operation. There is a lack of transparency around the decision-making and structure at the club and that creates a narrative of weak leadership.
FSG have a preferred MO of collective knowledge to inform decision-making – rather than any one individual having total influence or control.
Within FSG there has been a transfer of power, with Mike Gordon now taking a lead role in the strategic development and day to day leadership of the club, working closely with Ian Ayre, Tom Werner and Billy Hogan. John Henry will no doubt be involved in the big decisions, but seems content to keep a lower profile in the overall running of the club.
One of the big questions that are often asked of FSG is what is the long term plan? What is the exit strategy? There are continual rumours about FSG completing the redevelopment of the stadium and putting the club up for sale. But from an FSG perspective, that would make little sense.
Increase in value
FSG were always going to make their money out of Liverpool by increasing its value. They inherited a complete mess; the club's finances were in disarray with a wage bill that was swallowing up over 70% of total revenue. It is only in the past 12 months, after four years of prudent management, that the club's finances are finally starting to recover.
One of the biggest issues FSG faced on acquisition was the stadium question. After a thorough review of options, they made the decision to proceed with redevelopment; an option that all previous owners had written off as being too difficult.
After years of politics, planning and broken promises, a redeveloped Anfield is now actually happening. A new main stand that will lift overall capacity to close to 55,000 and will narrow the revenue gap to our rivals (albeit with a large corporate offering).
The latest Forbes valuation of Liverpool (as of May 2015) is circa £630m ($982m). With a redeveloped main stand that valuation is likely to rise closer to £700-800m in the next 2-3 years. FSG's total investment in Liverpool to date is probably circa £440m (£300m acquisition cost, £40m intercompany loan, £100m main stand redevelopment loan).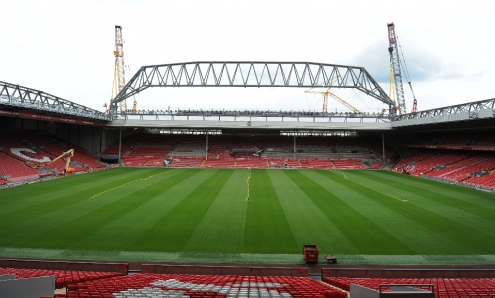 In a recent interview Mike Gordon has suggested that FSG are actively looking for a naming rights partner for the new main stand, or there was even a possibility of outright investment.
Investment
With a valuation of £700m, FSG could seek an investment of £300m and still retain 57% ownership and control of the club. That would enable them to see a return on investment from the initial acquisition cost. The stadium redevelopment loan is likely to be paid back separately by the increased revenue generated – in a similar model to how the Emirates was paid for. Once that loan is repaid, that revenue becomes pure profit for the club.
This would effectively mean that the growth in value under FSG has meant that they have been able to recoup some of the upfront investment they have made and retain control of the club – and in parallel retain the promise they kept at the outset to reinvest the profit the club makes back into the club. In fact, once redevelopment is paid for, it is likely the club could be in the region of £100m a year plus better off under FSG.
The investment scenario is probably far more likely than FSG seeking (and finding) an individual buyer who would (or could) spend £700m on what would probably be a vanity purchase.
Why would FSG want Liverpool FC long term?
One of the drivers behind FSG's acquisition of Liverpool was that there was scope to increase its value – and one of the other drivers was the club's global standing.
FSG are a sports investment business – they have multiple commercial interests, but they only have one asset that gives them a global reach into markets and territories across the world. That asset is Liverpool Football Club.
The commercial partnerships that FSG develop with Liverpool can cut across a wide portfolio of investments. FSG own NESN – an American sports TV channel. They recognise the value of the television rights to football.
They also recognise that the US is finally starting to join the 'soccer' revolution. They have been pushing Liverpool in big US cities like New York and Boston (where they also link in with the Red Sox when on tour). They will have seen the club's appeal in the Far East and Australia.
The lucrative summer tours are a mechanism for FSG to look globally. There are economies of scale to be had with sponsors and commercial partners by having multiple interests – selling Liverpool would weaken that position.
It is completely in FSG's strategic interests to retain control and ownership of Liverpool Football Club. The ownership of Liverpool is a gateway to big ticket commercial opportunities that they would not be able to pursue otherwise.
I'd be surprised if FSG look at Liverpool as a stand-alone asset, there are huge interdependencies on the markets they can penetrate through the club. Owning Liverpool opens up opportunities for the Red Sox – that has to be a factor in any thinking on exit strategy.
So what is the exit strategy?
FSG are unlikely to be around forever, but I think that they will be at Liverpool for the long term. Although FFP is looking unlikely to have the teeth it needs to be effective, Liverpool's commercial growth with a redeveloped Anfield will give it a competitive framework to operate in. FSG may not be able to provide the riches of a Mansour or an Abramovic, but in time they'll provide a sustainability model that gets much closer to Arsenal and United.
In the long term our ownership model may become similar to a club like Arsenal, where we have multiple investors but FSG retain the controlling shares.
What does this mean for Liverpool FC?
If FSG do stay in control at Liverpool for the long term, it will probably be a good thing. The reason for this is that they will continue growing our revenue and capability to compete year on year – and in a sustainability model, that means we will continue getting closer to our rivals in terms of resources.
Although FSG have been at Liverpool for almost five years, it has taken a huge amount of time to transform the club from top to bottom. Although there have been mistakes made, and FSG are by no means perfect, if you compare every aspect of the club today versus where it was five years ago, the transformation is there for all to see.
There are things they need to do better; fan engagement remains a huge challenge – the supporters committee is the right mechanism, but it needs more teeth.
On the pitch, there are big improvements needed. Under FSG we have sold players very smartly, but it has been a mixed bag on buying. On paper we have a young, talented squad and much will depend on whether or not Brendan Rodgers can repay the faith shown in him by the owners.
Our top 5 record transfers of all time have come under FSG (not accounting for TPI). Although our net spend is heavily influenced by the sales of Suarez and Sterling, there has been significant investment in the playing squad.
The final part of the transformation at the club is the translation to sustained on-pitch competitiveness and success. It is the hardest part, but from an FSG perspective, the expectation has to be that the foundations are there and it is time to deliver.
All part of the plan?
There is always going to be criticism of owners unless you are winning everything. It comes with the territory. But when you look through the chess game FSG have played since acquiring Liverpool, it has been skilfully executed. There are many moving parts that all have interdependencies on one another – and within five years, the chess pieces are almost exactly where they would want them.
Supporters will only care about that if it translates to on-pitch success, and rightly so.
FSG have multiple options on what they can do with Liverpool – and a full sale may be what they decide to do. The ownership of Liverpool carries a weight of huge expectation, and I am sure FSG are more comfortable pulling strings in the background than having the profile and interest they generate at Liverpool.
But from an FSG perspective, 'releasing some equity' can give them a return on investment and let them retain control of one of the most popular football clubs in the world, giving them a global reach they would lose if they were to sell.