By TTT Subscriber Mark Cohen.
Let's start this off with one, concise truth:
Only one team will win the 2015/16 Premier League
For the rest, there is only varying degrees of disappointment.
How disappointed you are depends on your initial expectation of your team's chances for the season to come.
So for example, Southampton would not feel too aggrieved not to win the title, but might feel pangs of sadness if they miss the top four this season, as that is what they are probably aiming for after last season.
Conversely, Arsenal are finally ready, twelve years after their last bout, to have a real crack at the title and will feel incredibly let down come May if they fall well short. If they take the title to the wire but still miss out, the disappointment will not dissipate as they have set their sights on winning it this year.
So, different strokes for different folks.
But, and here is where it gets a bit mucky, there are four teams this season who genuinely harbour hopes of winning the title before a ball is kicked.
It's like four kids, all standing around looking at one ice-cream, they can all taste it, they can all see it, but only one of 'em is getting it. Now see the look on the other three's faces then they get nothing. Sour.
The four teams with expectations of the title are Chelsea, Arsenal, Manchester City and Manchester United.
There are three additional teams with real designs on cracking the top four. Liverpool, Southampton and Tottenham Hotspur.
I also expect that Everton, who are far better than their disappointing showing last term, will ruffle a few feathers this time. Without European football hampering them, they will be better placed to attack those above them and although a top four shout is probably beyond them, if they can play with freedom, they might find themselves in the mix with ten or so games to go.
Now, below is a table of the likely top four challengers: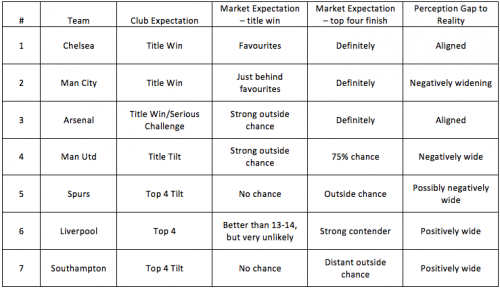 The 'Club Expectation' is where the owners/fans/players of a club hope they will finish.
The 'Market Expectation' is where punters think each team will finish, so is a more 'head over heart' view. This is taken from current B365 odds.
'Perception Gap' is the difference between how strong a club feels they are, and what I feel their strength is relative to their competition. This is subjective, and is only my opinion.
So, onto the teams:

Southampton, now shorn of another two quality players in Schneiderlin and Clyne, will need to be on point with their recruits again for the season to go swimmingly.
Problem is, it becomes more difficult with each window to buck the 50/50 nature of success with transfers. Last year Southampton were extraordinarily good in this department and if they can do so again will cause plenty of problems for the established order.
The key for the Saints is that they are enjoying their time in the upper echelons. Without the crippling pressure that a club like Liverpool has to make the top four, the league becomes far more enjoyable and the weight of the shirt starts to work in the opposite way.
In fact, they are benefiting from a positive perception gap, that is, the fans are expecting nothing and thus enjoying everything that is delivered to them.
Players like Lallana, Lambert and Lovren found it easy to play top 8 football for a club just happy to be there without expecting CL football. Once moved to a club the size of Liverpool, they mostly wilted as the expectations were ratcheted up several notches.
If Koeman's settled Southampton get off to a good start, and their new signings click quickly, they will be a very difficult banana skin in everybody else's pursuit of top four football.
My Saints Prediction – a good start, and a top four push will be attainable deep into the season.

The other issue is that there is an expectation to compete for top four, but this is problematic for a major reason: Tottenham have been very well run financially, but are none-the-less suffering from a similar problem to Liverpool. They have a squad worth over £300m, but this is only the 6th most expensive in the league.
Setting your ceiling at fourth creates a margin for error allowance which doesn't exist. In the last five seasons we note that 70, 79, 73, 70 & 68 points have been required for 4th place (an average of 72 points needed).  So if you are Daniel Levy you'd set a target of 72 points.
Problem is, setting that target means that any error or slight underperformance puts you in 5th at best on average. This means that you actually need to set a target of probably around 78 points to be safe.
The rest of this article is for subscribers only. 
[ttt-subscribe-article]