By Paul Tomkins.
So far it seems like a sensible summer at Liverpool Football Club, at a time when a lot of fans seem more interested in revolution. Despite Brendan Rodgers retaining his job, there's still an element of the night of the long knives about the events so far, with backroom sackings and other exits mooted.
I don't know whether Rodgers decided to replace his own staff, or if the changes were forced upon him. Obviously that would make for two very different scenarios.
Now that the firings have been made, the most important thing is that Liverpool go into the new season with a better coaching set-up. Unless Colin Pascoe and Mike Marsh were the best in the business (which is statistically unlikely), it's a chance to improve in that area; as long as whoever comes in is not plotting to usurp Rodgers and as long as Rodgers trusts the new men. Marsh and Pascoe may have been decent enough, but they don't strike me (admittedly from a distance) as elite coaches.
Next, let's get the 'free' transfers out the way – not least because as free agents, these deals are the quickest to sort. Very few Bosman deals are greeted with crazy anticipation, because the top clubs tend to hold onto their special players or sell them before their contract runs down to zero; so they're unlikely to be £50m stars when under full contract. And, to date, Liverpool have had more flops than successes via this route.
That said, Gary McAllister was a masterstroke, Markus Babbel would have been one of the all-time great Bosmans but for serious illness, and Fabio Aurelio was a great full-back who did more than enough when fit (which, sadly, was only half the time). Maxi Rodriguez was another very smart signing on a free transfer, with his Atletico contract cancelled six months early. The problem is that most people remember the flops more than the successes, so the likes of Voronin (who I didn't think was dreadful), Jovanovic and Joe Cole arriving as established internationals who were either past their best, or ready for the floor.
It's obviously a danger if you're getting someone in for free and paying them a fortune in wages if they are on the cusp of steep decline, but Milner simply takes over Glen Johnson's position in the pay scheme. While Johnson was once (I feel) a world-class attacking full-back, he had dwindled massively over the past two or three years. Milner is fitter, hungrier and more versatile; he'd even make a great right-back, if necessary.
If Ings, Bogdan and Milner were the height of Liverpool's ambitions, then obviously that would be a worry. But it seems sensible business in terms of squad building, particularly when replacing those who have been released or chosen not to renew their contracts.
What's wrong with getting a back-up keeper with top-level experience and 19 international caps to his name? I personally think that goalkeeper is a position where clubs should be spending more money than they actually do to get it right. But equally, should they be spending good money on a keeper who is likely to spend 38 games on the bench?
My view was that Simon Mignolet wasn't good enough; halfway through last season he was a walking (stumbling?) liability. However, I feel that he came through that period a stronger character and a far better keeper. He was more aggressive, and his punching was possibly the best I can remember seeing from a goalkeeper, with the caveat that on a couple of occasions he could have simply caught the ball. He was poor at Stoke, but he wasn't alone in that. And while you get freakishly good young keepers, most will be improving throughout their twenties. Bogdan probably won't put too much pressure on Mignolet, but he is more than good enough for the no.2 spot – for now, at least.
Mignolet's passing remains a worry, but I wouldn't be in a desperate hurry to upgrade – I'd focus on trying to get the best from him. That said, if a world-class keeper was happy to move to a non-Champions League club that wasn't near a cosmopolitan capital (so that rules out Petr Cech), then I'd expect Liverpool to be interested. However, there's no point looking to replace him with anyone unremarkable.
As for Danny Ings, I don't watch a lot of the Championship these days, but I focused on the Burnley striker when he was linked with Liverpool during 2013/14. He is a hard runner, like Borini, but a much better dribbler, and a better all-round footballer, with more deftness in his touch. Borini was merely a poacher who lost the ability to poach; and, as such, became someone who could do nothing beyond harry defenders. Ings is better than that.
Ings scored very well at that level, and pretty well in the Premier League – although I'd never negatively judge a striker's goal return in a poor side; if they are ultra-prolific in a side low on possession and creativity then that bodes extremely well, and Ings didn't manage that. Most strikers start to improve their goal returns around the age of 21/22 (as shown in this TTT piece), so he should be on a sharp upward curve – if he can handle being in and out of the side, which is likely, and the hell that breaks lose if a Liverpool striker has a stinker.
The three freebies (with perhaps £5m compensation included for Ings) free up money to focus on two or three major signings. That's where Liverpool can make a difference this summer, along with, hopefully, a vast improvement from one or two of last summer's signings. (If good signings suffer second season syndrome, then hitherto struggling ones often come good once they've settled in.)
Signing Christian Benteke would worry me on several levels, although I do like the player, and don't think it would be a disastrous move. It would perhaps suggest a lack of imagination in the market, if the fourth of four signings thus far was another from within this league. (That said, you don't want your club to buy someone from some far-flung league just to prove a point.)
I showed in this piece for subscribers, which looks at data from thousands of transfers, that, despite what logic tells you, there is no discernible advantage whatsoever in buying players with prior Premier League experience; if anything, the best players have tended to come directly from abroad, and offer slightly better value for money. With the entire Premier League getting richer and richer, there's less pressure on smaller clubs to sell their assets. After all, Stoke are now richer than Lazio.
Also, as Tim Sherwood pointed out, Benteke relies on crosses and Liverpool don't cross the ball; ranking 19th out of 20 clubs last season on that measure. Having said that, Liverpool had no one to cross to last season, with Rickie Lambert's nervousness, rustiness and lack of mobility making it hard to use him as the focal point, and Mario Balotelli big but not at all aggressive.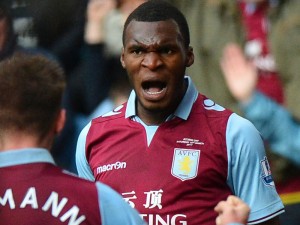 Benteke is different, in that he is more like Didier Drogba in style than the typical old-fashioned big centre-forward, if not yet as good as the Chelsea hero (although he's proven far better than the Ivorian was at the same age; Drogba was 24 before he started even making waves). Benteke is quicker than players like Lambert and Andy Carroll, and if you have a big, quick striker it makes it hard for defences to play a high line (the space is there for the pace), or to defend a deep line (which invites headers).
But of course, it depends on whether Rodgers wants to play with such a front man. If he doesn't, it could obviously be problematic.
Big strikers, like big centre-backs, usually take longer to develop; the little nippy ones are usually those who break through earlier in their careers. So there's more to come from Benteke, I feel. I also like that he's Belgian, given that a potential strike partner, Divock Origi (whose goals record as a teen was excellent), is a compatriot, and with Mignolet it would make for a trio from the land of the waffle (see almost any episode of the Bugle podcast for more waffle-based humour).
If you put players with genuine pace either side of Benteke (such as Origi, Ings, Ibe, Markovic or Sterling if he stays), and Coutinho in behind, then he could help Liverpool present a variety of threats, rather than what we saw in 2014/15, where everything had to be annoyingly precise in the final third. The key would be not to resort to long balls at the time from the back, but it can help having that outlet, as Louis van Gaal has found with another Belgian giant.
He'd also help the Reds at both ends with set-pieces, and mock that all you like, but it's an area that I feel cost a lot of points last season; and therefore one area in need of big improvement. Many of Liverpool's best players are fairly small, and some brutes and beasts would help this regard. At times last season I felt that Liverpool's corners were just a case of whoever was nearest grabbing the ball and swinging it blindly into the area, and you'd think that Martin Skrtel would benefit from not being the obvious target when it comes to being marked.
None of this is to say that Benteke would be my first choice. But it's important to try and see what potential signings might bring, rather than just ranting and raving. He has a one-in-two goalscoring record for Genk and Aston Villa, and is better than a lot of people suggest; but is he the best value for £32m? (Although it has to be said that he wouldn't be on even half the wages that Man United paid to the dreadful – last season, at least – Radamel Falcao.)
I'd also be happier with Benteke if two or three other major signings were made from Germany, Italy, Spain or France, where the value is generally better. But, as ever, it depends on the individuals in question, and what kind of characters they are.
Liverpool also need to be sensible over Raheem Sterling. There's no hurry to sell him, with two years left and a potential for £10m-£20m even when his contract expires in 2017 (if Ings' tribunal figure is set high, then it automatically raises the fee for Sterling, by way of a precedent).
Given that a £50m fee would mean the Reds only getting £40m, with the rest going to QPR, then the buying club essentially has to pay that premium to make it worthwhile for Liverpool. And if the buying club is a Premier League rival, that's another £10m premium, at least.
While it's dangerous to put high-profile players in the reserves to let them sweat (in that it can give the club a bad reputation to potential signings), Liverpool did just that with Luis Suarez in 2013, so they won't be scared of doing it with Sterling (who will also be losing £65,000-a-week on what Liverpool offered him). It also shows that if players sign a contract they should honour it – although Liverpool can't force Sterling to honour his contract while simultaneously trying to force someone like Borini to leave (although the club could sweeten the deal for the Italian).
But I'm almost beyond worrying, as Liverpool hold all the cards this summer. In a year's time that will be different, but can Sterling afford to gamble on not playing for 12 months, and maybe 24 if the Reds play hardball again, knowing that they'll still get compensation in 2017? I'd hate to see him in a rival's colours, and think he will become an outstanding player, but until he learns to kick the ball straight he'll remain frustrating.
I like his attitude on the pitch, where I feel that he works hard, but I always feel that a team is better when everyone wants to be there. If he wants out, then fine, but it has to be on Liverpool's terms – this summer, at least.