By Paul Tomkins.
So, it seems that Brendan Rodgers gets to fight another day in the Liverpool dugout. I have no idea whether or not retaining his services is the right decision – I'm not a psychic – but I'm also pretty certain that it's not the end of the world.
On the one hand I can see why people think Rodgers, in yesterday's meeting with FSG, has talked his way out of the sack – given that they believe he's all about the talk; on the other, I like that he still has the fight to state his case, at a time when other managers appear to be eager to take a break. Yes, sometimes he talks an overly good game, but for someone whose critics like to label him a non-winner, he clearly has some fight in him. From a personal point of view I'm just glad that it's been sorted quickly, and the club can all try to move on with its summer planning.
It's fair to say that even though I see both sides on the managerial debate, I have a big problem with the really ardent anti-Rodgers brigade, whose behaviour can be downright offensive (seriously nasty Rodgers-out Twitter accounts, planes flying over Anfield, sending abuse to the owners and members of Rodgers' family), but I do understand the desire to see a manager replaced if you don't rate him.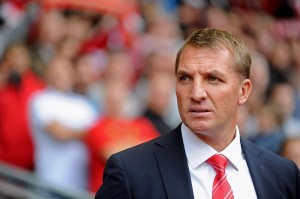 Part of my problem is with the mass hysteria that ensues, and how people become so entrenched in defending their own viewpoint that they become dogmatic, and it all gets very personal. It becomes more about being right, and less about actually thinking about things. We all do it to a degree, but for some it becomes excessive. I've no doubt that there's a festering resentment that will bubble to the surface after the first defeat of next season (whether it's in the first game or the 20th) – if, indeed, it ever abates before then.
It's important to remember that there is never only one person in the world capable of managing any given team, so change doesn't have to be a bad thing; and equally, whoever is in charge will not produce winning football all of the time, whether that's from sticking with the current incumbent or bringing in a new manager.
Whoever is in charge has to hope that he has better players to work with – and, a year on, quite a few of the preexisting squad should have improved with age and experience (and sometimes we learn more from the bad experiences), and others will hopefully return from injury. Liverpool will lose Gerrard, and maybe Balotelli and Sterling, but the one good thing to come from that will be losing the three main distractions (whether they meant to be or not) of 2014/15. Some deadwood will go too, but as I've said before, I'd be nervous about losing those reliable (if unremarkable) types, like Lucas, who are never as easy to replace as you think.
Adding players like Ings and Milner makes perfect sense given that they're free agents (even if not on free wages, and Ings requires some compensation). Both are English, at a time when the homegrown quota has fallen by at least two (Gerrard and Johnson), and maybe three, if Sterling gets his wish, and four if Lambert follows. And Milner, at 29, would perhaps be too old to recruit were it not for the loss of at least two players older than him, in what remains a young squad.
But obviously there needs to be more imaginative buys too – unless such 'steady' players turn out to be twice as good as anyone expected (unlikely), and/or others really develop their game (which you might reasonably expect of the younger ones).
It seems that Rodgers shares some of the blame for last season's transfer woes (he's on the committee, and may have had a greater say in the Southampton deals), but he's had time to assess what went wrong, and what to avoid this time. Maybe that's 12 months too late for some – and it's not ideal – but buying players remains a case of trial and error: you often don't know exactly what you've bought until you work with that player day in and day out.
Sometimes you can fix "broken" or underperforming players (Coutinho, Sturridge), and sometimes you're stuck with their old problems (Balotelli, and Sturridge's injury record). If Rodgers knew as early as September or October 2014 that mistakes had been made then, bar the right player popping up in the January window, it was always going to take until July 2015 to fix them. He found temporary solutions in the middle of the season, which worked wonders; but then things fell apart in the run-in.
Right vs Wrong
There's very little in football I'd claim to be totally right about. Most of what I know I'm right about relates to knowing that others are wrong in their absolute certainty about being right. I believe I'm right about certain things, like the correlation between spending and league position, because it's clearly provable, but even then it's only really about proving a high (or very high) probability – and not a totally predetermined eventuality.
I'm also no stranger to being entrenched in my views, and sometimes those views have proved correct, and other times they've been wrong. However, time has taught me to be a little more open-minded, and to be prepared to change my views when I feel there's sufficient evidence (but of course, not to keep flip-flopping.)
I was very much against Roy Hodgson, not least because he seemed like a horrible match from as early as preseason, and at no point during his tenure did he give fans anything to cling to. But I was also very much against Gérard Houllier in his final two seasons, straight after two relatively successful seasons (2001 was great, 2002 was generally very good), and would take any chance to jump on his failures from 2002/03 onwards.
Two fairly uninspiring campaigns confirmed that I was right – that I was some kind of genius – when, in truth, I'd probably have struggled to give him any credit at that point even if it had clearly been due. (To compound my stupidity, I used to think that Martin O'Neill would be a good replacement.)
With the rise of Twitter, and the proliferation of forums, I see people's positions growing more entrenched, as their words get dug up and used against them. They seem to double-down in response. What I don't get is the sheer fury for anyone who tries to make calm and rational arguments, beyond the possible notion that they see anything other than outright condemnation of the hated manager as empowering, or enabling, mediocrity.
Sack him!
Why would any club sack its manager? And how can you say for sure that the manager is the problem; or, indeed, the solution?
How do you accurately judge a manager's "performance"? And how do people with little or no football experience make that call?
While I think it's true that a manager can reach the end of the road at a club – the players aren't responding, the fans are sick t death, the owners are getting nervy – it's also the case that a lot of exaggeration goes on. I've seen it for years with Liverpool. There is this concept that a manager performs well, or doesn't perform well, when, in truth, he's often at the mercy of players and the (obviously unplanned) mistakes they make.
Managers can mitigate for some of these mistakes; for example – ask the keeper to take up a higher starting position if the defence is playing a high line, from which a mistake could lead to a one-on-one (but the keeper is now there to sweep up). You can pair players centrally, or down the flanks, to compensate for the weaknesses in each other's game and errors they might make. But if you spend too much time worrying about that you might not have time on the training ground to work at attacking moves, to force – or capitalise on – mistakes from the opposition. There is always a compromise, unless you have all the best players.
In truth, a manager might be able to only influence about 20% (at a total guess) of what goes on. Unless he picks a crazy side, full of the U13s squad, he's probably going to be fielding an XI that makes sense if you stop to think about the reasons why, even if they aren't the most obvious to you. If he deploys a right-footed defensive-midfielder at right-back then he's not really being reckless or wacky, is he?
I can think of very few instances where a manager has done something so remarkable it stopped me in my tracks. Perhaps Rafa Benítez taking off Steven Gerrard in a Merseyside derby, with the captain having equalised against 10-man Everton, to give a 20-year-old defensive midfielder his debut, ranks up there. The result? Liverpool played a calmer game and got the winner, although even then they could have conceded an injury time penalty. And even then, Benítez was putting on a midfielder in place of a midfielder. He didn't start playing Pepe Reina in the hole, and move Jamie Carragher to the left wing.
Very few managers are really radical. And in some ways that might be for the best. (Until someone is really radical, and it works extremely well, it's hard to say.)
Otherwise it tends to me a series of minor judgement calls that might add up to something better than the sum of its parts, or worse than the sum of its parts; and, at times, the results will in no way reflect the sum of those parts, and how they performed. As observers, fixating on little details is often unhelpful; not least because you can't judge the details without all the relevant information (as it's the relevant information that reveals the details). I often don't agree with a manager's judgement calls, but then I don't have the same knowledge of the game, and I certainly don't have the knowledge that comes from being close to the players every day, and knowing their moods, their fitness, their personal issues, and so on.
Managers need to get the balance of the side right, but I have zero time for the "he's out of position" protests – just one example of a manager "getting it wrong" that drives me mad. For example, unless Lionel Messi gets picked as a centre-back, or Luis Suarez starts the game in goal, then a Barcelona manager has the right to do what he wants with the talent at his disposal. In the end, Luis Enrique decided to move Messi wide and play Suarez centrally. If that didn't work then absolutely everyone would call him mad to move the world's top-scoring striker from his central position. If Lionel Messi (like Zinedine Zidane before him) can be deployed in a (nominal) wide role, then anyone can be played one step removed from their "best" position.
If a centre-back ever plays at full-back, or vice versa, or if a central midfielder players wide, or vice versa, or if a full-back plays as a winger, or vice versa, or a winger plays as a striker or vice versa, it's almost always perfectly acceptable (unless, for example, the full-back is a clogger who can't dribble or cross the ball, in which case he probably won't cut it as a winger; but there may be times when a manager wants to double-up in defensive strength on one flank). So if you're getting worked up about stuff like this you really need to ask if it's incompetence on the manager's part, or just a sensible distribution of resources based on the extra knowledge he has relating to the situation.
Managers have to be able to react to adversity, but pretty much every decision they make opens them up to further potential criticism: go more attack-minded to claw back a deficit and you may concede on the break; go more defensive to shore up a slim lead and it can backfire. Do the opposite in both of those scenarios and it can still go either way. If you, as the observer, agreed with the decision, and it works, you give yourself a pat on the back; if you disagreed and it doesn't work, you moan about how you can see what's wrong but the manager is some blind fool.
As noted last week, managerial fortunes fluctuate fairly wildly season to season, and yet people base their opinions on what happened most recently. Do managers have weeks (or indeed, seasons) where they "phone it in"; not bothering to take training, not asking about the opposition, not checking on who is fit and who isn't? I doubt it. I'm pretty sure that most will do the same level of work each and every week, season after season, and that it's the circumstances that change, not the manager's performance.
Managers cannot give confidence to a team lacking it, beyond trying to remain positive and working on what they think is right; with a "lucky" win (or goal) often as likely to kickstart a revival as any cunning planning.
Pick any great manager and he'll have had bad seasons. Maybe he could have done more at those times when it didn't go right, or maybe a whole host of variables got in the way, and his ability (and performance) was no different – just the end results. Football is not like a sterile scientific examination where doing the same things should only ever lead to the same results. The worst saying I ever hear about football is about the sign of madness being to expect a different result when doing the same things: as if, for example, picking the same XI every week means you're going to win 3-1 38 times in a row, or that playing 3-5-1 or 4-4-2 means you're going to lose every single game. It's about as far from an exact science as you can get. Managers, good and bad, frequently repeat many of the same things and get wildly varying results.
However, I do believe that the manager sets the tone, and the teams they field often reflect their personalities. But we can also stereotype them. Alex Ferguson was seen as a cavalier, attacking manager, but his 2009 team beat Liverpool due to their defensive record that season, whereas Liverpool, with the "defensive" Benítez, outscored them. At other times United excelled due to their attack, and some seasons they were pretty poor by their standards. This season Benítez's Napoli were poor defensively, and better going forward.
Managers also usually stand and fall by their signings; and yet the game is moving away from such a model. Despite this, people still hold them accountable, even if their role isn't central. Again, there are two perfectly logical but mutually exclusive sides to this argument: that a manager must be able to buy the players he wants to fit in with the tactical plan he has; and that the manager, who may be a fly-by-night, must not be allowed to dictate the direction of a club and be able to change that direction on a whim – something that Swansea and Southampton have succeeded with.
At times I think a manager's main job is to be a symbol for the team, and to take the flak if it goes wrong. If he has an air of invincibility it will transfer itself to the players; but only up to a point. If the players stop believing in him it will usually become apparent. But players can also stop believing in each other, and, indeed, in themselves.
Just because Liverpool lost 6-1 at Stoke it doesn't mean that the players stopped playing for Brendan Rodgers; it might have meant they were already on the beach. That is something a manager has to try and avert – that kind of switching off is not acceptable – but it's not like it means he cannot therefore be in charge during preseason, when everyone is back from the beach.
(Equally, there's the statistical anomaly of Stoke scoring six goals from nine shots on target: while they clearly deserved to win the game, and by some margin given how poor the Reds were, the actual five-goal gulf was in part down to good luck on Stoke's part, just as Liverpool being 4-0 up against Arsenal or Everton last season wasn't necessarily down to them playing any better than at other times – but just the way the strikers finished in those particular moments when, on other days they'd have missed the target or been denied by incredible keeping. That said, the Stoke game, despite being just 90 minutes, will be a tough stain to wash off.)
A Manager's Worth?
It's not that managers don't affect things, merely that their influence only stretches so far. More often than not the cost of the team will determine the result, as costlier sides (logically) tend to have the better players; but that's not to says that it always does so. It's closer to 60% in deciding each game, but then other factors kick in on the remaining 40%, like how fresh the players are, what tactics both teams use, how the referee sees things, what impact the substitutes make, which team's strikers and goalkeeper have a good day, who defends set-pieces better, and so on. The final league table then more closely reflects the spending power of each club (when compared with the outcome of individual matches, which have more variation), because the vagaries even themselves out.
The manager contributes to the team being one or two places above where expected, or hitting par, or being one or two places below (there's very rarely much deviation from one or two places in the top half of the table). Last season Liverpool were two places above where expected (when ranked 4th), and this season they ended up one place below (when ranked 5th). Rodgers contributed to last season's 2nd place finish, but then was helped by the talents of Suarez and Sturridge (amongst other factors); and this season he contributed to the 6th-place finish and was hindered by the lack of Suarez and Sturridge (amongst other factors).
If a manager massively over- or under-achieves then you can say that he is definitely onto something, or worthy of his P45. It's much harder when there is some underachievement, but when it follows some overachievement. Or vice versa (although the most recent outcome, if it is positive, will be taken as progress, and if it is negative, regression).
It's fair to say that Rodgers has yet to prove that he can consistently outperform expectations, but then very few managers consistently outperform expectations (and by expectations I mean realistic ones, not fantasies).
If Rodgers had found himself sacked then I'd have understood why – he wasn't a shoo-in to keep his job. But equally, any replacement would also have ups and downs. A record of major successes on a manager's CV helps to reassure fans during those dips, and that's something that Rodgers cannot provide. But that doesn't mean he's doomed to failure. It does, however, mean that fan patience will run out quicker next season than it did this season, and that it therefore becomes a kind of gamble. And yet changing manager is pretty much always a gamble too. Stability can be a good thing, or it can lead to stagnation. Change can be a good thing, or it can lead to confusion.
The good news for Rodgers, if he does indeed stay, is that the summer months always change things. So whether or not the manager changes, the mood certainly does. If you've just had a season that everyone wants to end, then the next one provides a fresh start. Obviously making exciting signings helps boost optimism, but it's important to remember that those exciting signings can fail (Kewell, Morientes, Litmanen, et al) and that supposedly uninspiring signings (Henderson, Hyypia, McAllister, et al) can sometimes prove to be the best. And yet Liverpool fans probably need something positive to take into the new season, particularly if they don't rate Rodgers.
The break could rejuvenate Rodgers, too. Part of his success last season (2013/14) seemed due to his positivity, but it can obviously become grating if you don't think there's anything to be positive about. The clean break of the summer provides a chance to get everyone believing again, even if not everyone will accept it. A bit like getting in at half-time in a game when you know your team is desperate for that whistle, the break can be of benefit in and of itself.
Unlike those limited 15 minutes, three months provides the chance for genuine, wide-reaching change. It's a chance to really get things right – although, as ever, that's easier said than done.
But I can't help but fear for the mood if things don't start well next season. If Ancelotti and Klopp are taking sabbaticals their names will be linked to the Liverpool job after every bad result or iffy performance.