by TTT Subscriber Ben Feltham.
"Advice is a form of nostalgia, dispensing it is a form of fishing off the past

From the disposal, wiping it off, painting over the ugly parts,

And recycling it for more than it's worth" (Baz Luhrmann, Everybody's free to wear Sunscreen)
I do that. I have a built-in filter which seems to disregard the mild and the mundane. Certainly anything traumatic gets dumped (or at least 'boxed off'). Frankly I'm delighted I have this default setting. I spent 15 years working overseas and although I know huge chunks of it were stressful, or boring, or bluntly quite desperate, none of that ever seems to tiptoe through my mind as memory. Instead I'm left with a heady haze of what I mentally summarise as 'Good times'. And I'm sure this mindset is good for me. Mentally. Sometimes though, you have to face your trauma. Sometimes, when it's your trauma that's messing you up, you have to explore it. Stare it down. Sit in it for a bit. Ask some questions.
Here's our trauma – no global club in world football has gone 25 years without winning their League. Except one. One on whose record we are apologetically stumbling into. You're probably like me – this isn't something I like to dwell on, I'm very much signed up to the Cypher (from the Matrix) way of thinking – Ignorance is bliss. Yet, because of this cloud storm of vexation and vengeance we've descended into, I feel there's a need for us to peel back the covers and wrestle the jaws of this trauma open. Look at it. Prod it. Evaluate it, and try and get truly reconciled with what it has done to us and our club. And only then can we have a sensible debate about the manager and the season now concluding.
OK, so let's start with the 2002/3 season, the follow up to our 2nd place finish in 2002. The bare facts are these – League position 5th, points 64, 19 points behind the Champions Man Utd; W-18, D-10, L-10; Scored 61, conceded 41, GD of 20; third place in a CL group that consisted of Valencia, Basel and Spartak Moscow; going out in the Uefa cup in the 5th round to Celtic (losing 0-2 at home); Going out of the FA Cup to Palace in a 4th round replay (losing 0-2 at home). We did have the not insignificant boon of a League Cup win, and one over Man Utd in the final no less. This is not a desperate season, the League Cup win ensures that. But it is evidence that a very good side, with a very good manager, had a dramatic dip after finishing 2nd the year prior (where in we gained 80 points, seven behind the Champions Arsenal). I would add two things; the extent that 2001/2 was a 'title challenge' is questionable, lessening the impact of the trauma. And also this is 'only' 13 years from our last League title. In this story, the longer the gap, the worse the trauma.
We then go to the 2009/10 season. The first thing to note is the similarities. League position 7th, points 63, 23 off the champions Chelsea; W-18 D-9, L-11; Goals scored 61, conceded 35, GD of 26; third place in CL group which consisted of Fiorentina, Lyon and Debrecen; going out of the UEFA cup to Atletico in the semi-finals; going out of the FA Cup in a third round replay, losing 1-2 to Reading at home; going out of the League Cup to Arsenal in the 4th round, losing 1-2 at the Emirates. Certainly in terms of league form, practically (or literally) the same number of points, wins/draws/losses, goals scored etc. (in fact, if you look at our current league position with three left to play we are 5th with 64 points, W-19, D-7, L-10 GF 51, GA 39, GD 12 – weak in Europe with two semi-finals in the domestic cups).
Of course 2009/10 cannot be summed up neatly in a 200 word paragraph. LOTS of things happened in that season, but on the field, this was just one player light (admittedly that player was Xabi Alonso) of the team many believed to be our best since 1990. 2008/9 was a title challenge, no question. I remember Ferguson writing us off going into 2009/10, saying in essence the fight and the loss of the season before was too much for us, like it had broken us a little. I remember thinking at the time 'OK, We'll see'. It seems though, Ferguson knew our club better than I did.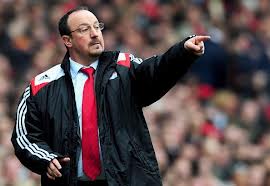 The conclusion is pretty hard to deny – very good teams, led by very good managers, are somewhat crippled by coming close, but then not being able to slay the gorilla on our back that is the League title. Inevitably the closer we are, and the longer the wait, the worse the trauma. Why wouldn't it? We don't talk about it, but it's there, it has a place in our club, it probably sits close to the trophy cabinet like a chiding sneak, pointing and sniggering. It lives at our club, and our players know it. It seeps into the language ('the burden of playing for Liverpool', 'the weight of the shirt'). We skirt around it, but somewhere where our unconscious mind betrays its wilfulness, we know what this is code for.
I'm writing this close to the one year anniversary of when all this hit me. 11th May 2014, our last game of the season, at home to a Newcastle side that I think had set records for consecutive defeats going into the game, or were certainly close to it. Forget the beach, Newcastle were slumped over a bar at 5 a.m. wearing a tiara and black eye, such was the club's malaise. Conversely we did have something to play for, the chance to finish second for only the third time in the Premier league era and simultaneously facilitate Rodgers striking a significant blow over Mourinho in only his third season managing in the top flight. We were fully fit; our team was great; Suarez, Sturridge and Sterling all started up front. The performance though was so flat, that we managed to contrive going in at half time one nil down to one of the poorest top flight teams to come to Anfield in a decade. Only two set piece goals in the second half, and the fact that Newcastle had two men sent off, gave us the win by default. I'm not stretching this, we were an empty vessel, a pale reflection of even the side that had thrown away a three goal lead at Selhurst Park a couple of days before. At least that team had purpose, this one had lost theirs. That's when I saw the true 'weight of the shirt'. It looked like it was an effort for them just to drag themselves through 90 minutes.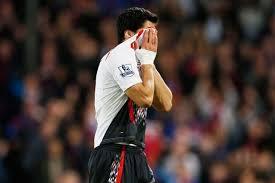 It was for me the chronicle of a death foretold. The scars of a vanished dream that was not months months but 24 years in the making. A prophecy of the heartbreak that was Us. Heartbreak symbolised by the tears three days earlier on the face of a man born in Salto, Uruguay.
So – and this is the bent for all this wailing and soul searching – a little perspective please in our dealings with our manager. In fact a little respect. This was a Shakespearian tragedy in its unfolding, except this story is real, and most real for our players and manager. We went into this season in pain. Forget the loss of Suarez, the loss of Sturridge, our recruitment issues, we headed into the season Post Trauma. We were horrible up until the Man Utd game, I wouldn't and couldn't try and disguise that. I'm only asking that we consider the full plot, the long and troubled arc that the whole thing sits on. Lest we forget, despite everything, we were offered hope this season. Our toe to toe performances against Chelsea, the best team in the land (especially then) in the League cup semi-final, were in truth breathtaking. Between the two Man Utd games we lost 2 in 23, we lost 0 in 21 in the league. If our front line was the innovation in 2013/14, our back line inspired at times this season. What Can and Sakho gave to us offensively, and Mignolet and Skrtel defensively was something of a revelation. Yes it faded, injuries and oppositions caught up with us and our losses to Man Utd and Arsenal were quietly devastating. But what we showed shouldn't be discounted, it did mean something, there is tangible hope for the future in what we did here.
Clearly the FA Cup semi-final defeat pushed most people over the edge with regards to our manager. Whilst I accept we were woeful in that match, I'd like to posit something I think useful. I want to look at our recent Cup Final performances in the light of this trauma idea, in the light of our era in the shade of Man Utd. Let's start with The Men In White Suits – arguably a paradigm- changing moment in our modern history. In truth both teams were visibly overly burdened, one by their past, the other by their future. Regardless, we were horrible. On then to the treble season, an historic campaign punctuated by pride, skill and steel, but one thing that all three finals have in common is that Liverpool were, in varying degrees, awful in all of them. Rafa and his team were generally good under pressure, and his comments on the mental state of our team for the 2006 FA Cup final (in which again, Gerrard apart, we were dreadful) suggest he was very much keyed into the 'legacy' problem. 2004/5 and, from what I remember, a decent first half performance in the League Cup final against Chelsea, and of course an historic second half and extra time in Istanbul. A fighting performance in Athens still though, no real quality 90 minute performance in these seasons most important games. Onto Dalglish and the 2012 League cup final against Cardiff, a win yes, but we were outplayed by a championship side.
Whilst I accept using this in direct correlation to the Villa game can be seen as a stretch, as it wasn't a final, I think there is something written into the performances of our previous Cup Finals that speaks to the pressure we play under when it's do or die. Benitez in '06 spoke of the nervous energy spent because his team had played the game too many times in their heads in the days leading up to the game. We have all seen the weight of the shirt visibly affect the players in these games, like they're playing in soup, often getting out of jail only through a world class player, an Owen or Gerrard, or divine intervention.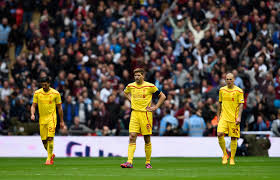 I'm not advocating acquiescence. That we all put our hands up in surrender and say 'That's it, we're doomed'. I hope it's stuff the club are working on, that reconciliation. Isn't that the first stage, admitting you have a problem? It's actually us, the fans I'm thinking about mostly. I'm just some dickhead behind a keyboard but after last year, after what we gave to the team, I'm a little ashamed of how so many have abandoned our manager. It's a cliché but I thought we were better than that. We are screaming at our child because we are tired, when all they did was drop their plate because they were carrying too much.
And why? Because Jurgen Klopp handed in his notice? It's madness. If we're ready to hang a man who has navigated us to a probable 5th place finish, what of a man who, in a two team league of which his team is one, has had them fighting relegation for two thirds of the season? Does that negate all that Klopp has done? No, but in this world of football, where we have learnt that a 5 year plan is One Season, it negates a lot. We often talk about ceilings, sometimes it's worth considering basements – even Hodgson left us in mid-table. Are we thinking clearly or is this again the emotional reaction of a collective that is too recovering.
There is a reification of this trauma that I'm guessing your mind has already jumped to. An Avatar to hang the theory on. Steven Gerrard. Take a bow son. As I sneak towards 40 I'm really very sneering of football tribalism. I'm smugly content chatting with other 'enlightened'  Man Utd fans with whom I can discuss the pleasure and the pitfalls of this game we share. Steven's departure though changes things. He's not conjecture, he's real. He's a man. He's our Hero. All that hope I've had to swallow down over all those years, laying in wait for the moral victory it seems we, he has earned Well it has to churn to bile in the belly because even though we know in our heart of hearts he's better then all of there bastards put together, the gaping, unavoidable truth is he's leaving without one measly, poxy, fucking league medal. I can't muster any polite smiles and deferential nods for that. He's the personification of the poetry and the pain. Now though it's mainly the pain. If we acknowledge this legacy of burden, Gerrard has actually lived it. He's not 'too old', or 'finished at the top level', didn't you see last season? Didn't you see him die?