By Paul Tomkins.
This is a greatly expanded version of a short article written for The Independent on Sunday.
I was in what was my usual seat in Anfield's Lower Centenary stand 17 years ago when Steven Gerrard made his debut as a late substitute. I don't recall thinking much about it at the time, and it wasn't until a couple of weeks later that we got a glimpse of his full potential: a man-of-the-match display against Celta Vigo, in which he bossed the midfield at the age of 18.
Less than 18 months later I selected the then 20-year-old for my greatest-ever Liverpool XI, in a submission published in the match programme (my first time in print, I believe). Had his early injury problems proved more debilitating – as looked likely for a while about 13 or 14 years ago – my proclamation might have looked horribly naive, but he was by far and away the most complete young footballer I'd seen in a red shirt.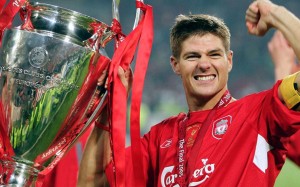 He fulfilled (indeed, exceeded) every ounce of potential, and yet somehow you still wanted more. The trouble with doing miraculous things on a football pitch is that people become accustomed to them. Fans begin to expect the unexpected, and expect it all the time. And yet imagine seeing Gerrard's 17-year career highlights, and all his goals, back in 1999 or 2000 – someone coming back from the future to show you just how good he turned out to be. Would you believe what you were seeing?
This is for subscribers only.
[ttt-subscribe-article]