By Mihail Vladimirov.
SUMMARY
Pulis started with one formation but soon changed it to another
He may have been anticipating Liverpool would continue with their 3-4-2-1
Rodgers settled for 4-1-2-3, but introduced a new structure and positional duties of the players within it
WBA were overly passive out of possession and lacked counter-attacking threat
This encouraged Liverpool to push forward and boss the play inside WBA's half
The way Liverpool tried to create and exploit space and build-up their way forward when in possession was almost Guardiola-esque
Liverpool looked more versatile, patient and probing than usual when using this formation and personnel
Tactically, Rodgers' asymmetrical 4-1-2-3 seemed interesting and potentially game-changing
But in practice it actually played into the hands of WBA's deep and narrow  4-4-2 defensive shape, which expertly squeezed the space
The same old shortcomings again haunted the Reds – slow and ponderous in possession, moving the ball around too slowly, not enough intensity and speed of movement off the ball, little off-ball interplay, too static
Liverpool still slow and ponderous at the start of the second half
No need for both Can and Gerrard to stay deep
Liverpool briefly sparked into life but it quickly faded
The introduction of Borini for Balotelli made no sense and had no effect
Neither manager made any surprising selections. Pulis continued with his tried and trusted safety-first starting XI, featuring three centre-backs across the back four and two holding midfielders. Interestingly, he started with one formation but promptly changed it to another (more on this below).
Rodgers named a starting XI that could have lined-up in several different formations. Eventually he settled for the 4-1-2-3 variant, with Gerrard and Balotelli making rare league starts for the period of the last few months. With Moreno sitting out the game due to a knock, Johnson came in at left-back with Can continuing on the right with Ibe starting ahead of him.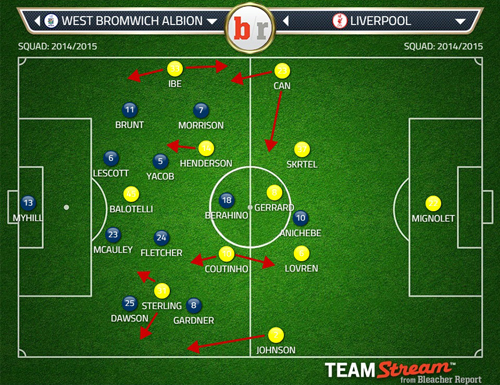 Pulis changing plans early on
One of the most recognisable features of this WBA starting XI was the overall lack of pace across the team. Bar Berahino, there was no other player able to offer the sudden acceleration and burst of speed needed to quickly transition forward as soon as the ball is regained. This meant any potential counter-attacking threat the team was to offer would be greatly reduced, if not non-existent. This was magnified by the overly defensive-minded personnel selected as there was a lack of natural wingers or the kind of creative midfielders needed to get hold of the ball and buy some time for the team to gradually push on.
As such it was interesting to see Pulis partially trying to rectify this by starting with a formation that allows more inherent flexibility. At kick-off, it appeared WBA were going 4-1-4-1 with Berahino down the left flank and Morrison sitting alongside Fletcher ahead of the deep-lying Yacob. That formation and the way the players were positioning promised greater counter-attacking threat as the team looked capable of offering much more fluidity and diversity without sacrificing the overall defensive shape and required stability. There were two possible runners coming from different directions – Berahino off the flank and Morrison through the middle – which, with Brunt overlapping while Dawson stayed deep and Gardner tucked infield made the overall outlook of the team much more versatile and dangerous-looking.
However, a few minutes into the game it was clear the home side reverted back to their more usual narrow 4-4-2 with Morrison and Gardner down the flanks and Berahino now joining Anichebe up front. WBA starting with that 4-1-4-1 suggested Pulis was anticipating Liverpool to continue with their 3-4-2-1 so he looked to bolster the midfield zone (to cope with the four opposition players in that zone) and spread his attacking threats across the pitch (to exploit the space left in behind the wing-backs). Alternatively, it was just a precautionary measure aimed to approach the game cautiously during the time needed to determine how exactly Liverpool would line-up. But once he saw Rodgers was definitely going with the 4-1-2-3 variant with Gerrard sitting at the midfield base, Pulis switching to the narrow 4-4-2 could be explained with two main factors. Firstly, arguably he wanted to channel his attacking threats centrally; and secondly he  preferred having two holding midfielders and the wide men tucking infield as a way to shut down the space through the middle and force Liverpool out wide.
What was also interesting was that it was actually Berahino who was used as the deep-lying forward. This seemed counter-intuitive, especially given his partner, Anichebe, is the type of player who prefers to play with his back to goal instead of roaming the channels and latching on to balls from deep. In theory this further decreased WBA's counter-attacking threat, as with Berahino consistently dropping back and getting near the midfield pair, the only player with real pace and directness was far away from presenting any threat on the break. There was no logical way to expect Berahino from his deep position to be able to quickly exploit the space left by Liverpool's full-backs down the channels.
Anyway, Pulis' idea seemed to use his most mobile player in the Gerrard zone where he was guaranteed enough space to burst through with little defensive attention while having Anichebe as the decoy player used simply to attract the attention of the two centre-backs on himself, leaving even more space for Berahino to surge into from deep.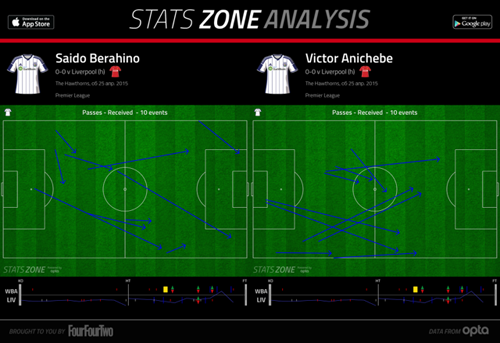 The rest of this analysis is for Subscribers only.
[ttt-subscribe-article]