By TTT Subscriber OT. 
This post is on baseball, the Red Sox and FSG – without getting into things about FSG like patience, financial knowledge and an intuitive understanding of the relationship in professional sport between team financials and on field product and results, and assorted permutations thereof.
Long term TTT subscriber Jeff has repeatedly advised that the best guide to how FSG are going to approach things in Liverpool would be to look and see how they approach things in Boston.   It is clear that for the most part, the understanding here about how they approach things in Boston is at best incomplete.
It is remarkable how often posts here offer pronounced assured opinion as to how FSG is thinking or will act at Liverpool – and often citing FSG's behaviour and "preferences" in Boston as basis for that opinion – evidence an absolute ignorance of that behaviour and those exhibited "preferences".
Brendan Rodgers holds essentially the equivalent of the General Manager and Manager positions in the world of baseball.
1) General Manager
a) FSG in their history have hired two GMs.
b) They have never fired one.  (This alone ought give anyone pause when predicting Rodgers' demise as a result of transfer dealings.)
c) Neither GM hired by FSG had any previous experience as a GM.
Theo Epstein:
The first GM FSG hired was Theo Epstein in 2004 – age 28 at the time of his hire.  Per his bio, his athletic experience in college was not as a player, but as the Sports Editor of the Yale University paper.  He started out in baseball with the Padres in the late 1990s – in public relations.  While with the Padres, he also went to law school.  He worked for Lucchino in San Diego and followed him to the Red Sox as an assistant.  He was appointed GM after Henry failed to lure Billy Beane from Oakland.
Think all you want that FSG are "hands off" owners, but you can be pretty damn sure that John W. Henry – after buying a minor league club in 1989, then a share of the Yankees in 1991, then becoming sole owner of the Marlins in 1999, and finally trading that for FSG and the Red Sox – did not in 2004 flip the keys of the kingdom to Theo (with next to no professional experience of ANY kind) and say "have a go at it kid".
I have detailed this elsewhere – but there is no "baseball" person above the GM in the Red Sox hierarchy.  All the other "baseball people" report to him.  But Theo was not writing the playbook. Theo was given a playbook and told to follow it – and the newly appointed youngest GM in the history of baseball was not about to argue.
By the end of the decade, Epstein had collected numerous executive awards as a result of the success of the Sox and it would seem felt somewhat constrained by the limitations put upon him by FSG.  He even quit once before coming back. There is a school of thought that when he came back, FSG gave him his head and freed the reigns so to speak.  Whatever the actuality – the end result was 2011 – the massively overpriced and ill-disciplined roster, the historic September collapse from top of the league to out of the playoffs, and Theo's departure for greener pastures to become President of Baseball Operations for the Chicago Cubs.
The Cubs have gone 61-101 (win-loss), 66-96 and 73-89 in the three years Theo has been running the show there.  He is still only 41 years old – younger than Brendan Rodgers.
Ben Cherington:
Theo's replacement, both during his hiatus and then again when he left for good, was Ben Cherington.  A year younger than Theo, he started with the Red Sox as a scout in 1999 at age 24 and though taking a more traditional baseball path – his career training has basically been under the FSG system with the Red Sox.  At age 40, in his 4th year on the job – he's is still very young for a GM.
In his three seasons, the Red Sox have finished last, first, last.  He was second in command in the GM's office as the 2011 roster was built.  There has never been even the suggestion that his job was in any danger.  He too is executing the plan he has been given.
2) Manager
a) FSG has hired four managers.  They have fired three.
b) Aside from Bobby Valentine, none of the hires ever had a winning season as a manager in MLB when hired by FSG to manage the Sox.
Grady Little:
The first manager hired by FSG was Grady Little.  Prior to getting the Sox job, his MLB managerial experience was zero.  Forget about winning anything in the majors, he had never managed anything in the majors.
At the helm of the Sox, he went 93-69 and 95-67.  In his second year the Sox were famously 5 outs away from the World Series when Little did not go to his bullpen to replace a tiring Pedro Martinez.
Folklore suggests this was the reason Little was fired – but he was in a no win here if the Sox lost.  Pedro, the most dominant pitcher in baseball in his era, was at the peak of his career.  Little didn't trust his bullpen – for good reason.  When Little went to mound, Pedro said he was fine and wanted the ball – and still says he was fine:
"I say he did what he felt was right for him to do. I would say that I still had stamina and I had good enough stuff to get them out. I would stick to that and I believe that. What you have to do is give those guys on the Yankees side credit for making it happen. I made some great pitches. I don't think Grady has anything to be blamed for. "
Little's actual biggest sin as I recall it was that he refused to implement the closer-by-committee bullpen plan laid out by FSG.  Instead he specifically set up his bullpen contrary to their stated wishes.
Press coverage at his successor's appointment –
"Even Little's detractors said he was deft at handling a combustible clubhouse, dealing with Manny Ramirez when he called in sick for a key series and keeping Pedro Martinez happy and productive. Little averaged 94 wins over two seasons and took the Red Sox to the playoffs this year for the first time since 1999. They came back from a 2-0 deficit against Oakland, winning three in a row to take the best-of-five, first-round series and play the Yankees for the right to go to the World Series.

Boston led New York 5-2 in the seventh inning of the decisive seventh game, but Little opted to go with tiring ace Pedro Martinez instead of a recently rehabilitated bullpen. Martinez blew the lead, the Yankees won 6-5 on Aaron Boone's 11th-inning homer off Tim Wakefield and Little was let go after the season.

Red Sox management insisted that Little's fate wasn't determined by one loss. Instead, the Boston brass had grown frustrated by his lack of preparation and willingness to wing it rather than trust the statistical analysis they thought was the solution to the team's 85-year championship drought."
So whatever the specifics, Little was fired because he wouldn't buy into the FSG plan – something his successor therefore would have certainly had to agree to do.
Terry Francona:
Little was replaced by Terry Francona, an ex-player who was also the son of an ex-player.  Although in contrast to Little when hired, Francona did have prior MLB managerial experience – none of it was good.  From 1997-2000 with the Phillies he was 68-94, 75-87, 77-85 and 65-97.
So FSG, when replacing their manager who had averaged 94 wins per season and posted a better than 58% win rate, selected a manager who for his career had averaged 71 wins with a less than 44% win rate.  (… also the only one on the list of candidates interviewed that had even one full season of MLB experience)
Francona may now be a celebrated World Series hero in Boston, but when he arrived and was handed a team that the previous year had been 5 outs away from the World Series – he was absolutely not a "big name" hire who had "won things".  In fact, he had experienced nothing but failure as a major league manager to that point, and not even that for the previous three years.
The questions when he was hired seemed to be:
a) was the clubhouse too big for him with its galaxy of stars  –  The son of a ballplayer, Francona played 10 seasons for five major league teams — he signed with a sixth but never made it back to the majors — and was Michael Jordan's manager at Double-A Birmingham during the basketball star's aborted attempt to play baseball. "I had a lot of experience, early on, dealing with the biggest star," Francona said.
b) could he handle the pressure of Boston "Think about it for a second: I've been released from six teams. I've been fired as a manager. I've got no hair. I've got a nose that's three sizes too big for my face, and I grew up in a major league clubhouse," Francona said when asked if he was prepared for the pressure of being the new Boston Red Sox manager, "my skin's pretty thick," he said. "I'll be OK."
c) did Curt Shilling get him the job?
"Schilling said one incentive for him to sign in Boston was word that Francona was "a slam dunk" to be the new manager.  But he insisted that he did not make Francona's hiring a condition of the deal, nor did the Red Sox promise it.  "I think Schill just wants to pitch opening day," Francona joked. "I love Schill. I don't think he's responsible for getting me the job.""

More general commentary at the hire.  ""I always felt like if I put the players and the organisation first and myself second, things would work out," he told reporters. "And you know what? I'm sitting here in front of you guys today. I feel like it's worked out."
Francona said he wasn't afraid to be a players' manager, but that he also knows he needs to lay down the law at times.  "The players will know that I care about them more than anybody ever cared about them before. And they will know that I respect them, hopefully more than anybody's ever respected them before". But, before hiring him, Epstein wanted to make sure that Francona wouldn't be too light of a touch in a clubhouse that always seems on the verge of controversy. "It's so hard not to like him," Epstein said. "In doing my follow-up research, I was very satisfied that he has a tough side to him and can draw the line and show the authority that is sometimes necessary."
Terry Francona implemented the plan Little wouldn't– and it didn't work.  Backed with that evidence, Francona and Epstein went up the chain of command and got the plan changed.
I go into all of this detail because only looking at his exit from the Sox, which history tends to do, leaves a rather distorted view of the actuality of the situation.  This was a guy very thankful to get another shot managing who was going to go along with whatever his bosses wanted.  And his bosses wanted him to follow their plan and keep control of the clubhouse.
Nine years later in his autobiography he had changed his tune and clearly lost his way.
"They come in with all these ideas about baseball, but I don't think they love baseball," he said. "I think they like baseball. It's revenue, and I know that's their right and their interest because they're owners … and they're good owners. But they don't love the game. It's still more of a toy or a hobby for them. It's not their blood. They're going to come in and out of baseball. It's different for me. Baseball is my life."
"IN "FRANCONA, the Red Sox Years," Terry Francona, with the aid of Globe columnist Dan Shaughnessy, has given us his version of his eight years in Boston. They were very successful years for the team — two World Series victories, six trips to the playoffs. Presumably, Francona should get at least some of the credit for this success, though it is not clear how much.
The problem for Francona is that it all ended with the September swoon in 2011 and many seem to blame him. Francona, after all, reportedly had a wild year — a marital separation, a painkiller problem, and then the incident reported by Bob Hohler in the Globe of Jon Lester, John Lackey, and Josh Beckett drinking beer, eating fried chicken, and playing video games in the clubhouse during games. The inevitable, and seemingly reasonable, inference was that Francona had lost control of the team.
"Francona, the Red Sox Years'' appears to be the manager's roundabout effort at self-vindication. The narrative is that the world was collapsing around him. John Henry and Tom Werner with the Fenway Sports Group had bought Liverpool FC, the legendary franchise in the English Premier League. They got distracted and, besides, they didn't really love baseball anyway, nor understand the intricacies of the game. They did naughty things like commission a 100-page marketing study to better understand why NESN ratings were falling and then, picking up on one thought in the study that suggested it might help if the Red Sox had sexier players on the team, went out and signed Adrian Gonzalez and Carl Crawford. (Please raise your hand if you find either of those men sexy.)
This narrative is as unconvincing, as it is, at points, nasty, petty, inaccurate, and unfair. Let's begin with the question of why Francona was able to work so productively with these deficient owners who didn't love or understand baseball for the first seven years. Did something dramatic suddenly change in 2011? The one obvious suspect is Liverpool. But think about it: Why would Liverpool distract the owners, but not the purchase of 50 percent of Rousch Racing, or John Henry's hedge fund, or Tom Werner's television production company? The answer is that all these things can distract owners, but that good and bad owners throughout professional sports have outside business interests. The key for owners is not to spend every moment at Fenway Park or Anfield (Liverpool's home stadium); it is rather to hire effective front-office personnel to run the team on a day-to-day and week-to-week basis, and to set long-term team strategy as well as make the major financial decisions. Owners who are at the ballpark 24 hours a day, 7 days a week, 365 days a year face ridicule for being meddlesome and counterproductive."
"Francona is a baseball guy, not a businessman, so perhaps he can be forgiven his basic misapprehension of baseball economics. When revenues fall, there is less money available for players.
In fact, the Sox owners have ploughed all profits back into the team since 2002. There have been no profit distributions to the partners. The team payroll has been the second highest in baseball in recent years, despite the team being in Major League Baseball's 21st largest TV territory and ranking approximately 10th in overall market size. The owners have invested nearly $300 million of their own money to preserve and renovate Fenway Park, rather than tearing it down and spending hundreds of millions of public dollars on a new ballpark, as the previous owners wanted."
Much like Theo, Francona seemed to come to view the organisation's success as something that he was personally responsible for rather than something that was planned for and that he had a role in in terms of executing that plan.  Likewise, when in the end he failed to execute his role, he blamed FSG.  How he managed to square blaming the owners for having "all these ideas about baseball" (which they implemented and he won two World Series with) while later complaining that Liverpool distracted their focus from the Red Sox (while the Sox were adding Crawford, Gonzales, etc.) is unclear.  Did he want the owners more involved or less involved? Can't have it both ways.
By the time he was let go, Francona was no longer buying into the plan nor was he in control of the clubhouse – and it showed on the field.
Bobby Valentine:
Bobby Valentine is the outlier hire by FSG.  The experienced "Big Name" Manager" who has "Won Things".
"Bobby Valentine has been named the new Boston Red Sox manager and will be announced as so on Thursday.  He is the 44th different manager in the team's history. It's going to be an interesting 2012 in the A.L. East, to say the least."

"Bobby V. is known for both his baseball acumen, wacky behavior and polarizing nature.  Love him or hate him, he brings a lot to the table.  … His MLB lifetime regular season managing record is 1,117-1,072 (.510).  For NPB, he is 494-450-23 (.523)."

"Valentine managed the Texas Rangers and the New York Mets, taking the Mets to the playoffs twice and the World Series once (overmatched by a New York Yankee dynasty in 2000).  He had more success in Japan, where he served two terms (1995 and 2004-2009) as the manager of the Chiba Lotte Marines of the Nippon Professional Baseball's (NPB) Pacific League. The Marines play out of Chiba City.  The NPB is Japan's equivalent of MLB. One notable difference is that Japanese baseball allows ties.  During the regular season, if the game is still tied after the 12th inning, it's a tie. Valentine went to the playoffs twice with the Marines, and won it all – the Nippon Series – in 2005."
He lasted only one year in Boston as the Red Sox recorded their worst record since 1965.  I am of the belief that that was all that was ever intended – at least by FSG.  I've discussed why I believe that previously.  Valentine was the anti-Francona thrown into that out of control clubhouse like a hand grenade. "Bobby V. is known for both his baseball acumen, wacky behaviour and polarising nature."  It was not his baseball acumen but his "wacky behaviour and polarising nature" that he was hired for.  He gave the Sox cover to deconstruct the team.
John Farrell
The last manager hired by FSG is current Red Sox skipper John Farrell.   Farrell had only two years of MLB managerial experience before being hired and was without a winning season going 81-81 in 2011 and 73-89 in 2012 with Toronto.
His first season with the Sox, they won the World Series.  In his second season, the Sox posted their second worst record since 1965.  There was not even a peep that he might be fired.  Why?
To re-quote Jeff:
"Simply put, among the many sins of Bobby Valentine was he would not follow the play book outlined by FSG and he lost his job in Boston. John Farrell follows the blueprint and he has in three seasons won the World Series, finished dead last in his division, and in the third season after a handful of games is managing one of the three or four best clubs in baseball. He follows the plan and keeps his job. "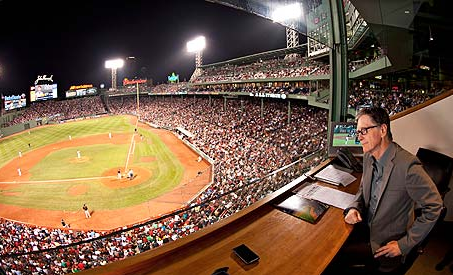 Summary
To believe that Rodgers' fate is bound up in league position or specific win/loss results or somehow hangs in the balance of these last six games, is to believe that FSG will act one way in Boston and another way in Liverpool.
To believe that FSG would even consider replacing Rodgers because a perceived "upgrade" has come available is again to believe that FSG will act one way in Boston and another way in Liverpool.
To believe that if Brendan Rodgers dropped dead tomorrow FSG would look to replace him with a "big name" who "has won things" is once more to believe that FSG will act one way in Boston and another way in Liverpool.
With one glaring exception, not only have FSG not hired a manager who had previously had much experience or ANY success managing at the big league level, they have never even considered one.  Moreover, the only manager with a losing record during his time with the Sox is that glaring exception… and the closest football analogy I can think of to that glaring exception is Brian Clough to Leeds (except as I continue to say – done on purpose).  If Brian Farrell dropped dead tomorrow, there is no reason to expect his replacement's resume would read any different than Little's or Francona's or Farrell's did before they were hired by FSG.
To believe that FSG would even consider firing Rogers over the transfer dealings which have transpired is to believe that FSG will act one way in Boston and another way in Liverpool.
To believe that FSG's "preference" is to have a strong and experienced DOF over Rodgers making football decisions is to believe that FSG will act one way in Boston and another way in Liverpool.
If Rodgers gets himself fired – it will be due to a straining of the working relationship with FSG, not due to on the field results – at least if FSG follows its Boston form.  There is nothing I have seen publicly to suggest that that has happened.