By Mihail Vladimirov.
SUMMARY
Both sides were missing a number of key players
Liverpool again started poorly, and lacked intensity out of possession
Villa overloaded Liverpool's right, and Liverpool couldn't cope with it
Villa's approach was the key difference
Sherwood sprung a tactical surprise with an unexpected and previously unseen variation
Villa's proactivity changed the game's tactical complexion
In response, Rodgers was quick to adjust his initial approach and switch to a narrow 4-2-3-1
The Reds soon gained more control of the midfield zone
Liverpool's restructure had a big defensive downside – even greater exposure down the flanks
At half-time Rodgers made another formation change, going to a 4-1-2-3 – but that change seemed doom to failure right from the off
Gerrard's lack of mobility and defensive nous as sole deep-lying pivot was exposed badly
He was easily bypassed and often left his man not marked or tracked back
This had a knock-on effect on Balotelli, who was forced to play an unfamiliar and unsupported role
The removal of Markovic also proved unhelpful, more so given the absence of a similar type of player on the bench (i.e. no Lallana or Ibe)
Once behind Liverpool looked unable to respond
The players' heads dropped, there was no sign of fighting spirit, confidence, belief or tactical leadership to pick themselves up to try and mount a comeback
With important players missing for each team, both managers made only a couple of changes from their previous league games. Sherwood was dealt the blow of missing Agbonlahor, with N'Zogbia coming into the starting XI in his place. At least Westwood was fit enough to start in the place of the suspended Sanchez.
For Liverpool, Rodgers welcomed back Skrtel and Gerrard from suspensions, but Lucas, Lallana, Sakho and Sturridge missed the game through injury, and Ibe was ineligible. In order to accommodate all of his centre-backs and play Gerrard in a relatively risk-free position, it was logical to see the Ulsterman going back to the 3-4-2-1 with Markovic at right wing-back and Sterling up front.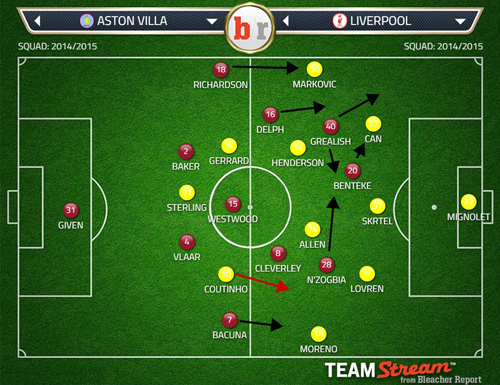 Aston Villa left-sided overload
Yet again Liverpool's start to a game was poor – an increasingly unsurprising occurrence. The team was once more lacking any intensity out of possession, with once more only sporadic individual efforts from the front players (mainly Coutinho and Sterling) providing anyway near the desired pressing that the manager has publicly requested. On the ball, the team looked sluggish and without any sense of purpose and clarity of what is intended to be achieved going forward.
The exception to the above happened during a brief spell in the opening ten minutes – between the 3rd and 8th minute – where Liverpool stumbled on a good passing rhythm, creating some sustained passages of possession play. This led to one good attack down the left where Coutinho was put in a good position in behind Bacuna to then cut infield and find the rushing forward Allen, but his shot was off target.
However, for all of Liverpool's ongoing struggles at the start, the key feature of how the game started was Aston Villa's approach. With Agbonlahor injured, Sherwood had different possibilities how to replace his pace that complements Benteke so well. One variant was to keep the recently used 4-diamond-2 formation (or go back to the previous 4-4-2) and play one of Weimann or Sinclair, returning from injury, alongside the Belgian. The other was to play with two wingers either side of the big centre-forward in a 4-1-2-3 formation. But although his selection suggested it may be one of the two variants, the former Tottenham manager sprung a surprise and opted for something completely different and previously unseen from his Villa side.
The Birmingham side appeared starting in a 4-1-2-3 formation with Grealish and N'Zogbia lining-up either side of Benteke. But the way the former two floated around and played with total positional freedom, roaming whenever they saw fit, meant the formation was more of a 4-3-2-1. That decision immediately changed the largely expected tactical complexion of the game. Before the game it could have been expected that Villa, especially with that starting XI in either a 4-1-2-3 or 4-diamond-2, would opt for a more reactive strategy, looking to allow Liverpool's 3-4-2-1 time on the ball and territory to lure them forward before trying to catch them 3-v-3 on the break. But with Sherwood's team having a numerical midfield supremacy, the team had the platform to play a much more proactive style and look to take the game to their opponents.
Not only did Liverpool's passivity out of possession mean the Reds were always going to find it hard to sustain any potential possession and territory advantage, but the way they were outnumbered in the midfield zone meant Villa could enjoy at least the same, if not more, time on the ball as their opponent. The Villans' 5-v-4 midfield advantage enabled them plenty of passing options to play the ball around the Reds' boxy midfield unit, resulting in several nice passing exchanges. Grealish and N'Zogbia roaming all over the place always looked to create a numerical advantage between the lines which Liverpool found hard to cope with.
Out of possession, the benefit of the formation selected by Sherwood was that Villa could go 3-v-3 with Liverpool's back 3, match them 2-v-2 in midfield and 1-v-1 down the flanks while still retaining a spare midfielder (Westwood) to shield the centre-backs. In theory, the danger was that Westwood would find himself outnumbered by Coutinho and Gerrard, but with the latter lacking the kind of mobility to be a viable counter-attacking threat, the Reds couldn't really take advantage of that. Villa weren't really offering full-blown pressing, but positional coverage allowed them to occupy Liverpool very well zonally. The prime aim was to make it hard for the Reds to quickly pass the ball around and build-up their play from the back. But the way Villa were pushing forward and occupying their opponents made it possible for the occasional well-executed ball-winning activity from higher up.
The rest of this analysis is for Subscribers only.
[ttt-subscribe-article]