By Paul Tomkins.
Last week I wrote two articles about the challenges Liverpool face, and the apparent catch-22 of a team that ranks 5th in all the important financial measures struggling to gain a long-term foothold in the top four, which financially rewards the existing top four and adds to their cachet when attracting players.
Clubs outside of the richest four can break into the top four – there's quite frequently one interloper – but Spurs and Liverpool, like yoyo clubs, have failed to cement a place, while Arsenal were only the 5th richest club a few seasons back, before they started spending more money. They were already established in the top four, of course, dating back to when they were one of the two richest clubs, before Roman Abramovich pitched up.
In the wake of Manchester City's recent implosion, I've seen quite a few people bemoan the fact that, for Liverpool's sake, it came a year too late. If only Pellegrini's men were this (relatively) rubbish last season. While I think it's an understandable sentiment, you also have to note that Manchester United are reasonably less actually rubbish than last season, and that Chelsea are considerably less reasonably rubbish than last season.
In a way, rather than be an example of what might have been, it further highlights my theory on why it's so tough for a club outside of the Rich Three to win the league: the clear need for all three to be relatively rubbish at once. (There's also the wild card of Arsenal thrown in as another club who can cause problems, if not, as yet, win the league.)
Last season Man City posted a points tally that Liverpool haven't bettered in the Premier League era (they equalled it in 2009, but with an inferior goal difference), so the Reds would have had to improve on their 25-year precedent to win the title. This season, as we watch City fall apart (many months after the Reds did so), Chelsea are on course for 89 points. As I noted in one of last week's pieces, the average points tally posted by title winners is getting up towards 90, having been just above 80 in the pre-Abramovich era.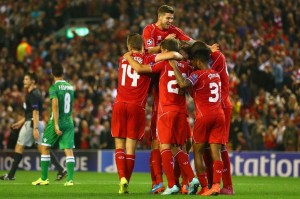 As I've noted before, at no point have the Rich Three (since City joined United and Chelsea) all had a bad season at the same time. It's like waiting for Mercury, Venus, Mars and the Earth to all line up at once. You might get a couple, but rarely will the whole lot align. When one has a bad season, the other two slug it out for the title. When two fall, the other has a clear run at it. When all three fall … well, that hasn't happened. Prior to Abramovich arriving, there were often just two strong teams – Arsenal and Manchester United – and one could win the league with a relatively low points total if the other was off colour.
So how do Liverpool overcome this clear financial inequality, and try to win the title? Before getting onto that, I'd repeat last week's message: do not expect it. However, if it happens, we can rejoice in the madness.
Also, I will once again highlight that I'm not necessarily capable of finding solutions; I merely highlight the problems, and provide the context. We can all go away and speculate on what might work, or be convinced that we have the answer. Clearly there are sensible potential solutions, and clearly there are crackpot harebrained schemes, such as only buying players called Kevin.
But we must all approach this with the awareness that even the good ideas may fail for unforeseen reasons: the manager may finally play the formation you've been screaming at him to employ, but if half the squad is out injured, you may not get the results you were expecting. And we often ascribe success or failure to the inclusion or exclusion of particular individuals, and ignore the other factors that go into a string of results. A manager sets the tone, and controls some factors, but he cannot force 25 men become telepathic and perform at peak fitness and confidence for the full season, just as he cannot legislate for everything the opposition does or how the officials see vital incidents. Even the best managers go slightly bonkers on the touchline, as they are, at best, backseat drivers; reliant on others to heed their instructions, and hopeful that no one crashes into them.
And let's also remember that the apparent solution is often always changing, as each team starts the season with a totally different set of circumstances to how they ended the previous one. Last season seemed to be all about scoring 100 goals; this season we can see Chelsea on course to win the title with 'just' 78. Last season whatever Manuel Pellegrini was doing was right; this season whatever Manuel Pellegrini is doing is wrong. (Ditto Brendan Rodgers, to some degree.) Some years the champions will beat all of their big rivals, and some seasons they'll simply hoover up points against the other 15 teams.
And of course, Arsene Wenger will spend half the season being a genius and half being an idiot who celebrity Gunners want to piss off back to France – it just varies as to whether it's the first five months or the last five months of the campaign.
However, if you think you have the answers, consider this. A year ago, when Liverpool couldn't stop scoring and Manchester City were looking imperious, Marouane Fellaini was the ultimate symbol of what was wrong at Manchester United; right now he – and Ashley Young – are more important to them than Angel Di Maria and Radamel Falcao.
(I know, how crazy is that shit?)
I would urge you all to think about this whenever you know that you're right about football; because I'm guessing not one person alive thought that would be the case.
And yet, out of all this uncertainty and confusion, I will try and throw a few bits of mind mud at the problem-wall to see if anything sticks; after which I will run a flag up the poll to see if it flies in the blue thought-sky.
The rest of this article is for Subscribers only.
[ttt-subscribe-article]