By Paul Tomkins
Fans divided on a Liverpool manager? Deja Vu…
In my youthful naïveté I used to imagine that everyone loved triple-European Cup winner Bob Paisley. I assumed treble-winner Joe Fagan was universally rated. And I guessed that three-time title-winning boss Kenny Dalglish had unflinching support from the fans.
Maybe they all did. Winning the biggest trophies does that. But in the modern era, when Liverpool lack the resources to be the powerhouse of old, it seems that everyone has a different idea on what's required by a manager, and indeed, what constitutes success. What I will say is that after years of bickering it would be nice if most of our fans could agree on liking and supporting whoever is in charge, unless that person is hopeless (and possibly resembles an owl).
Not that we should settle for mediocre managers; but anyone who doesn't win everything all the time will probably be described as not good enough.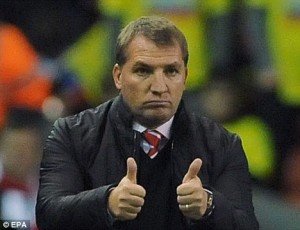 I fully understand the reservations that surrounded Rodgers in his first season at the club, and the uneasiness earlier in this campaign – when, by his own admissions, his team lacked identity. If you'd missed the past few months and landed during yesterday's bore-draw you'd have probably thought that nothing had changed since the autumn.
If you break Rodgers' tenure down into season halves you discover that he's easily in credit. So far, only the first half of his first season (which you could write off as a newcomer's struggles) and the first half of his third season have been below par. The second half of his first season was very good. The first half of his second season was very good. The second half of his second season was exceptional. The first half of this season was very grim indeed (although not quite Hodgson-relegation-places-grim), but the second half (so far) has almost been as exceptional as it was a year ago, with nine wins and three draws in the last 12 league games, and, unlike then, some very good cup performances too in a hectic schedule (yesterday's being one of the poorer displays). It's been achieved with a younger side, too.
Of course, there's still time for the second half of this season to fall apart. But as things stand Rodgers' is definitely in 'credit', if not yet delivering trophies. So why are some fans still so opposed to him?
This article is for Subscribers only.
[ttt-subscribe-article]