By Mihail Vladimirov. 
Summary:
Dyche opted for the cautious tactical approach, looking to sit deep and compact early on, maybe conserving energy for a late surge, as they did against Man City and Chelsea. 

Rodgers brought in Sturridge for Markovic, with Sterling moving to right wing-back.
Burnley had a ten minute period of attacking pressure, and despite some good build up play, wasted the final ball with crosses into a penalty area covered well by Liverpool's three centre-backs.
Lallana at wing-back and Sterling next to Coutinho, just off Sturridge – suits all the players' natural movement tendencies, although without focusing attacks down one side, the set up Rodgers opted for allowed the Reds to stretch the play and cause Burnley a duel threat.
By stretching Burnley on both flanks, the home team were able to use the forward advances of Henderson, Can and even Allen to provide an overload through the middle and burst late into the space created in the central areas.
Once Liverpool had a two goal lead, they switched, sat a bit deeper and looked to absorb any threat Burnley threw at them; they did it efficiently and even threatened at times on the break.
Team News:
Throughout the season Burnley have been, alongside Chelsea, one of the teams using the fewest players in the league. So it wasn't a surprise to see Dyche not making any changes from his usual starting XI. The only change occurred a few games ago when Marney got injured and was replaced by Kightly, with Arfield moving infield and the former Wolves player now playing on the left flank.
Similarly unsurprising was Rodgers' starting XI. With none of the injury doubts being fit enough to start the game, the only change following the impressive win against Man City was Sturridge coming in for Markovic with Sterling moved to right wing-back.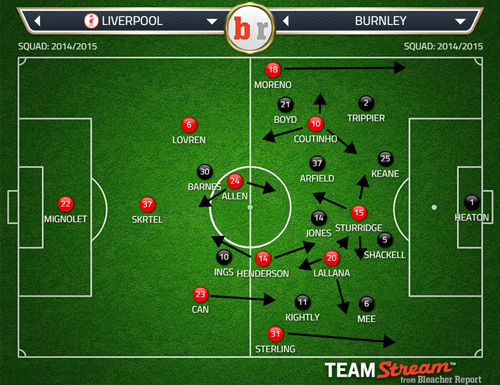 Dyche change in approach
The expectations prior the game were that Burnley would approach the game with one of two possible variants: either pressing in their usual 4-2-2-2 formation, trying to put the opposition under early pressure; or prefering the more defensive-minded and cautious alternative, dropping deep and narrow into a 4-4-2-0 shape. As such it wasn't really surprising to see them indeed going for the more defensive outlook; but what was genuinely curious was the exact reasoning as to why Dyche did so.
Presumably the change in tact had most do with the manager wanting to be more pragmatic than usual and do something a bit different to their often-used strategy up to now. In most of their games Burnley would press their opponent fiercely from start, causing them all sorts of troubles but – due to lacking that extra attacking quality – without scoring enough, or at all, goals to show for it. Then the Clarets would tire and fade away badly in the second half, making it easy for the opponent to beat them (for example see the reverse game with Liverpool or the recent visit to Old Trafford).
Perhaps Dyche aimed for the opposite effect here – drop in a tight, solid shape to defend from the start, settle into the game while frustrating the opponent and spare physical resources to be able to push forward late on if/when needed. This was the exact overall approach and game strategy that won Burnley points at Man City and Chelsea.
Tactically, Burnley's 4-4-2-0 defensive shape wasn't built on something previously unseen or sophisticated per se. The team's main defensive facets were based onsimple common sense approaches to how a team aiming to mainly defend should do so against Liverpool's 3-4-2-1 formation. The front pair didn't press from high or look to prevent Liverpool's back three unit playing passes around. Instead they dropped off towards the midfield quartet to  further make the side compact and deny the opposition playing quick and easy passes into the feet of Allen and Henderson. The full-backs tucked infield and played closer to the centre-backs helping screen the space down the inside channels and prevent Keane and Shackell being continually dragged out of position and forced to defend bigger zones, which would have made them even more vulnerable to Sturridge's pace and the tricks of Coutinho and Lallana. This logically left the wide midfielders staying wider and dealing with Liverpool's wing-backs, tracking them back down the flanks.
The rest of this post is for subscribers only. 
[ttt-subscribe-article]