By Chris Rowland.
Younger LFC fans, those who've had to endure Man Utd's 1999 treble being force-fed down their gullets like foie gras geese, may not appreciate just how close we came to achieving that same treble in 1977. And, in a gruesomely savage turn of the universal grinding wheel, that it was Utd themselves who prevented us from doing it by beating us in the FA Cup Final.
But even that monstrosity doesn't detract from what to me remains the most exhilarating, sheer damned exciting season in my lifetime. Especially as that dreadful FA Cup Final anti-climax was followed just four days later by what is still arguably the most significant, monumentally defining single football match in the club's entire history. The moment we scaled the pinnacle, the culmination of everything started by Shankly and now taken to its glorious conclusion by his self-effacing successor. Those supreme 'Champions of England, Champions of Europe' scarves, still considered the best in the club's history, were but weeks away!
We entered the season with expectations a-plenty, as champions and UEFA Cup holders. Paisley had had to wait for his second season to start putting notches on his bedpost to mark the trophies he'd won. He'd soon need an extension to his bedpost.
There were just two signings following one the previous season. England striker and scouser David Johnson joined from Ipswich Town, who finished sixth last season and would finish third this, for £200,000. Then as the season was drawing to its epic climax, a lanky young central defender by the name of Alan Hansen arrived almost unnoticed from Partick Thistle for £100,000.
Midfielders Peter Cormack and Brian Hall departed pre-season, and of course the club's star turn, Kevin Keegan, at the very end of it, to Hamburg for £500,000. His replacement cost £60,000 less, and did sort of OK. Club stalwart and survivor from the early Shankly days, Tommy Smith, had announced that 1976/7 would be his last – although he subsequently remained for another season. As fate would have it, his testimonial came just a couple of days after the Rome final in which he scored the decisive goal, so he had the unbeatable boost of parading the newly-won iconic trophy before the packed house. Many fans had just got back in time for the testimonial, and many more didn't get back in time, but the testimonial turned into the European Cup celebration party.
League season
Liverpool were top after five games and topped the table after 31 of their 42 games, never lower than third apart from the first few weeks. That the Reds finished only a point ahead of Man City (on 57 points  from 42 games!) was more a sign of them easing off, drawing three and losing one of their last four games, with two Cup Finals awaiting after them. They clinched the title with one of them, a goalless draw against West Ham at Anfield. One down, two to go.
Amongst all that success, maybe the most remarkable League game was a crushing 5-1 defeat at Villa Park on a bleak December night. We were 5-1 down at half-time, torn apart by Villa's strike force of Brian Little, John Deehan and Andy Gray, who all scored, the latter two two apiece.
Ask any Villa fan who still gloats about it (there are plenty) if they can remember who won the title that season, and the European Cup as well, just in case they need a clue!
The FA Cup
After beating Crystal Palace (after a replay at Palace), Carlisle and Oldham, Liverpool met Middlesbrough at Anfield (we were drawn at home in all four rounds) the weekend before that legendary European Cup quarter final at Anfield against St. Etienne. The following weekend was the Merseyside derby at Goodison. One summit clash after another, for weeks on end. As Brian James wrote in 'Journey to Wembley – the story of the 1976/7 FA Cup competition and Liverpool's bid for the treble':
"When it gets like this, when a community barely scrapes up the debris from one epic game before it is deafened by crowds gathering for the next, a certain mild hysteria is apparent. "
Round about March time, with quarter-finals in both the FA Cup and European Cup ahead and leading the league, the full enormity of the unprecedented unfolding potential began to emerge to the fans. The rest of existence seemed to diminish into insignificance – jobs, relationships – as this juggernaut accelerated ahead down the highway (or perhaps Heighway!), horn blaring, headlights on full beam, pedal to the metal. The sense of exhilaration was intoxicating. You could scarcely catch your breath, the intensity relentless. And lurking behind it all, the eternal dream of finally being European champions one day, was growing more and more tangible.
Each week there seemed to be a new song, culminating in reaching that European Cup Final. To the tune of 'In My Liverpool Home':
"We're all going to Rome

We're all going to Rome

If it's tickets you want then we've got none to spare

We've even stopped drinking to save up the fare

But you can tell Moenchengladbach the Kop will be there

We're all going to Rome"
To "Arrivederci Roma"
"We're on our way to Roma

On the twenty-fifth of May

All the Kopites will be singing

Vatican bells they will be ringing

Liverpool songs we'll all be singing

When we win the European Cup"
And to the tune of "Que Sera Sera":
"Tell me ma, me ma

I don't want no tea, no tea

We're going to Italy

Tell me ma, me ma"
The FA cup really started to get interesting round about that Boro home quarter final, exaggerated by the context of one big game after another, in three different competitions. Also, Everton, Man Utd and Leeds were all also in the quarter-finals to add spice to what would follow if we got the expected win against Boro. Even Bob Paisley, the master of the non-committal, began admitting the treble might be a possibility.
In the semi-final we were drawn, as six years earlier, against our blue neighbours, though this time the game was played at Maine Road, City's old ground, rather than Old Trafford as in 1971, when we came back from 1-0 down to win 2-1. This time Everton, who were to finish only ninth, raised their game considerably, playing with great spirit and character.  Terry McDermott gave the Reds the lead after 10 minutes with a sumptuous delicate chip, Bruce Rioch equalising with his first goal for the club on 33. Jimmy Case restored the Reds' advantage with 17 minutes remaining, but Everton were far from done for. First Duncan McKenzie equalised with eight minutes left. Then, the controversy that still wrankles with the Bitters to this day; substitute Bryan Hamilton scored what appeared to be the winner, but was ruled out by ref Clive Thomas, for what may have been offside (it wasn't) or handball (it wasn't) or a foul somewhere or other (it wasn't apparent).  Raising a glass to Clive Thomas is still a guaranteed way to wind up Evertonians (although that's not a short list!)
The feeling was that Everton's chance had gone, that you only get one shot at an upset. And so it proved in the replay three days later, also at Maine Road, with the Reds running out comfortable winners with goals from Phil Neal (penalty), Ray Kennedy and Jimmy Case.
In the other semi-final, Tommy Docherty's bright new Man Utd, now back in the top flight after their relegation in 1974, had beaten Leeds 2-1 at Hillsborough, the predominance of their support over Leeds' being somewhat bizarrely described as like "a Yorkshire fried egg completely submerged in a sea of Lancashire tomato sauce".
So it was us and them in the final, four days before the European Cup Final in Rome. The league title was already safely parked. We were strong favourites, but were far from our best on the day – though still much better than they were – Frank McGhee in the Daily Mirror described it as 'tactical, territorial and total superiority'.
They took the lead early in the second half, we equalised a minute later with a splendid rising shot on the turn by Jimmy Case. We sat back and awaited the inevitable. It didn't come. Instead, the match was settled three minutes later by the weirdest, flukiest goal I've ever seen in any football match anywhere, Lou Macari's shot seeming destined for a throw-in before it struck Jimmy Greenhoff, barely a yard away from Macari, and ballooned over Clemence and into the net. A shattering way to have our treble dreams shattered. "It was men against boys, and the men lost", ran one account of the game.
How could we recover in time for the European Cup Final four days later?
Reds in Europe
There's not much for me to add about Rome '77 that hasn't already been written. That for me it still rivals and maybe even shades Istanbul says everything really. You never forget your first time. Being crowned as European champions was the final confirmation that we'd finally reached the summit, and planted the red flag firmly into hitherto virgin territory. The sense of occasion, the visually stunning setting of the old Stadio Olimpico on a perfect Roman  spring evening, the massive support for the Reds, all those red and white chequered flags and the 'Joey Jones' flag, even the hideous 24 hour train journey from Zeebrugge to Rome – they're all still etched into the memory banks like pin-sharp HD images.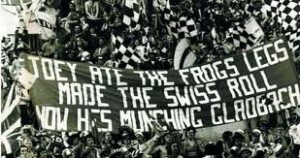 The quarter-final 2nd leg at Anfield against St.Etienne – Wednesday 16th March 1977 – is still for many the most thrilling occasion there's ever been at our home. That's quite a list to top. I've certainly never known more noise, more bedlam, more sheer visceral excitement.
That day itself in Liverpool was something special, Lime Street and the area around it a mass of colour from lunchtime onwards, not just the red of Liverpool and the green of St.Etienne, who had over 5,000 fans there, but also the blue of Everton who were travelling to their League Cup Final 27th replay against Aston Villa at Hillsborough. The excitement was already off the scale, hours before kick–off.
They were a good side back then, St. Etienne. They'd won the 1st leg 1-0 in France. Within 90 seconds we were level, Keegan's deep cross from the left touch line drifting past everyone and into the far corner. One of those when attackers and defenders go for it and nobody gets a touch. It just continued on its curving path.
But we couldn't add to it, and 10 minutes after half-time came the awful moment – a long curling shot by Bathenay made the score 1-1 on the night. Now Liverpool needed two more goals to prevent the dream ending once again.
Four minutes later, Ray Kennedy struck. There's a world of difference between needing two goals – a veritable mountain – and just needing one more – barely a molehill.  Enter David Fairclough as sub. THAT goal, with Fairclough clear through onn the Kop end goal, sliding it past the keeper … for the final six minutes, the stadium actually shook.
Mixed in with the jubilation was a tinge of anti-climax. It felt like we'd won the thing, but were actually only through to the semi-final. Two hurdles still left. But psychologically, for the fans anyway, on that night hope was cemented into belief. Zurich in the semi-finals were summarily dismissed, just an irritant insect swatted aside in order to reach the target.
And so to Borussia Moenchengladbach in the final. The team of Berti Vogts, Allan Simonsen, Rainer Bonhof, Uli Stielike, Herbert Wimmer and Jupp Heynckes. Serious opponents this time.
You know the rest. McDermott's beautiful early goal, an exemplar of the fluid European style passing and movement that Liverpool had adopted, markedly different from prevailing domestic currency at the time. The equaliser early in the second half. Tommy Smith's header from a corner in his final game for the club. Keegan being brought down by Vogts, having run his marker ragged in HIS final game for the club – and Phil Neal's penalty. Emlyn Hughes raising Ol' Big Ears to the Roman sky, Bob Paisley looking like a proud uncle at a Christening. Four days after we'd lost the FA Cup Final to Man Utd, it was forgotten completely, utterly, deliciously, deliriously subsumed by the glory of Rome.
The squad:
Clemence Neal Phil Thompson Hughes Jones Case Callaghan McDermott RKennedy Keegan Toshack Heighway Smith Fairclough Johnson Lee Hansen Kettle McDonnell Lindsay Waddle
Stats
Liverpool played 62 games in all competitions, winning 36 of them and losing only 12. They scored 103 goals (66 in 42 league games – enough to win the title!) and kept 27 clean sheets. Elimination from the League Cup at the first time of asking – though even that required a replay against West Brom – was the only limiter of the sheer weight of fixtures that season. As well as the 42 league games and nine in the European Cup, there were eight in the FA Cup, with replays in the 3rd Round against Crystal Palace and against Everton in the semi-final. With the two League Cup games and a Charity Shield, won 1-0 against Southampton, there was a total of 62 competitive games in the season (though four fewer than in the 72/3 League and UEFA Cup double season)
Average league attendance at home: 47,284 – an increase of almost 6,000 on the previous, title–winning, season.
Clemence and Neal played in 59 games. Keegan, Callaghan, Hughes and Thompson played only two fewer, and Heighway and Toshack both achieved 50 or more appearances.
Kevin Keegan topped the goalscoring chart with 20 in all competitions (12 in the League). Heighway scored 14 and Toshack 13, a total shared by a full-back, Phil Neal, who also took the penalties. Another 20 was shared between three midfielders, Ray Kennedy, Jimmy Case and Terry McDermott.
Average home league attendance was 47,284, a 6,000 increase on the title-winning season before.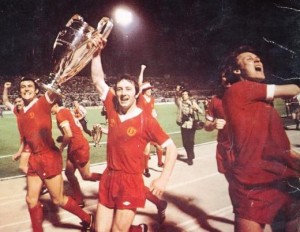 With thanks to www.lfc.history.net as ever for being an invaluable source of information.
[/wcm_restrict]