By Gary Fulcher, Daniel Rhodes and Mihail Vladimirov.
Liverpool and Everton clash at Goodison Park on Saturday evening – 5:30pm kick off UK time – in what will be the 192nd league meeting between the two clubs. The Toffees occupy 12th place and have won just one of their last seven league games, a 1-0 victory away at Crystal Palace last Saturday. Prior to that victory Everton had lost four and drawn two – scoring three times and conceding ten – and were dropping ever closer to the relegation zone. They now sit seven points clear of the drop zone.
Liverpool are the current form team in the Premier League having picked up 16 points from a possible 18 over the last six games. That run has seen the Reds claim victories over Burnley away (1-0), Swansea at home (4-1), Sunderland away (1-0), Aston Villa away (2-0) and West Ham Utd at home (2-0), with the 2-2 draw with Leicester at Anfield the only blemish in that sequence. With league games against three of the six teams currently above us – 6th place Spurs (home), 4th place Southampton (away) and 2nd place Man City (home) – following the derby, Liverpool look to have hit form at just the right time.
The rest of this article is for subscribers only.
[ttt-subscribe-article]
P
W
D
L
F
A
W
D
L
F
A
W
D
L
F
A
GD
Pt
1
Chelsea
23
16
5
2
52
20
10
1
0
25
4
6
4
2
27
16
+32
53
2
Manchester City
23
14
6
3
46
23
7
2
2
20
11
7
4
1
26
12
+23
48
3
Manchester United
23
12
7
4
39
22
9
1
2
25
9
3
6
2
14
13
+17
43
4
Southampton
23
13
3
7
37
17
7
2
3
24
8
6
1
4
13
9
+20
42
5
Arsenal
23
12
6
5
44
25
7
3
1
26
10
5
3
4
18
15
+19
42
6
Tottenham Hotspur
23
12
4
7
35
30
6
2
4
18
14
6
2
3
17
16
+5
40
7
Liverpool
23
11
5
7
33
27
5
5
2
17
11
6
0
5
16
16
+6
38
8
West Ham United
23
10
6
7
35
27
7
2
3
19
10
3
4
4
16
17
+8
36
9
Swansea City
23
9
6
8
27
30
6
3
3
16
13
3
3
5
11
17
-3
33
10
Stoke City
23
9
5
9
26
28
5
2
4
15
13
4
3
5
11
15
-2
32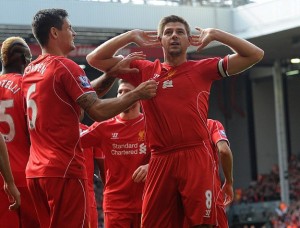 Liverpool and Everton shared the spoils at Anfield back in September with Gerrard scoring from a free-kick in typical Gerrard fashion and Phil Jagielka scoring a ridiculous 30 yarder in typical Gerrard fashion in injury time to earn Everton a 1-1 draw. The corresponding fixture last season also ended in a draw, with Mirallas and Lukaku (2) scoring for Everton and Coutinho, Suarez and Sturridge scoring for the Reds, with Sturridge's goal coming in the 89th minute to earn the Reds a 3-3 draw.
This is also likely to be the last Merseyside derby that Steven Gerrard will feature in and if he plays some part in the match he will move alongside Alan Hansen in 3rd place (with 33 appearances) for Liverpool players with the most appearances against Everton. Gerrard's tally of ten goals against the Toffees is only bettered by Ian Rush's total of 25.
Liverpool's overall league record against Everton:
Total – P: 191 W: 73 D: 61 L: 57 F: 264 A: 224 GD: +40
Home – P: 96 W: 41 D: 32 L: 23 F: 147 A: 104 GD: +43
Away – P: 95 W: 32 D: 29 L: 34 F: 117 A: 120 GD: -3
Premier League form – last six matches home and away:
1st –

Liverpool

: P: 6 W: 5 D: 1 L: 0 F: 12 A: 3 Pts: 16
14th –

Everton

: P: 6 W: 1 D: 2 L: 3 F: 4 A: 7 Pts: 8
Premier League form – last six matches at home (Everton) and away (Liverpool):
11th –

Everton

: P: 6 W: 2 D: 3 L: 1 F: 7 A: 5 Pts: 9
2nd – Liverpool: P: 6 W: 4 D: 0 L: 2 F: 8 A: 7 Pts: 12
Liverpool's record against teams managed by Roberto Martinez (all competitions):
Total – P: 11 W: 4 D: 5 L: 2 F: 20 A: 10 GD: +10
Home – P: 6 W: 3 D: 2 L: 1 F: 12 A: 5 GD: +7
Away – P: 5 W: 1 D: 3 L: 1 F: 8 A: 5 GD: +3
The match-day officials for this fixture are:
Referee: Anthony Taylor
Assistants: G Beswick, D Cann
Fourth Official: M Oliver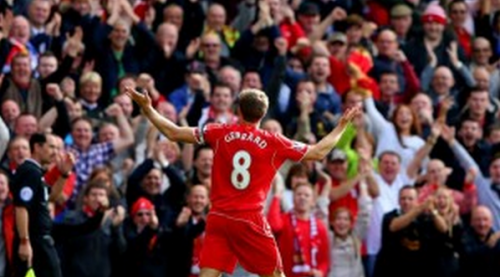 TEAM NEWS
Liverpool are without Jones (thigh) and Flanagan (knee). Toure is on international duty with the Ivory Coast.
Everton are missing Pienaar (knee), Howard (shin) and Osman (foot), while McCarthy (hamstring) is a doubt.
Liverpool:
Goalkeepers: Mignolet, Ward
Defenders: Johnson, Manquillo, Can, Skrtel, Lovren, Sakho, Moreno, Enrique
Midfielders: Gerrard (c), Henderson, Lucas, Coutinho, Allen, Markovic, Lallana, Brannagan, Rossiter, Ojo
Forwards: Sturridge, Sterling, Balotelli, Lambert, Borini, Ibe
Everton:
Goalkeepers: Robels, Stanek
Defenders: Hibbert, Baines, Jagielka (c), Distin, Coleman, Stones, Browning, Garbutt, Alcaraz, Galloway, Jones
Midfielders: Gibson, McGeady, Oviedo, Besic, Barry, Atsu, Barkley, Lennon
Forwards: Kone, Lukaku, Mirallas, Naismith

Video Analysis by Neville and Carragher on MNF
Mihail's Tactical Preview
Everton and Liverpool head into this game with hugely contrasting form. The Blues' run is currently one win in their last nine games in all competitions and even that win – last week at Crystal Palace – wasn't entirely convincing. What's worse for Martinez is that during that unusually bad spell his team rarely, if ever, showed any green shoots of recovery or even reasons to be cautiously optimistic for the second part of the season.
Meanwhile, in the same period – i.e. since mid-December and the Man Utd loss – Liverpool have played 13 games, losing none of them in normal time (the only loss came in the extra time at Stamford Bridge) and winning eight. In addition, although in some of the games Liverpool struggled big time and at times even rode their luck, the performances of Rodgers' team at least have picked up massively since the earlier horrible combination of bad results and poor displays.
On current form, the game should be a walkover for the visiting team. Add to this the fact this will be Gerrard's last Merseyside derby and there is every reason to believe Everton are in real trouble, even if the game is played at their stadium. Nevertheless, if Liverpool shouldn't be especially worried, they need to be wary of Everton, and not because of the old cliché that 'form goes out of the  window in derby games'. The Blues' season is so poor, that bragging rights would mean something even more important for them. Liverpool might call upon greater confidence and better current form, but Everton may succeed channelling their anger and disappointment in extra and bigger motivation and sheer determination to spoil Gerrard's (final derby day) and Liverpool's (potential Top 4 finish) party.
On top of all this, tactically a game can often be played in a way that contradicts current form and even any gulf in the individual quality. On this front, with Liverpool seemingly set in their 3-4-2-1 formation, the key input from how the game would eventually pan out is arguably that of Everton's manager Roberto Martinez.
Everton
Liverpool's formation is by now already predictable and with well-known strengths and weaknesses. The fact that Rodgers is highly unlikely to deviate from it – given his team's improvement in performances and results – means the onus is very much on Martinez. The key question is whether the Spaniard will choose to be proactive and try to impose his own style and project his team's strengths to try and exploit Liverpool's weaknesses; or will he be more pragmatic and first and foremost shield his team's weaknesses by adjusting to the opponent's strengths.
Arguably, given their bad form, the underperformance of several key players and the likelier absence of McCarthy (at the very least from the starting XI if not from the match squad) means Everton simply don't have the firepower to go toe-to-toe with Liverpool and be confident of winning that battle. Especially when such a battle will be mainly based on whomever manages to exploit each other's weaknesses more by exerting their strong traits onto the game.
Teams playing a 4-2-3-1ish formation that have been brave to push up and press hard when out of possession before attacking quickly down the channels whenever the ball was regained have already exposed Liverpool's formation. So it's not that Martinez' usual 4-2-3-1 shape can't or won't work. As much as the majority of their players are off-colour currently, Everton on paper have the personnel to test Liverpool down the flanks while in Lukaku they have the all-round centre forward who should be able to occupy at least two of Liverpool's back three unit by himself.
As Chelsea mainly showed, a high pressing and direct-attacking oriented 4-2-3-1 could provide Liverpool's 3-4-2-1 shape quite a few positional problems. In Barkley and Naismith, Martinez has two very intelligent attacking midfielders in terms of movement, who can play all across the supporting band of three behind Lukaku. Martinez might decide to replicate Mourinho's approach with Mirallas, his best and most direct wide man, deployed on the left in that space between Can and whomever Rodgers plays at right wing-back. Then it could be a case of Barkley drifting laterally to the left to help the Belgian to overload that space with Naismith doing the 'Willian-role' to continually tuck infield off the right flank and exploit any gaps left between the lines. Out of possession these three players will be tasked to cut off the passing angles between Liverpool's back three and their midfield four (wing-backs and deep-lying midfielders), forcing Liverpool in either cheap concession of possession or lumping the ball forward. Stones' pace on the right side of Everton's defence should be enough to deal with Sterling, in a similar vein to Zouma. In midfield Barry and Besic have the positional awareness, and in the latter's case the mobility, to plug the gaps and prevent Liverpool's attacking midfielders running riot on the break with all the space left in behind. With Gerrard likely to be retained in that inside-right position within the front three, Barry's lack of pace won't be as exposed as if any of Lallana, Coutinho or Sterling is played in that zone.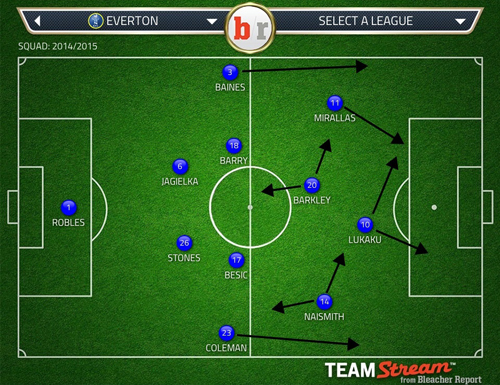 An alternative will be to see Martinez prefer Naismith's industry and work-rate through the middle with Barkley being the one tasked to dart infield from the right. This will surely further make Everton better equipped to prevent Liverpool play out through the middle, but with the potential issue of Moreno surging too easily past Barkley to link-up with Coutinho and Sterling down the left side. Even if both Stones and Besic are over on that side, Liverpool would be able to quickly overload them 3-v-2 and make room for their two best attackers to run either at people or into the gaps.
However, the main obstacle before Everton in order to actually succeed in such a scenario is whether they will be really able to not only press hard buy sustain such pressure for the majority of the game or until they go a goal ahead. Statistically the Blues are one of the most passive teams when it comes to winning the ball back, which directly implies a lack of pressing capabilities. This though is easily expected with all the injuries, the issues regarding the team's fitness regimes, conditioning and the reported behind the scenes troubles between Martinez and his staff on that front. Which means it's far from a given Everton, even with the whole week available to rest and prepare for this game, will be able to press as described above, and earn the right to exert control and pin back Liverpool's 3-4-2-1.
The worst-case scenario for the home side would be if Martinez's team tries to play a high line and exert possession control without backing all this up with the required pressing. This will allow Liverpool easy time to build-up their play through the zones quickly, hit passes towards the front three, who will have all the space between the lines and in behind to thread dangerous passes to each other.
The alternative scenario where a 4-2-3-1 formation could succeed is if Everton, similarly to Chelsea at Anfield, use that shape for to settle into a defensive-minded counter-attacking mode. Here the emphasis will be on the central midfielders to stay deep just in front of the backline to minimise the space between the lines and prevent Liverpool's advanced midfielders running the show. However, given Barry's lack of mobility it would be risky to leave the wingers high and wide in order to be ready to pounce on the break in the space vacated by Liverpool's wing-backs. Instead, they will need to be very diligent with their defensive discipline and drop back level with the holding midfielders. With such a solid second bank of four Everton would hope to deny Liverpool space both through the middle and down the flanks. Barkley and Lukaku would be left as the team's main counter-attacking weapons. Both of them have the pace and dribbling skills to be viable threats.
However, the problem in such scenario is that most of Everton's players aren't accustomed or naturally capable to play such defensive-minded football. The full-backs aren't those types of tucking deep and narrow half full-backs, half centre-backs. The attacking midfielders, bar Naismith, lack that work rate and defensive discipline to be fully trusted to display a high level of concentration and defensive input for long spells. Then there is the suspicion that Martinez simply isn't very good at drilling defences and constructing overly defensive-minded strategies given his track record and publicly stated preferences for more open, creative, and possession-based style of play.
With all the above in mind it could be a case of Martinez actually preferring to not use his preferred up to now 4-2-3-1 system and approach the game with a much more pragmatic strategy. Back in his Wigan days and at times last season, he was very good at surprising the opponents, showing a pragmatic streak with tactically spot-on decisions to tweak his regular system to deal with the opposition's strengths and be ruthless in how he tactically exposed their weaknesses. Although it's not a guarantee, he could see the combination of Liverpool' recent rise and his team's overly poor form as enough for him to prefer going down that route, more so given the importance of this game.
A way to do so, without deviating too much from his usual 4-2-3-1 framework will be to deploy Naismith centrally as a false 9 with Mirallas and Lukaku used out wide. The idea behind such a move will be to use Naismith's work rate and defensive discipline alongside Barkley to drop off and occupy Liverpool's midfield pair, preventing the visitors hitting passes into them. This is likely to ruin the Reds' overall passing flow. In addition, with such a midfield quartet, Everton would gain extra stability and compactness through the middle, forcing Liverpool to do down the flanks. This will impact both on the threat Liverpool are able to pose on Everton – 1-v-1 down the flanks should be clearly preferable for Martinez, than leaving space between the lines for the Reds' attackers to exploit thanks to their numerical advantage – and how the Blues would be able to counter-attack. Mirallas and Lukaku surging into the space behind the wing-backs before darting infield would be dangerous and exactly the way a back three unit could be dragged all over the place.
In such a scenario, Everton won't be needed to press as much. They could mainly focus on positional stability and direct counter-attacks, something they are usually good at given their personnel and the issues they have this season in terms of creating chances against well-set defences.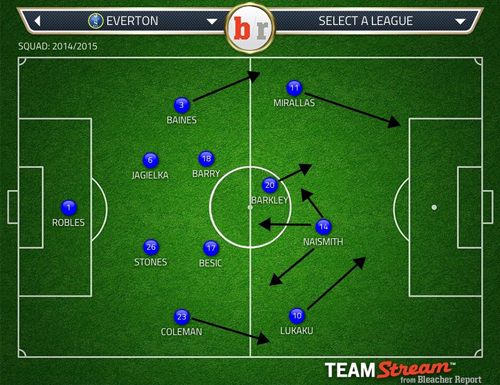 Another alternative pragmatic solution for Martinez may have been to deploy the same formation as at Anfield earlier in the season. Back then Everton played a 4-1-2-3 shape that – given Naismith continually dropped deep to help solidify the space through the middle – looked more like a 4-diamond-2 with the two centre-forwards actually starting out wide before looking to move infield.
Such a framework, similar to the above 4-6-0ish, will aim to stifle Liverpool through the middle and hit them hard down the flanks. The difference would be that instead the midfield unit would be more of a flat three with Barry flanked by hard-working and mobile players and Naismith the sole presser from ahead. This will decrease Everton's ability to win the ball back from high up but will offer even greater positional security between the lines.
The problem though is that with Osman and Pienaar injured and McCarthy highly doubtful, Everton don't have players who can slot alongside Besic ahead of Barry in the midfield triangle. Naismith was sometimes deployed in such a position this season but if he is used there he won't be able to play the crucial hard-working, false 9-type of role. A possibility will be to see Barkley alongside Besic but given his lack of positional awareness and rather absent work-rate such option will be too much of a risk. The only variant will be to play Naismith in midfield with Lukaku at centre-forward, then use Mirallas and McGeady down the flanks with Barkley retained on the bench as a potential second-half joker.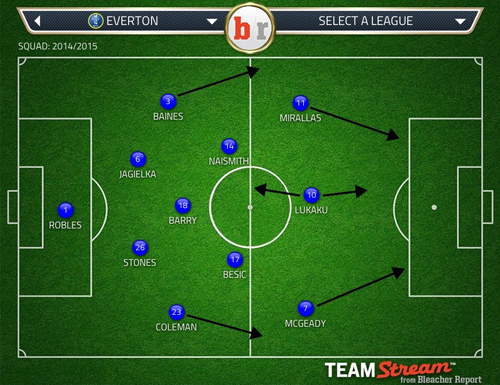 The final alternative is arguably the most interesting one. Martinez is a manager who, back in his Wigan days, had the knack of using a back three formation. Given the success of Lennon's Bolton against Liverpool using such formations, it's a real possibility that Everton might line-up in such formation to try and mirror Liverpool in order to completely minimise their strengths while still retain a high degree of ability to rival them for possession and attacking threat.
Given Everton's defensive issues and the potential absence of McCarthy in midfield, going with 3-4-2-1 formation is bound to make Everton much more competitive and less reliant on being capable to press hard when out of possession. Martinez not only has the experience of using similar formations, but he also has the fully fit and available personnel to implement it.
A back three unit of Distin, Jagielka, and Stones will provide Everton with enough defensive stability and ability to play it out from the back to try to rival Liverpool for possession control. Similar to Liverpool's unit, Jagielka could slot in as the middle player and sweep in behind Distin and Stones; players who have the mobility to defend zonally and deal with whoever comes into their area of responsibility.
In midfield, given the extra defender at the back, the lack of McCarthy and the potential issue of Barry's lack of mobility will be greatly minimised. These two can sit deep and plug the gaps between the lines, denying Liverpool's advanced players too much space. Baines and Coleman could go toe-to-toe with whoever plays at wing-back for Liverpool, in what promises to be fascinating wide duels down both flanks.
In attack, Martinez can format his unit differently, depending on what type of specific emphasis he will prefer to call upon. If he plans to play more cautiously to try and catch Liverpool on the break, Lukaku can be used centrally with Mirallas and Naismith working hard out of possession (prevent easy passes being played into Liverpool's midfield pair) before using their direct runs and intelligent movement, respectively, to cause troubles following every possession turnover. Here direct balls for Lukaku to lay-off will be another viable attacking pattern, promising to diversify Everton's threat.
Alternatively, if Martinez wants to be more proactive and try to rival Liverpool for overall control and sustained spells of possession supremacy, Lukaku could be partnered with Barkley and Naismith. The latter two's superb movement off the ball would be extremely useful to drag Liverpool's midfield pair around or link-up with the rushing forward wing-backs to overload the wide areas.
No matter the exact outlook of the front three, going with 3-4-2-1 is bound to make the game a more equal and competitive clash than both teams' contrasting current form and obvious gulf in the quality could lead to. This logically will suit Everton more.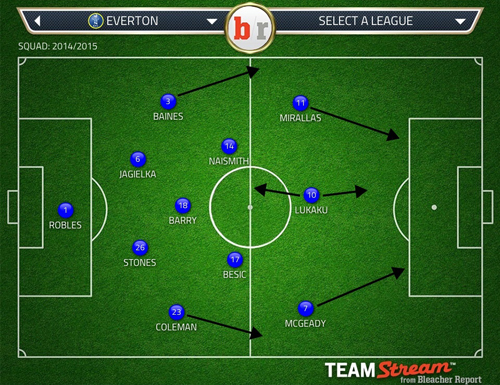 Liverpool
For this game, Rodgers has two main worries. First, the likes of Lucas, Markovic, and Lallana have some injury troubles. Although they aren't definitely ruled out (as Rodgers verified in his press conference) from the game, the manager won't be too sure of having all of them free and available for start. The worst case scenario is if the three of them miss the game, Rodgers would be forced in big reshuffling which arguably could hamper his side. Gerrard and Manquillo can come in for Lallana and Markovic respectively, but Lucas will be a big loss. Allen and Henderson seem as the best bet if the worst came to fruition.
Second, Rodgers would be unsure of how exactly to prepare his team given the many possible variants Martinez might decide to use. Although Rodgers will be quick to say he is most interested in enabling his team to exert their preferred style over the clash and take advantage of their own strengths, he has grown much more proactive than he is publicly prepared to admit, especially in such big and important games. This means Liverpool's manager will be keen to set up his team to eliminate any loopholes or obvious advantages to their opponent.
Anyway, with Liverpool set to continue with the 3-4-2-1 and their starting XI picking itself when all things are considered, it'll be a question of Rodgers needing to tweak the starting XI players' specific duties rather playing too much with formations or selecting different players. As such, it's easy to foresee Henderson staying deeper and not rushing forward too much; more so if Lucas is to really miss the game and Allen or Gerrard start alongside him. As has been mainly the case since the switch to the 3-4-2-1 shape, this will mean Henderson will play more of a holding role with him influencing the attacks largely by switching the ball quickly and accurately, rather bursting forward and pressing from ahead. In addition, given the potential of Everton going with a formation enabling them to overload the flanks, Henderson will be needed to help Can and whoever plays at right wing-back to cover the right side of the defence and guard against being overloaded (as happened at Stamford Bridge).
Gerrard will surely start this game, so the main question is where exactly he will play. If Lucas isn't fit enough to last the whole game it might be better to have him on the bench as a potential second half substitution to come in and help Liverpool defend a potential lead. Given Liverpool's shape and the fact Everton might put more emphasis down the flanks, it might not be a  terrible idea (as it could be if the shape is 4-1-2-4 or 4-diamond-2) to use Gerrard in midfield. He will be keenly protected by Henderson and the presence of three centre-backs in behind. This will allow Liverpool to mix their approach and be more of a danger on the break. First, with both Gerrard and Henderson in behind the front players will be sure of being picked out accurately whenever there is a chance for Liverpool to threaten on the break. Second, with Gerrard played deeper, this will allow space for another mobile player to press further forward. It could be either Lallana playing alongside Coutinho behind Sterling or Borini pushed forward with Sterling played slightly deeper. Any of these two front trios promises a hard time for Everton in and out of possession, more so exposing Barry's lack of mobility in the 4-2-3-1 variants.
With Everton usually channelling their attacks mainly down their left, it also might turn out to be a blessing in disguise if Markovic isn't able to start the game and Manquillo is selected on the right. The young Spaniard's tenacity, recovery pace and natural defensive awareness will help deal with any threat coming over that side. A combination of him, Henderson's energy, and Can's overall presence should be able to prevent Everton getting a prolonged supremacy in this zone.
Given Everton's numerous possibility, it may be better for Liverpool to start the game cautiously, look to calm the things down and not rush to make the game an end-to-end affair to observe how the opponent is lining-up and then take it from there. This will also help limit the eventuality of Liverpool conceding the first goal, which could serve Everton a massive tonic and could give them that extra belief and confidence, something the visitors should be keen to avoid.
Even if Martinez' team starts with an approach looking capable to minimise Liverpool's strengths, Rodgers should be confident that his players' greater confidence and superior individual quality would be enough for his team to eventually stamp control over the game. The Reds' shape and potentially selected personnel (especially with Gerrard in midfield and Borini up front to allow Sterling a bit deeper) would allow for enough diverse attacking threat and overall ability to control the game. The Reds will be able to press from high up and hit hard on the break as much as being able to count on enough creativity and diverse movement in slower and more patient build-up play. No matter the exact line-up of Everton, Liverpool will also have the structure to play the ball out successfully too. However, the emphasis will be on the players to be able to get the most out of all this by retaining composure and being intelligent with their decisions on and off the ball.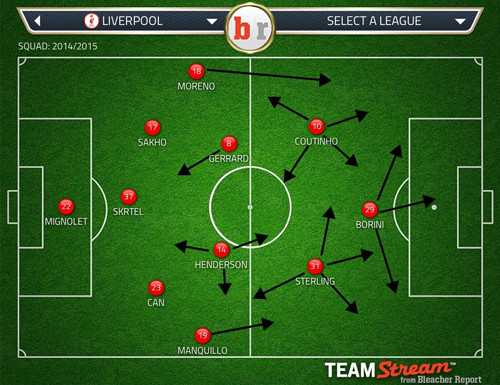 Conclusion
The game promises to be a proper clash, not least because this is a local derby. Both teams' contrasting form, the way both managers will try to account for that and approach the game further adds to the overall excitement and fascination of how exactly the game will play out.
Tactically, both managers are capable of surprising tactical decisions before and during the game, so the game will be interesting on that front too. Everton will arguably have the bigger input of how the game might shape up on that front, but Liverpool remains the strong favourites all things considered.
[ttt-subscribe-article]