Asking questions: Bob Pearce and Daniel Rhodes
Guests: Paul Tomkins, Dan Kennett and Graeme Riley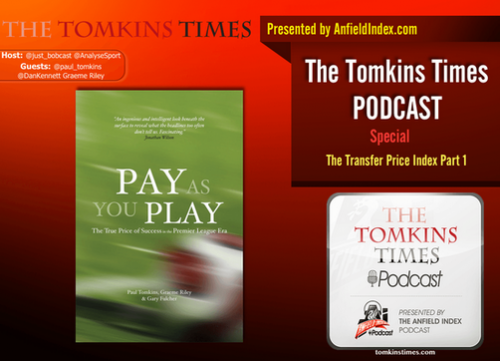 Topics:
A snappier title? The beginning of the Transfer Price Index (TPI). Inflation and how it relates to football transfers. The average price of a transfer in the Premier League, using TPI. The Current Transfer Purchase Price and how it works. The top ten CTPPs. The Abramovich era and the impact on the Premier League's competitive nature. Manchester United's reaction to Chelsea. The problems with gross and net spend. Spending for success and the level of predictability, as well as the relationship with wage spending in the Premier League.
Definitions:
CTPP = Current Transfer Purchase Price.  The player's original transfer value adjusted for football inflation using the same method as the Retail Price Index. (Andriy Shevchenko remains the highest CTPP, his £30.8m transfer in July 2006 now worth £68.2m)
Sq£ = The cost of a club's squad for a season in CTPP
£XI = The average cost (in CTPP) of the starting XI's in Premier League matches that season
MSq£ = Multiple of average Sq£. Not how much a squad costs in CTPP, but how much more (or less) it costs versus the average squad that season.
Finally, a huge thanks to Bob Pearce for all his work editing these episodes, they take a lot of effort, and the results are worth the effort!