By Chris Rowland.
Just as the first article in this series celebrated the significance of Shankly's first Division 1 title in 1963/4 (link), this one marks Bob Paisley's first title. And by claiming not one but two, repeating Shankly's League title/UEFA Cup double of 1972/3 (link), he started gathering trophies in the almost obsessively acquisitive manner to which he would soon become accustomed.
The league season culminated in one of the most famous and iconic Liverpool matches in living memory, the last game of the league season, the night match at Molineux where Liverpool's 3-1 win clinched the title and relegated Wolves, before an away support of gargantuan proportions.
There was only one signing before that season – Welsh left-back Joey Jones from Wrexham. He was to become a cult hero for the supporters, with his trademark clenched fist arm-pumping gesture. Of limited footballing prowess but endlessly enthusiastic and passionate, Joey came to symbolise the Reds' fighting spirit and teamwork ethic, and was immortalised on the flag in the Rome European Cup Final.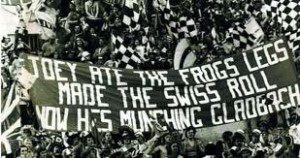 Meanwhile two more old stalwarts, Chris Lawler and Phil Boersma, left Anfield.
After the double success of 1972/3, Liverpool won the FA Cup the following season, 3-0 against Newcastle United, in what turned out to be Bill Shankly's last game as manager of Liverpool FC. His final act for the club prior to his resignation in the summer of 1974 was a significant one – the signing of Ray Kennedy from Arsenal in July 1974 for £180,000.
This article is for Subscribers only.
[ttt-subscribe-article]