By Krishen Bhautoo (TTT Subscriber Krishaldo).
The idea of this piece (written before the Palace match) is really to get things straight in my own head. After the magnificence of 13/14 and coming so close to winning the league, we have stumbled into something that resembles mediocrity. No, not resembles, is mediocrity. Slap bang in the middle of the league with 14 points from 11 games (1.27 PPG) and four points away from Champions League places, but just five points from relegation.
What has really been baking my noodle is why we have slipped from having one of the most potent attacking forces in Europe to a limp-wristed shadow of that team. And what is putting the cheese on top of the baked noodle is that there seem to be several reasons for the decline, all interlocking with one another in some way, shape or form.
I don't intend for this piece to be doom and gloom, or as a stick to bash anyone at the club, but just to get a handle on why things are happening as they are. Besides, we are still just eleven games into the season and have played some tough games. In fact, five from eleven games against teams that finished in the top eight last term (Southampton, Everton and Chelsea (H), City and Tottenham (A)). Contrast this to Southampton this season, who have played two teams that finished in the top eight last season (us and Tottenham) and lost them both.
But enough about that, let's look at things at the club that may have contributed to our downturn on the pitch, and where else to start than with the big hairy mammoth taking a shit in our penalty area: Luis Suarez.
With his contract signed in December, we thought we had secured his services for another season. Or at least had hoped we had. However with a new clause inserted that was more iron-clad than the £40,000,001 nonsense, we should have been looking at replacements for him sooner rather than later.
His move to Barca was always on the cards, and the bite at the World Cup just meant that the fee we received for him would have been lower than we would have hoped (also, there were rumours that bids between Barca and Real got close to £100m, but Real backed out after the bite and/or the player's preference for Barca). Still, we should have had options for his replacement.
Not that he is easily replaced of course! 33 games, 31 goals and 21 assists (including penalties won). But we did need someone, and questions need to be asked of the scouting team if the only option they found was Sanchez. Where were the second and third choice players? Did it go Sanchez > Remy > Balotelli?
Rumours around Sanchez emerged that if we had offered £25k/week more than Arsenal, he would have come to us. I have to say, we don't want mercenaries at the club. But a player like Sanchez will bust his chops for any club and for any wage. This might be one of the times that breaking a wages structure could make sense. Of course there would have been knock on effects to it. Sturridge and others would want a bigger contract, but perhaps we could have constructed a better deal with Sanchez on performances than Arsenal offered?
The other thing on transfers for me is why did we enter the season with just Sturridge, Balotelli, Borini and Lambert? One of those players misses (on average) a quarter of every season. Another has question marks over his ability/temperament (and was a calculated risk). We tried to shift the third, but to his credit wants to fight for his place. And the last on the list was signed as the fourth choice when we still had Suarez.
To think that one of the most attacking teams in Europe could venture a new campaign in a similar fashion with these guys is almost idiotic. Perhaps idiotic is too harsh, but certainly not ideal and I'm astounded we didn't plan better for this (a recurring theme).
And who is planning the transfers? There seems to be a divide. Whilst we don't know anything for certain, what we can pick up from bits of information is that Rodgers has his targets, as do the committee. Sakho most notably. I think we have an exceptional player here. One who left his boyhood club to join us, and won't hesitate to move again if we don't play him. I have a feeling that if he were to leave, he'd go to a club like Juve where he will show his true colours and make us look like fools for letting him leave.
Why did we sign another left-sided CB in Lovren when we have Sakho? Perhaps the long-term plan is to play them together. BR has stated before that whilst Lovren prefers the left, he can also play on the right so maybe there is a plan there? Time will tell. It wasn't so long ago that Carra and Neville called Lovren the best CB in the league.
In regards to our other signings, they all make varying degrees of sense.
Lallana is a player (whilst over-priced at £23m + £2m add-ons due to the 25% sell on fee owed to Bournemouth) who could/should hit the ground running. He has a trick or two, can find space, provide and score, but will also track back and help the team defensively. We needed a player/s to bulk up the squad without requiring much time to bed in. Lallana fits the bill, but we paid for the privilege with the English premium.
Whilst Markovic has not exactly torn up any trees, he has an amazing reputation for what he could become. And we pounced on the opportunity to sign him, paying for potential, that we most likely won't see for a couple of years when £20m might look 'cheap'.
The same could be said of Can. Whilst he has shown more than the Serb, he is still rough round the edges, but looks like a player who can contribute immediately (as seen against Madrid and Chelsea).
Ditto Origi (see a theme appearing yet?). One for the future that we were only able to secure if we agreed a loan back period. I don't mind this as (at the time) if signed immediately he would have been behind Sturridge and Suarez in the pecking order. Best to leave him at Lille to continue his progression week in, week out (three goals and an assist in 8(3) league appearances so far).
I feel Manquillo was a low risk space filler, who if he looked good we can sign permanently. He seems to be behind Johnson (mainly) and probably would have been behind Flanagan too had he been available.
Moreno has looked like a genuine, young first XI player. As with any young player, there are mistakes expected but we can overlook them for now as he does look like a quality full-back, and at just 22 years old (and less than half the cost of Luke Shaw), we may have boxed off our left-back spot for ten years (optimistically).
Individually, our transfers look fine, but when pieced together as an overall strategy, it looks flawed. We needed players to bulk up the squad (Lallana, Lambert, Moreno, Can (to an extent) plus the returning Borini – who we tried to sell).
We didn't add much 'magic' to the team – that X-Factor that can change a game in a second. It seems that it was a plan put in place when we thought Suarez was staying. After he left (or after the bite!), we didn't have anything else to bring that sparkle. And again, I ask questions, where was the 'Life After Luis' plan?
Fortunately we aren't miles off the hunt for 4th place, Sturridge will be back soon (possibly – Ed)!, we have already played some tough games with winnable ones approaching (Palace, Stoke, Leicester and Sunderland – but we said that recently) and January is just around the corner to bring in reinforcements.
This brings us to another issue. Are we doing all we can to get players to sign?
We don't have the London factor. We don't have the mega wages of the Manchester clubs. We don't pay the fees of Chelsea. We don't have the caveat of sustained CL qualification like Arsenal. We don't have a 'world-class' manager (reputation or trophy wise). We don't have the lure of saying 'come and play with Suarez'. So what can we do to lure the level of player we really want? Are we stuck in a perennial cycle of looking for the next Suarez or to produce the next Sterling whilst fending off the vultures? Are we destined to be a Tottenham?
Well we aren't a Tottenham. We have the name 'Liverpool'. We have a living legend at the club. We have a young ambitious group of players who can (and will) improve together (assuming they don't get poached). We generate more money than them. We are in the CL.
But we are still a level behind our rivals (namely Man City & Utd, Chelsea and Arsenal) in attracting players, so we need to either be the smartest guys in the transfer window, which certainly hasn't looked the case recently, or we need to alter our approach.
Should we have offered an extra £25k to Sanchez? Should we have flashed the cash to Costa last summer to secure the signing? Do we need new/better scouts and networks? Do we need to schmooze the right people more often, as we know that football is a boys club and if you're in, you're in.
I think it is a combination of all those things (and that is a massive assumption on my part, as I have no knowledge of the inner workings of the club). What we can safely presume is that Ayre negotiates the deal and contract, but I'm not sure who 'sells' the club and the city? Who do we have at the club, or could bring in, with a reputation in the footballing world to convince a Sanchez that Liverpool is the club to be at?
I don't think Rodgers has the pull (nor the time to do it when managing the team), but one day this could be Steven Gerrard's role. There isn't a player in the world that won't listen to what Steven Gerrard has to say. For now though, I don't know who could do that job. Would Sanchez listen to King Kenny? Or Barnes? Or Fowler? Or Didi Hamann? At Arsenal he had the lure of Wenger, historic continual CL qualification, Ozil to ask his opinion (both moving from Spain) and Fabregas to give his thoughts. All these things would have contributed to his decision, and we have no answer to them.
So far, we have seen a transfer strategy that doesn't fit with the club's current situation, a scenario where we aren't in the position of our rivals to secure the signatures, even if we match the fee and possibly even wages and we aren't even the smartest guys in the room anymore (excluding Sturridge and Coutinho, possibly Moreno and Allen. Can and Markovic plus other youngsters still remain on the 'maybe' pile).
It must sound like I'm having a moan, but I'm really not.
The best laid schemes o' mice an' men gang aft a-gley. An' lea'e us nought but grief an' pain …

Robbie Burns 1785
So how do we make the plan better?
That's for FSG and the committee to decide. I just hope they do and soon, as we can't be outside the CL for too long. We will risk losing players like Sterling, Sturridge and Coutinho, and with the market pool from BT's £900m Champions League deal kicking in from 2015/16 season, the money for being in the competition virtually doubles from c.£60m for all four clubs to c.£115m. The type of money that allows each club to sign one more 'top' player and box off that top four spot for a while (assuming none of them implode in the manner of LFC under H&G).
Chief commercial officer, Billy Hogan, stated:
"If you look at [the Deloitte Football Money League], we were the only club in [the top 20] ranking that was not in the Champions League. That shows the importance of our partnership revenue. It would help to have sustained presence [in the Champions League] but [the Premier League] is an incredibly competitive league.

"We feel we are hardly scratching the surface and are focused on growing the number of partners globally and regionally; to be in more places.

"We can't depend on the performances on the pitch, though, because when we secure partners they are partnering with us [for the club we are]. It takes months if not years to get these deals signed and they are not based on what happened last week on the pitch."
This sounds fantastic. We are still getting the money in, regardless of CL qualification as sponsors want to be associated with Liverpool Football Club.
However, we are still miles behind United. They are a cash generating machine (despite the loan repayments which should be reduced after the new Adidas deal helped them pay down a large amount of the capital). They have a bigger stadium. They charge (on average) more per seat. They have a bigger 'prawn sandwich brigade'. They have 41 'official partners' to our 18.
Despite all this, we can handle a few seasons out of the Champions League (financially), they can't and if they make it this season ahead of us, I can pretty safely say they will spend again to make sure they remain there.
This makes it even more imperative for us to get it right as soon as possible, and for Rodgers to get it right on the pitch. I can't go into the tactical side as well as the TTT Tactics #4 podcast (where Dan R said he would sack Rodgers!), but there is room for improvement. And I feel we have more room to improve than most of our rivals. One or two astute signings in January to bolster our attack, a little more pragmatism from Rodgers, a touch more luck with injuries (although United and Arsenal are having a tough time of it too) and we could soon be flying once again.
I haven't given up hope.
The graph below shows the number of points gained by the teams finishing 4th and 5th in the league and which seasons followed a World Cup year.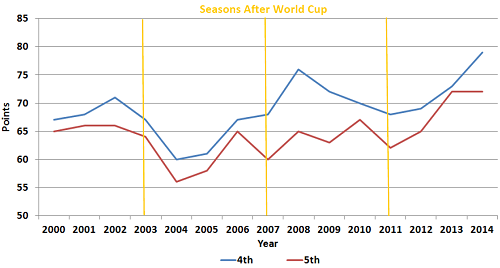 In five of six bits of data following a World Cup, the 4th and 5th placed team gain less points than they did the previous year. The one time that bucks the trend, was in 2007 when the 4th placed team got a whopping ONE point more than the 4th placed team in the previous season.
On average, after a World Cup, 4th placed teams gain 1.67 (2.4%) fewer points  than the previous season, and 5th place gain 4 (6.1%) points fewer .
Seeing as we were in the top 4 last season, and now out of it, we 'only' need to beat what we can reasonably expect a 5th placed team to gain (there are obviously many other factors which I've not measured or included in calculations). Last season, this was Everton with 72 points. Minus 6.1% is about 68 points as a target. Let's round this to 70.
Our current PPG is 1.27, putting us on course for a measly 48 points. To hit 70 points we need to up this to 2.07 PPG.
We've been pretty rubbish so far this season, but 2.07 PPG is certainly within our capabilities (especially as mentioned earlier that five of 11 of our games so far this season have been against last season's top 8). We just need to be a 'bit' better than our 2 PPG target, but also 63% better than we have been so far! A big ask, but up to the Hull loss last season we averaged 1.85 PPG, upping it to 2.4 PPG.
Our next four league games are winnable (shhhh!). Palace (A), Stoke (H), Leicester (A) and Sunderland (H). Win them, and our season's PPG goes from 1.27 to 1.73.
The first sentence I wrote was "The idea of this piece is really to get things straight in my own head". Numbers help me do that. Thinking out the problem helps it get clearer in my own mind.
After writing this, I still feel a touch of trepidation for where we are heading this season (and therefore the long term especially if Man Utd get a CL spot instead of us), but much more confident that the team can turn it round given the room we have to improve, the players returning from injury, January to strengthen and BR to find a solution to some of the problems we have faced.
Keep the faith people.