By Paul Grech.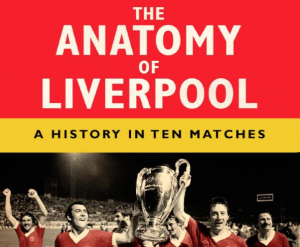 Liverpool Themed Books
The Anatomy of Liverpool: A History in Ten Matches by Jonathan Wilson
I have to admit that I'm a bit of a sucker for Jonathan Wilson, having sought out and loved practically anything that he has written. There are few writers out there who can match him for his insight and ability to analyse tactical evolutions. It is, therefore, a bit surprising to find that not more has been said of this book where Wilson tries to map Liverpool's evolutions through the ages thanks to the analysis of ten games from Liverpool's history, starting from 1896 and ending in the 2005 Champions League win. A great, under-appreciated book.
I Don't Know What It Is But I Love It by Tony Evans
As a journalist, Tony Evans is outspoken and can be a divisive figure among Liverpool fans, someone for whom the diplomatic comment in an argument is never an option. Yet, he is also doubly lucky in that he got to live through Liverpool's most glorious era and, now, gets to write about it. Which, admittedly, is something that he does very well. This time round, he's chosen to write about 1983-84 when Joe Fagan took over. It was a strange season because Liverpool won the league and Champions Cup double but those achievements never really got them the acclaim they deserved. Evans tries – and manages – to redress this injustice.
Red Machine by Simon Hughes
This book has been on the shelves for a number of months now but it isn't one that ages. What Hughes – the author of the equally brilliant Secret Diary of a Liverpool Scout – has done is picked and interviewed a number of former Liverpool players. The genius of this book is that he hasn't gone after the most famous names but rather players who don't typically receive much acclaim. The result is a truly fascinating book that shines with insight. Indeed, for me, his interview with Ronnie Moran is one of the best pieces of writing in a long time, insightful and touching in equal measures. If you haven't read this one, you're really missing out.
Steven Gerrard, Michael Owen & Me by Mike Yates
Mike Yates played in the same youth sides as Steven Gerrard and Michael Owen and, for a time, harboured genuine ambitions of making it at Liverpool. An injury when he was starting to make some progress, however, killed off those ambitions but not his love for the game. Thanks to Steve Heighway and the interest he had shown during coaching sessions, Yates got a job coaching which is how he continues to earn his living today. Indeed, above all, this is a book that talks about how one can retain his passion and enjoy life after seeing one life ambition being taken away from him.
Make Us Dream: The Story of Liverpool's 2013/14 Season
by Neil Atkinson & John Gibbons
One day we'll look back on 2013/14 with teary-eyed nostalgia. This is a great way to remember a roller-coaster season.
Liverpool Encyclopedia by by Arnie Baldursson and Gudmundur Magnusson
There are those who accuse Liverpool fans of living in the past but, with such a glorious history, is it any wonder that we like to look back and refresh our memories? And this is the perfect book to do so, seeing that it does what it says on the cover: it is an encyclopaedia full of facts, figures and anecdotes about Liverpool FC.
They Dared To Dream: How Rodgers' Liverpool Went So Close by Paul Tomkins & TTT Authors
Given that this is a book produced by this own site, this might seem as a rather obvious inclusion. Yet, in light of the difficult start that Liverpool have experienced this season, it bears reminding just how good the football Liverpool witnessed last season and reminiscing on the qualities of the side that was so close to delivering the title.

General Football Books
Danish Dynamite by Rob Smyth, Lars Eriksen and Mike Gibbons
For those of a certain vintage, the Danish side of the early eighties remains one of the finest collective of players they've ever witnessed. This is a side that had it all: talent, class, hard work and a rock star aura. Even their kits – which mark the cover of this book – where incalculably cool and desireable. Sadly, I never did manage to convince my parents to buy me one, but at least had a Denmark Subbuteo team as consolation. Anyway, I digress, as one expects this book tells the story of that great side that did not manage to win any major honours but which showed glimpses of the kind of collective, attacking football that would dominate world football (albeit twenty years later). It is a fascinating story, told through the eyes of some of the key players of that team.
Andrea Pirlo: I think therefore I play
Despite not being a huge fans of biographies, this is one for which it is worth making an exception. Pirlo is as deep a thinker about the game off the pitch as he is a measured user of the ball on it. As such, he does not need to fabricate any controversy in order to elicit interest in his life story but can rely on the insight that he relays to keep the readers hooked.
Pep Confidential by Marti Perarnau
Although there are innumerable people who write and talk about Pep Guardiola's work few, if any, can do so with the authority of Marti Perarnau. The Catalan journalist was granted virtually unlimited access to the changing rooms and staff meetings during Guardiola's first season at Bayern. The result is a tremendously insightful book that highlights not only the manager's genius but also the detail and commitment that goes into developing a successful side.
Futebol Nation: A Footballing History of Brazil Paperback by David Goldblatt
The World Cup didn't go as planned for Brazil, given their humiliating exit in the semi-final. Even so, there is still no country in the world that can claim to be as devout to the beautiful game as land of Garrincha, Pele and Ronaldo (the real one). David Goldblatt looks at this passion traces the links and impacts that it has on everyday life in Brazil, essentially allowing one to better understand what it really means to be Brazilian.
Coaching the Tiki Taka Style of Play by Jed Davies
On the face of it, this is a coaching book. Yet it is much more than that. True, there are coaching sessions listed throughout it but it should not discourage those who are not into coaching because what Davies has done is try to explain a style of playing – Tiki Taka – by going into the development of the style and how that philosophy is then drilled into the team. Having looked heavily at Brendan Rodgers and how his team works, this should be of particular interest to Liverpool fans.
Il Re Calcio by Paul Grech
Remember when Italian football was great? No, well, this is a collection of ten stories that will help you appreciate just how good it was. Each story tackles a different player or manager going into depth, for instance, into Emiliano Mondonico almost leading Torino to the UEFA Cup title and the semi-forgotten story of former AC Milan midfielder Ferdinando Valletti who ended up in the Gusen concentration camp where it was football that saved his life.
Plus, Paul Tomkins' novel
"Brilliant. A lovely writer … fantastic idea for a story." Araminta Hall, author of Everything & Nothing and Dot.
Full disclosure: Paul Grech, the author of this piece, is also the author of one of the books suggested in it – Il Re Calcio – as well as one of the authors featured in 'They Dared To Dream'. Follow Paul at @paul_grech.